'Yes, I'd f***ed up' – Peter Siddle opens up on his alcoholic life, credits wife for his turnaround
Siddle said how his relationship with wife Anna and the possibility of losing her made him shrug off his drinking demons for good.
Updated - Mar 12, 2020 5:30 pm
520 Views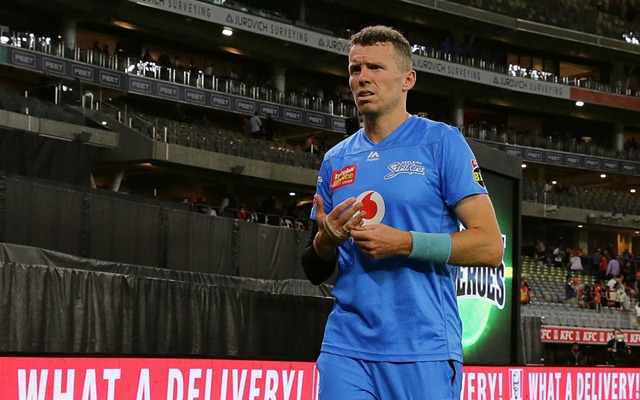 Follow us on Telegram
Former Australian fast bowler Peter Siddle may have turned into a workhorse during the second leg of his career, but the first half of his International stint was plagued with alcohol issues. The former Aussie cricketer, who holds a rare distinction of taking a Test match hat-trick (at the Gabba against England in the 2010-11 Ashes) was downing as many as 25 to 30 drinks per session after five-day blenders and even used to get behind the steering wheel in a drunken state.
The fast bowler has revealed how he was a party animal during the initial stages of his international career and how a stark confrontation with his then-girlfriend and now wife Anna Weatherlake helped him dispose of his drinking demons for good after the latter threatened to call off their relationship. Siddle also opened up on how his partying nature was getting out of control and how that was affecting his relationships with almost everyone that was close to him.
"I was partying too hard, and it was getting out of control. All my relationships that were really close to me, I was just in a way lying to them all," Siddle said in an emotional interview on podcast Ordineroli Speaking
Siddle added– "I'd got myself in some bad situations that could've cost myself a relationship with my now wife. She comes home to my place with someone else in the room with me, I don't remember much because I was in the state I was in pretty much every weekend"
"We needed to talk and that was when I broke down. Yes, I'd f***ed up, but I knew that I wanted her to be in my life," the former fast bowler revealed.
'I was living a double life': Peter Siddle
Siddle said how his relationship with Anna and the possibility of losing her made him shrug off his drinking demons for good. The right-hander said that while he begged his girlfriend to death, he had also realized that things needed to change.
"I begged her to death, but also I knew things had to change then," said Siddle.
Siddle revealed that his struggles with alcohol began during the initial days of his Test career, which saw him lead a 'double life'. The right-handed workhorse said that earning so much of money in the early part of his career- something he had never imagined as a kid- probably got to him and he was pretty much "pi**ing it up against the wall."
'Young man, on good money, money I'd never thought I'd be able to earn and just pretty much pi**ing it up against a wall to an extent," Siddle said.
The fast bowler revealed that had he not given up his penchant for booze, his career would have been over before the age of 30. "I was living two lives in a way. I was living the party boy's life and trying to be a cricketer, not just a cricketer who rocks up on the weekend and plays 40 overs and then hangs out with the boys. I was an Australian cricketer, at the time pretty much close to the peak of my powers, and I was throwing it all away."
Siddle isn't the first Australian cricketer who has come out in the open with respect to his drinking issues. A few months ago, former Australian vice-captain David Warner had also revealed how his drinking issues had threatened to plague his career before a stern confrontation with his wife- same as in case of Peter Siddle- paved way for him to give up the alcohol for good.
Follow us on Google News