'You should watch MS Dhoni biopic' – Fans suggest Roger Federer when he tweeted for Bollywood classics
'A Bollywood classic maybe?' tweeted Federer.
Updated - Oct 2, 2019 3:19 pm
12K Views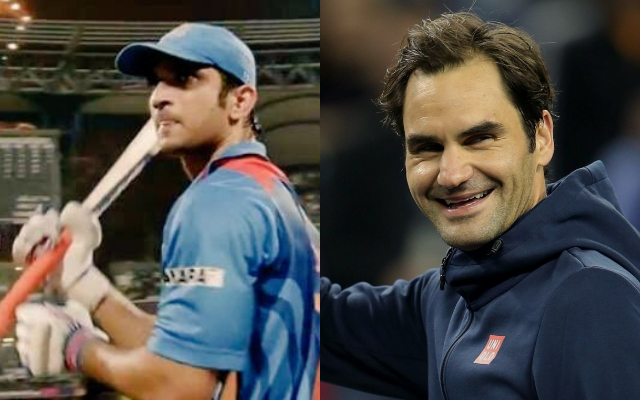 Follow us on Google News
Cricket has got its biggest fan following in India and the Indian cricketers who feature in the national squad are no less than any superheroes for the fans. Players like Sachin Tendulkar, MS Dhoni, Sunil Gavaskar and many more are known as the global stars who have made India earn some major respect on the biggest stage of cricket.
Indian Bollywood industry is also a big admirer of these cricketers. In past directors used to bring movies on social issues, the Indian Army but now the trend has changed as the directors are en route to making some classic movies on the life history of cricketers, athletes and anyone who has struggled a lot in the sports to get reorganized on the biggest stage.
In recent past, directors have directed some beautiful movies like Bhag Milkha Bhag that is the biopic of Milkha Singh who was one of a gem athletes that Indian soil has ever produced in the history after that came the biopic of Mary Kom who became five-time World Champion in a row, then came the biopic of MS Dhoni who is known as one of the best captains that India had in its history of cricket. As we know Bollywood has the list of its fans around the globe, and now Roger Federer has also been added to it.
Federer needs some suggestions
Roger Federer is one of the best Lawn Tennis players who has won almost every trophy associated with the game. He has won a total of 20 Grand Slams throughout his career and is yet to retire. He is on the brink of retirement but still hustling down the turf to play till he can.
Recently the legendary Lawn Tennis player from Switzerland had posted a tweet asking out to suggest some classical Bollywood movies. After his tweet caught the eyes of Indian fans, they got hushed up with some unique suggestions, but the name that topped the list in the suggestion was the biopic made on MS Dhoni.
This biopic was made on the former Indian captain which came in 2016, directed by Neeraj Pandey. The movie got loads of love from the fans across the globe and is regarded as one of the best motivational movies in the history of Bollywood.
Here is the tweet from Roger Federer
Any movie 🎥 🍿 suggestions?#AvengersAssemble 🦸‍♀️🦸‍♂️#Aquaman 💦 💇‍♂️

— Roger Federer (@rogerfederer) October 2, 2019
Here is the reaction of fans
MS Dhoni

— Abhishek Maurya (@abhishek_rays) October 2, 2019
Chak de India, lagaan, Dhoni, Dangaal. Sum cool sports flicks.

— Anubhav Sahu, CFA (@anubhavsays) October 2, 2019
MS Dhoni – An Untold Story

A sportperson like you would really relate to it

— Advait Deogade (@AdvaitDeogade) October 2, 2019
MS Dhoni the untold story : a truly inspirational story about Indian cricket team captain who leads India to world cup victory… I think you will love it

— Aayushi Singla (@singla_aayushi) October 2, 2019
Watch MS Dhoni… biopic of @msdhoni … @rogerfederer

— यांत्रिक इंजीनियर⚙️🔧 (@Borntoshine09) October 2, 2019
Comedy – 3 idiots, Munnabhai MBBS ; sports – MS Dhoni, Chakde. Romance /Song and dance – DDLJ

— Alert citizen! (@Nishant01myzone) October 2, 2019
If you want to watch classics, please watch
Chak de India
Swades
Rang De basanti
3 Idiots
MS Dhoni the untold story

— Revolution Outside (@revolt_outside) October 2, 2019
Please watch ms dhoni the untold story film, a biopic on ms dhoni – former Indian captain

— Revolution Outside (@revolt_outside) October 2, 2019
Dangal or sultan or Ms Dhoni the untold story

— Nandha Kumar (@NandhuRon) October 2, 2019
Follow us on Telegram