Younis Khan once brought a knife to my throat when I tried to give him batting advice: Grant Flower
Younis is Pakistan's leading run-scorer in Test cricket with 10,099 runs from 118 matches.
Updated - Jul 2, 2020 4:57 pm
13.8K Views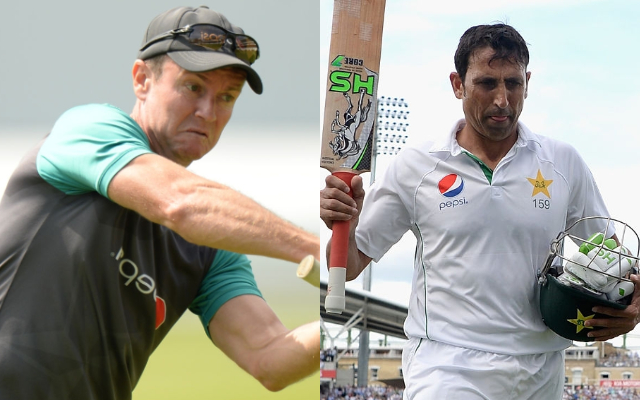 'Former Zimbabwe all-rounder Grant Flower has brought forth some startling revelations, regarding veteran Pakistan cricketer Younis Khan. Flower, who's also a former Pakistan batting coach, said that Younis once got a knife to his throat after he tried to give the batter some batting advice. Younis retired from the game in 2017, ending as his country's leading run-scorer in Test cricket.
Having scored 10,099 runs with 34 centuries, Younis is the only Pakistan batsman with over 10,000 runs in Test cricket. Flower, who played 67 Tests and 221 ODIs from 1992 and 2010, feels that Younis didn't take his words in the right spirit.
Even as the situation was seeming to go out of control, Mickey Arthur, the former Pakistan head coach, had to intervene and bring sanity back into the situation. The South African Arthur is currently the head coach of Sri Lanka.
Younis Khan didn't take kindly to my advice, says Flower
"Younis Khan was quite tough to master. Obviously, a brilliant career. I remember one incident in Brisbane, during the Test, at breakfast I tried to give him a bit of batting advice, not that my career was anywhere near his regarding stats, as he is the highest scorer in Pakistan Test cricket," Flower was quoted as saying on the Following On podcast.
"But Younis Khan didn't take kindly to my advice and brought a knife to my throat, with Mickey Arthur sitting alongside, who had to intervene. Yeah, it's been interesting. But that's part of coaching. It makes it a hell of a journey, and I've really enjoyed it. I've still got a lot to learn, but I'm very fortunate to be in the position I am," he added.
Flower came into the Pakistan support staff back in May 2014 and has been a witness to a number of ups and down. He was relieved from his role after the 2019 edition of the World Cup where the national team couldn't progress beyond the league stage.
As for Arthur, he became the head coach on May 2016 and he served with the team until last year's World Cup. Flower and Arthur were also there when Pakistan beat India in the final at the Kennington Oval to win the 2017 Champions Trophy.