Yuvraj Singh picks two Indian batsmen who can break his fastest fifty record
Yuvi also hailed Hardik Pandya and called him an asset.
Updated - May 13, 2020 12:59 pm
19.6K Views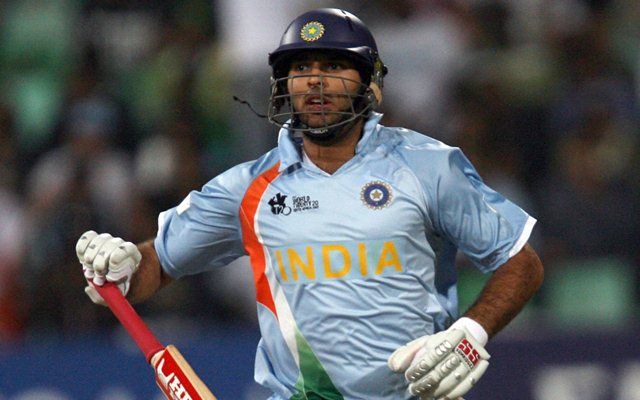 During the 2007 T20 World Cup, the world witnessed a one of a kind effort by Yuvraj Singh. The Punjab batsman hit six sixes in an over of Stuart Broad. During the innings, he also scored to a 50 off just 12 balls. Till day, this is the fastest fifty in any international match. Chris Gayle has a 50 off 12 balls as well, but that was in a Big Bash League match. In a recent chat, the now-retired batsman revealed who he thinks can break his record.
The former Indian batsman admitted that he thought Gayle and AB de Villiers can do it. He further mentioned that KL Rahul has got a 50 off 14 balls in the IPL, but replicating that at the international level is a different ball game. However, the left-handed batsman also said that Rahul and Hardik Pandya have the potential to break the record.
"Two guys I thought could break the record are Chris Gayle and AB de Villiers. KL can do it, he has 50 off 14 balls in the IPL but scoring a 50 in international cricket where all are quality bowlers and in IPL where you get two quality bowlers is not the same. But KL and Hardik have the potential," Yuvraj said on Sportscreen's YouTube page.
He can be a serious asset as we go to the next World Cup: Yuvraj Singh on Hardik Pandya
While talking about the all-rounder, Singh said that he believes he has immense potential. However, the former Indian batsman was of an opinion that someone has to work with his mind to make him perform better in tight situations. Yuvraj said that the Baroda all-rounder can be a great asset for India in the 2023 World Cup at home.
"Hardik Pandya has immense potential. He has got amazing talent. Someone needs to work with his head so that he can perform in crunch situations. If somebody can work on his mind, he can be a serious asset as we go to the next World Cup", the 38-year-old said.
The ex-Indian batsman also criticized the selections for the 2019 World Cup. He pointed out how Vijay Shankar, who had played less than 10 ODIs, was playing in the middle order. He also slammed the selectors for not being experienced international players themselves.
"The selection during the 2019 World Cup was shocking. You need people to question those decisions when players who have played 5 ODIs are playing in the middle order. Can the current selectors question these decisions when they themselves have played only 5 ODIs?" he asked.