Zimbabwe Cricket board to investigate racism claims brought up by Prosper Utseya
Updated - Jul 22, 2015 6:05 am
45 Views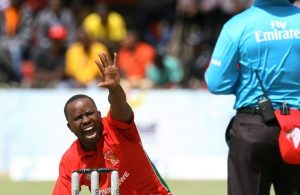 Follow us on Telegram
Zimbabwe Cricket board to investigate racism claims brought up by Prosper Utseya: Zimbabwe's cricket board said that it was investigating allegations of racism made by senior player Prosper Utseya against the board's managing director and former national team captain Alistair Campbell.
Utseya's accusations were made in a letter to the board in which he claimed Campbell was behind his own recent omission from the team. Utseya alleged that Campbell "appointed white coaches and administrators during his 2010-2012 stint as chairman of the cricket committee in order to take control of cricket".
Utseya in the letter stated: "(Campbell) had a conflict of interest in setting up Dominus Sport, the company that ran ZC's marketing affairs during his time as cricket committee chairman, and his actions had an impact on ZC's funds,"
Utseya confirmed that he had written the letter after the World Cup and prior to Zimbabwe's tour of Pakistan. Campbell said he was unable to comment as the matter was pending either legal or internal disciplinary action.
Utseya, who is black, also claimed Campbell, favoured whites ahead of blacks when it came to appointing the captain of the national team and coaching staff.
A committee had been set up to look at Utseya's allegations, Zimbabwe Cricket chairman Wilson Manase said. He said Utseya's letter had been sent to the board "a long time ago."
ZC chairman Wilson Manase said, "Given that the document was addressed and delivered to me and that ZC has since set up a committee of enquiry into the whole matter, it is disturbing that the document has now been leaked to the media. I have always had an open-door policy with everyone at ZC so I would have expected us to solve this amicably, if there is any truth in it."
He continued saying that, "We do not want to be distracted in our quest to make the sport of cricket great by ensuring that all able and talented Zimbabweans have their input in this game."We must treat this carefully and rest assured the board is handling it," Manase said.
"The truth is that ZC does not employ or contract anyone on the grounds of race, but on the basis of talent and expertise.Our vision is to be a successful performer in the global sports and entertainment industry. We therefore cannot put issues of race over and above this vision more so when our global partners are of various races. If we do that, it will be like shooting ourselves in the foot. Indeed, we can only excel in our diversity, therefore my administration does not condone any issues of racism.
"We must find a way to resolve this to make sure that everyone involved in the game remain at one. We don't want to bring divisions that are not warranted." I am committed as ZC chairman to live up to our vision and mission statement and our core values of teamwork, excellence, integrity, commitment, professionalism, fairness and gender equality, as stated in our charter.
Utseya declined to comment to The Associated Press, saying his letter was not meant to be made public. He reportedly sent his letter soon after the World Cup in February and March in Australia and New Zealand, where he didn't play a game for Zimbabwe.
However, Utseya was a surprise inclusion in the Zimbabwe squad for the showpiece tournament anyway after being banned from bowling his off-spinners by the ICC last year because of an illegal action. One of Utseya's accusations against Campbell was that the managing director had made comments in the media that undermined the player with regard to his bowling.
Utseya has since returned to the team and was picked for the latter part of India's limited-overs tour to Zimbabwe this month. His letter emerged on Saturday, a day before Zimbabwe beat India in the second Twenty20 international to draw the series 1-1, giving the struggling African team a major boost. Utseya played in that game.
The 30-year-old is a former Zimbabwe captain and has played 162 one-day internationals, making him one of the most experienced players in the team.
But he has also been involved in other controversies. Zimbabwe's former player representative, Eliah Zvimba, claimed that Utseya was involved in forcing him out of his job.
Follow us on Google News