10 Facts about Austin Waugh: The Rising Star in Australian cricket
Apart from being the son of Steve Waugh, Austin has a claim of his own.
Updated - Jan 19, 2018 12:41 pm
1.2K Views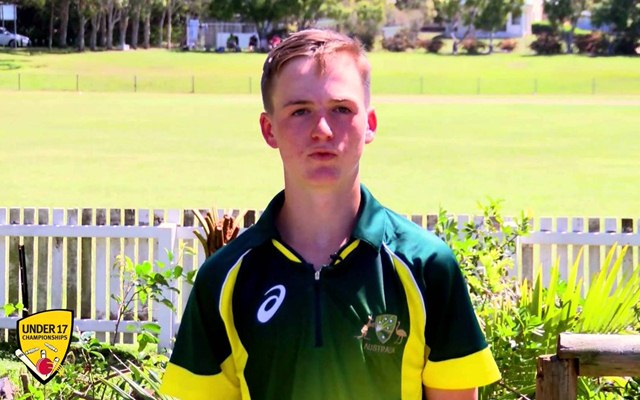 Follow us on Telegram
The Under-19 World Cup is the biggest platform for any youngster to put his skills on display. It gives youngsters a chance to showcase their talent to the world. Since the audience for this world cup is comparatively less, there is not much pressure and criticism for the youngsters. Also, they can express themselves well on a huge platform as there is no pressure of expectations. The audience is only familiar with a few players and they back these players to perform.
However, the case is entirely different with Australia's Under-19 cricketer, Austin Waugh. The fact that he is the son of former Australian cricketer will only hype things up. As if cricket was just now enough to burden him, the Waugh tag will increase the expectations on him. Austin is already burdening such high expectations at a tender age.
Steve Waugh played 168 tests for Australia and amassed close to 11,000 runs. He also led Australia to a World Cup triumph. Carrying such a huge legacy forward will be no easy for Austin. People will want him to replicate his father's success. However, he has the youthful exuberance to crunch a bouncer straight down the ground for six and also the maturity to stay calm under pressure.
Here are 10 facts about the youngster Austin Waugh:
1. The son of the legendary Steve Waugh
Austin Waugh is the son of the legendary Australian cricketer, Steve Waugh. His uncles are Mark Waugh and Dean Waugh, who also represented the Aussies at the highest level.
2. First-class century
Austin first burst into public consciousness when he hit an unbeaten 122 in the final of the Under-17 National Championships in 2016.
3. A fan of Indian all-rounder Hardik Pandya
Waugh likens his game to India all-rounder Hardik Pandya and admires late Australia batsman Phil Hughes for his "free-flowing technique."
Cricket isn't much of a topic of conversation in the Waugh family home. Austin Waugh readily admits he has hardly watched any footage of his famous Dad's 168-Test, 325-ODI Australian playing career.
5. Never destined to be a cricketer
Austin feels he was never destined to be a cricketer. He says he played every other sport apart from cricket in his schooling days. Later, he chose cricket over football.
6. No parental interference in Austin's game
Waugh also likes to be very independent. He doesn't  like his father or uncles interfere with his game. He wants to forge his own path in the game.
7. Like father like son
Austin has a Waugh-esque slog sweep, bowls canny medium pace like his dad and even has a similar walk to the crease.
8. A love of the ODI
Although he likes all the three formats, Austin fancies the one-day game. He would love to represent Australia in the ODI's.
9. A gritty 18-year old
Austin was born on November 11, 1999. He currently ages just a little over 18.
10. Composure like Steve
Waugh displays an impeccable composure on the field at such a young age.
Follow us on Google News