10 Interesting facts about the flamboyant Farveez Maharoof
Updated - Sep 7, 2015 9:58 am
90 Views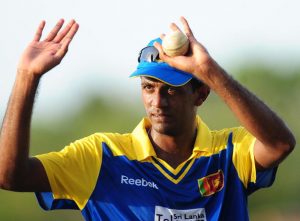 Follow us on Google News
10 Interesting facts about the flamboyant Farveez Maharoof: Many will ask how can you define Maharoof's importance to the Sri Lankan cricket team when he has just played 104 ODIs and 22 Tests in his entire cricket career that spanned over a decade? But statistics often fails to justify talents and impression a particular player had on the game. Various injuries and fitness issues might have brought the flamboyant all-rounder's career to a halt, but he has a lot of cricket left in him. In fact, he proved his talents each time he got an opportunity to do so for Sri Lanka.
Farveez Mahaoroof is a right-arm-fast bowler and an explosive lower-order-batsman as well. He played 104 ODIs for Sri-Lanka and has 133 wickets to his credit. He scored 1042 runs at an average of 19.29 with 2 fifties. Maharoof also scored 556 runs with 3 half-centuries and 25 wickets in 22 Tests that he played.
The cricketer turns 31 today and Cricket Tracker brings you 10 Interesting facts about the flamboyant Farveez Maharoof
1. Child prodigy: Maharoof began his cricket career at the age of 8. He used to be a wicket-keeper-batsman in Wesley College in Colombo. In one off match he took 6 wickets and shifted his focus towards fast bowling.
2. India's tour of 2003-04: Maharoof was just 19-year-old when he toured India with the Sri-Lanka A team. This tri-series (involving India A & Pakistan A as well) was brilliant for him as he took 9 wickets at an average of just 11.77.
3. International debut: Maharoof produced one of the best bowling spells (3-1-3-3) in his debut match against Zimbabwe where they bundled out at 35. Maharoof finished the series with five wickets to his credt at an average of 16.60. He also scored 40 runs and grabbed 4 wickets in his maiden Test series.
4. Astonishing spell: Farveez Maharoof stunned everyone when he produced the world's most amazing spell of 10-5-9-3 in a match against West Indies in 2005.
5. 6-wicket haul: A year later, Maharoof again created history when he took 6 for 14 at a match against West Indies in 2006. This is rated as the 9th best bowling analysis in all ODIs.
6. World Cup debut: Maharoof played his maiden world cup match against Bermuda during 2007 cricket world cup. He took 4/23 and became the 1st Sri-Lankan to accomplish 4-wicket-haul on world cup debut.
7. Beat Muralitharan: In 2007, Maharoof claimed his 100th wicket in his 75th ODI, beating Muralitharan's previous record of achieving 100 wickets in 76 ODIs for Sri-Lanka. However, Malinga broke Maharoof's record in 2010 when he took 100 wickets in just 68 ODIs for Sri-Lanka.
8. Hatrick in Asia Cup (2010): In a match against India at the Asia Cup, Maharoof picked up a hat-trick getting Ravidra Jadeja, Pravin Kumar and Zaheer Khan on consecutive balls. He finished the spell with a five-wicket haul for the 2nd time in his career and helped Sri-Lanka win the match in an emphatic manner.
9. Sangakkara's praise: The Sri-Lankan legend stated that Farveez has the technique and the shots to be excellent No. 7 batsman at international level. Maharoof has a sound batting technique and is able to adapt to many different scenarios.
10. High batting strike-rate: His batting average is not much to talk about, but his batting strike-rate (85.24) is still considered one of the highest amongst all Sri Lankan batsmen in the 50-over format.
Follow us on Telegram