10 interesting facts about Lungi Ngidi- South Africa's newest sensation
Lungisani Ngidi was born on March 29, 1966, at Durban, the largest city in KwaZulu-Natal.
Updated - Jan 12, 2018 6:00 pm
1K Views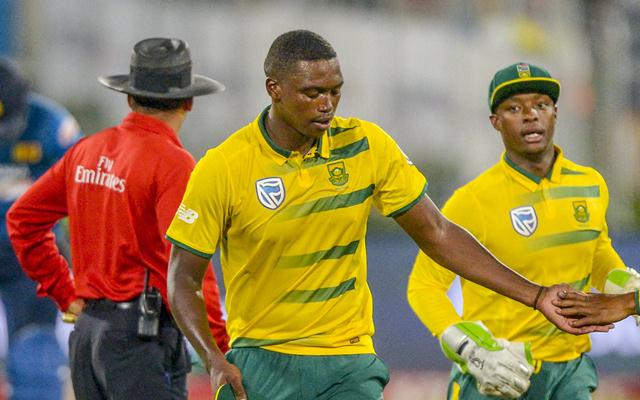 Follow us on Google News
South Africa have comprehensively humbled India in the opening Test at the Newlands in Cape Town. However, en route their dominance over the hosts they encountered a body blow in the form of Dale Steyn's heel injury. Subsequently, he has been advised a rest for four to six weeks. However, South Africa have named a couple of replacements, one of them being Titans-pacer Lungi Ngidi.
A pacer known for cranking up the pace over 140kmph, Ngidi has emerged as a handy prospect for Proteas cricket. Being tall, the pacer is also able to extract significant bounce off the wickets. As we await the beginning of the second Test at the SuperSport Park in Centurion, let's take you through Ngidi's short yet eventful cricketing career.
1. Birth and Career
Lungisani Ngidi was born on March 29, 1966, at Durban, the largest city in KwaZulu-Natal. He is a tall and lanky fast bowler who has represented South Africa, KwaZulu-Natal Inland Under-19s, the Northerns, South Africa Under-19s and the Titans
2. First International series against Sri Lanka
Lungi Ngidi's maiden assignment at the highest level was against Sri Lanka in a three-match T20 International series in January 2017. The fast bowler immediately made an impact with six wickets in the series at an average of 7.33 and an economy rate of 5.50.
3. Player of the Match on debut
The speedster made an impact in the first game itself with figures of 2-0-12-2 in a rain-curtailed game at the SuperSport Park in Centurion. The performance earned him the Man of the Match award. His best bowling figures of 4-0-19-4 came in the next game at Johannesburg
4. Injury on the eve of his maiden ODI appearance
After an impressive T20I series, Ngidi was named in the subsequent ODI series. However, he sustained a left-abdominal muscle wall injury which ruled him out of the series. He was subsequently advised a rest of three to four weeks.
5. Selection in T20 Global League
Lungi Ngidi also a found a place in the much-anticipated T20 Global League. He was named in the Quinton de Kock-led Benoni Zalmi squad. However, the tournament didn't take place and was postponed until November 2018.
6. A poor background
Lungi Ngidi belongs to a poor family with his father, Jerome Ngidi working in the maintenance department at the Kloof Junior School. His father praised Ngidi's attributes as a student and hailed him an obedient and well-disciplined boy among his teachers and coaches.
7. Cricket since the age of 13
Ngidi studied at the Kwa-Zulu Natal's Hilton College and played in the provincial age-group cricket from the age of 13 years. He represented the Kwa-Zulu Natal Under-19 team and performed exceptionally for them. He eventually made his first-class debut for the Northerns in January 2016.
8. Member of the victorious Titans team in 2016-17 T20 squad
Ngidi was also a part of the triumphant Titan's squad which won the CSA T20 Challenge tournament in 2016-17. In 11 games, Ngidi managed to snare nine wickets. He returned with figures of 4-0-27-2, which included the crucial scalps of Colin Ingram and Colin Ackermann.
9. Africa T20 Cup player of the year
Lungi Ngidi represented the victorious Northerns team in the 2015/16 Afro T20 Cup. He picked up six wickets in four matches at a frugal economy of 5.00. In July 2016, he was anointed with the Africa T20 Cup player of the year award.
10. A possible replacement of Dale Steyn
Earlier in his career, Lungi Ngidi expressed his desire to bowl alongside South African speedster Dale Steyn. Though he hasn't played along with Steyn, he now has been the presented the privilege to replace the injured pacer in the squad. Meanwhile, he will also be playing his first game after his debut series against Sri Lanka way back in January.
Follow us on Telegram