12 Most inspirational quotes by MS Dhoni
MS Dhoni is the only captain to win T20 World Cup, 50-over World Cup, Asia Cup, Champions Trophy, IPL, and Champions League T20.
Updated - Apr 2, 2021 2:04 pm
7.4K Views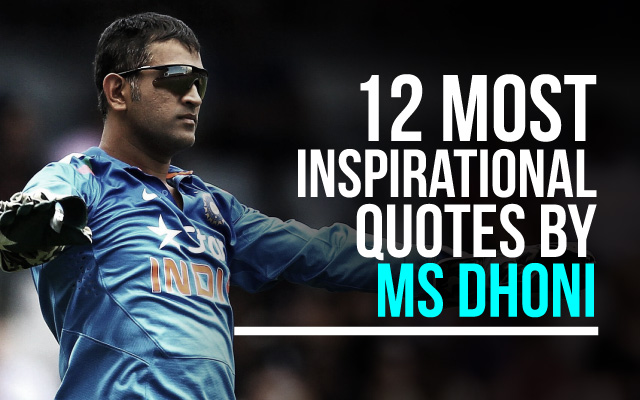 MS Dhoni is an individual who is very difficult to understand. From being a humble boy from a small city named Ranchi to becoming the only captain to lift all the three ICC trophies, he has come a long way. His journey as an international cricketer is celebrated for more than one reason. It has to do with all his outstanding performances which have put a smile on the faces of a billion people. 
Making his debut in 2004 as a long-haired wicketkeeper-batsman, Dhoni found instant success. In three years' time, his captaincy helped India win the inaugural T20 World Cup, which brought some relief to the Indian cricket fans after the shocking exit from the 2007 World Cup. In 2011, when the 50-over World Cup was played at home, Dhoni once again helped his team to a triumph, this time by being there till in the end in the final. 
Dhoni's legacy didn't just end there. He further went on to win the Champions Trophy in 2013 with another young bunch of players in England. Throughout his career, it was his personality, his charm, and the way he handled everything which inspired young cricketers and even individuals from other professions.
Here we look back at the 12 most inspirational quotes from MS Dhoni
1. Between 2008 and 2014, Dhoni led India in all three formats. In December 2014, he quit Test cricket and continued to lead the white-ball teams till the end of 2016. Considering the weight of expectations that came on his shoulders as an Indian captain, here's what he said.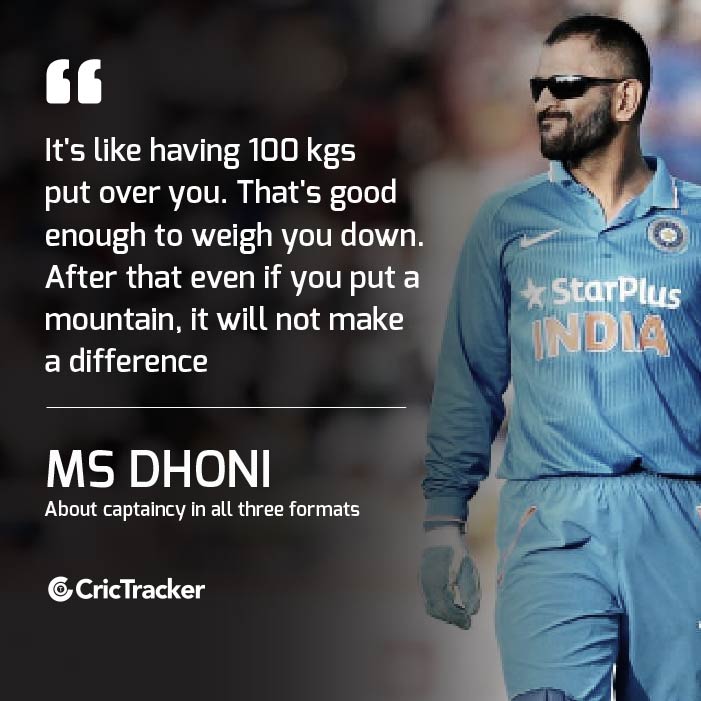 2. Throughout his career, even after proving himself every now and then, MSD faced several criticisms from experts, media and fans.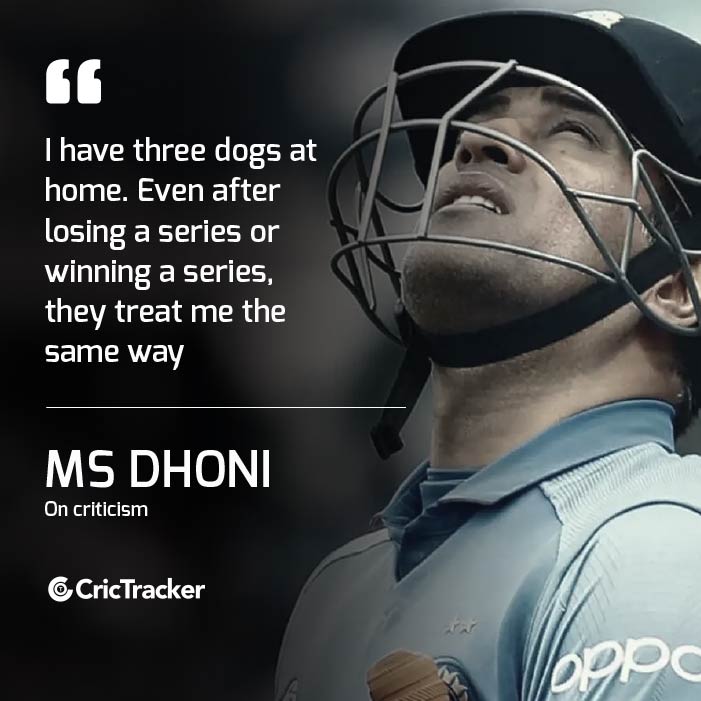 3. In the middle of the ICC Cricket World Cup in 2015, which was jointly hosted in Australia and New Zealand, Dhoni became a father to a young Ziva. However, he refused to be there for that occasion and continued playing at the World Cup.
4. MS Dhoni has always expressed his will to serve his country. After the 2019 Cricket World Cup, he served as a professional in the Indian Army and he was posted in Kashmir. As it turned out, his going to the Army was a hint that he is going to retire.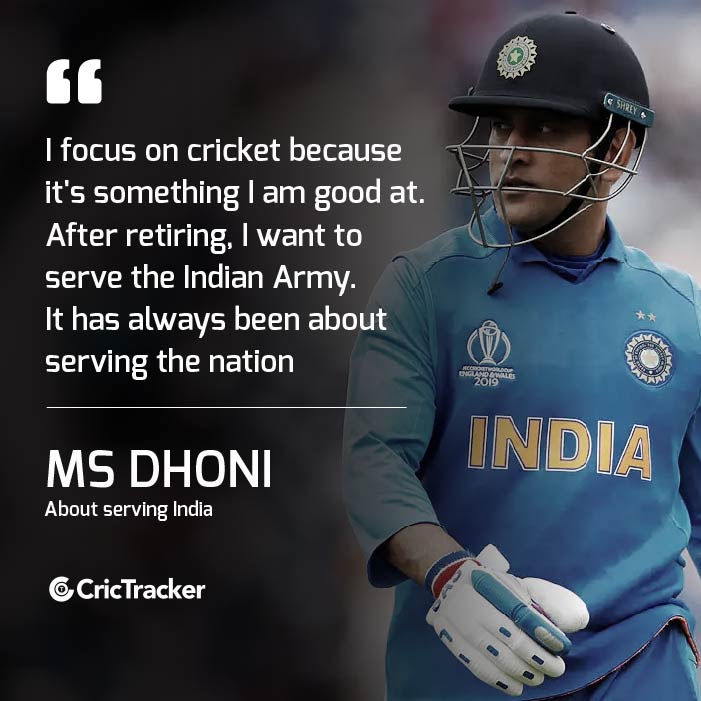 5. Under MS Dhoni's captaincy, the Indian team shifted their focus on fitness a lot more than ever. The results have been seen over the years, as India has become one of the fittest teams in the world.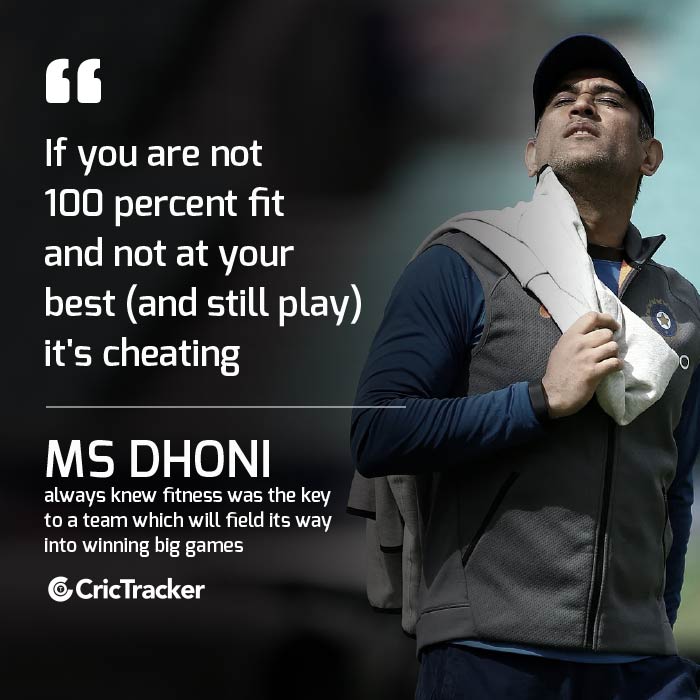 6. Throughout his career, MSD always trusted his gut feeling. Several decisions which he has made on the basis of his gut feeling has allowed him and his team to get over the line. Here he explains why his gut feelings have more often than not yielded results.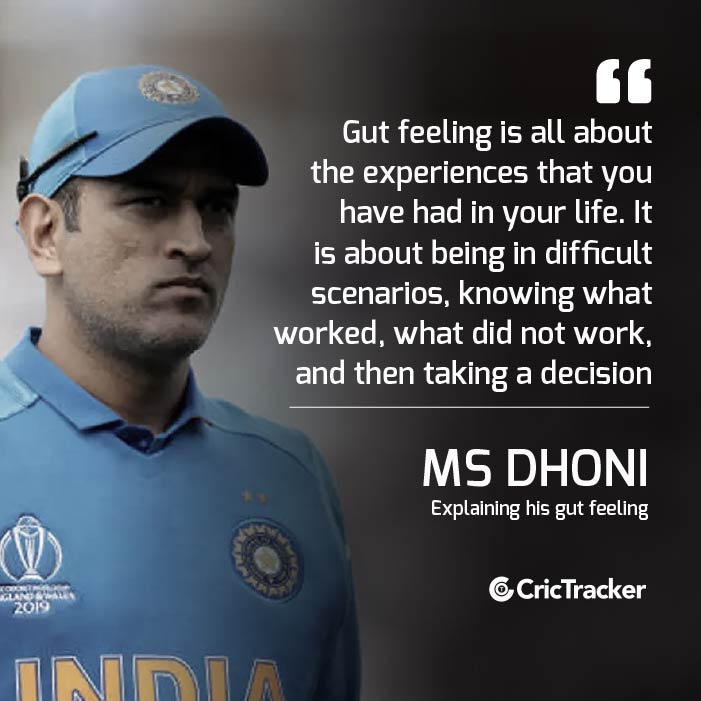 7. More than anything, Dhoni has the unique skill of building partnerships and helping the batsmen who are batting alongside him. In this, he explains his ideology behind it.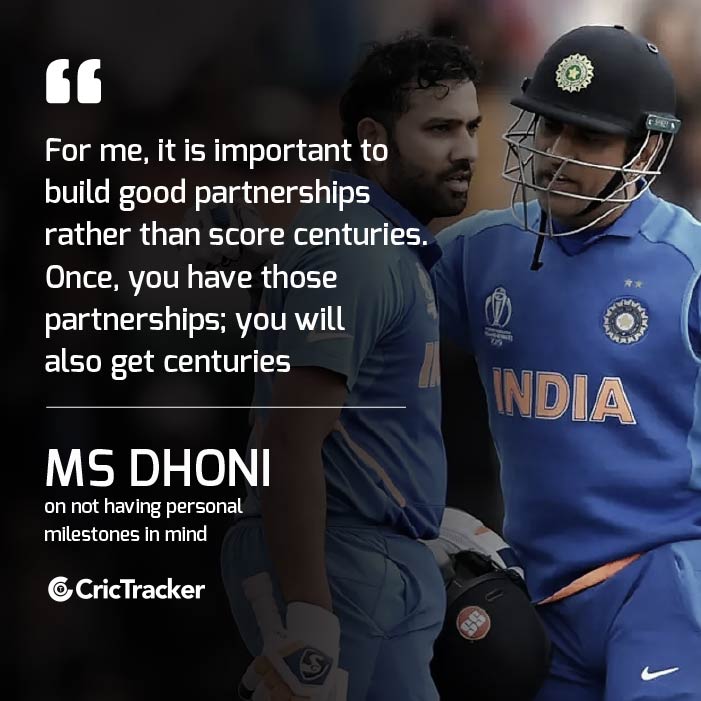 8. Dhoni as a leader has backed players even after they failed in some matches. In this one, he explains what is more important to him as a captain.
9. In this quote, Dhoni makes everyone realize why it is important to follow the advice of someone who is more experienced than you.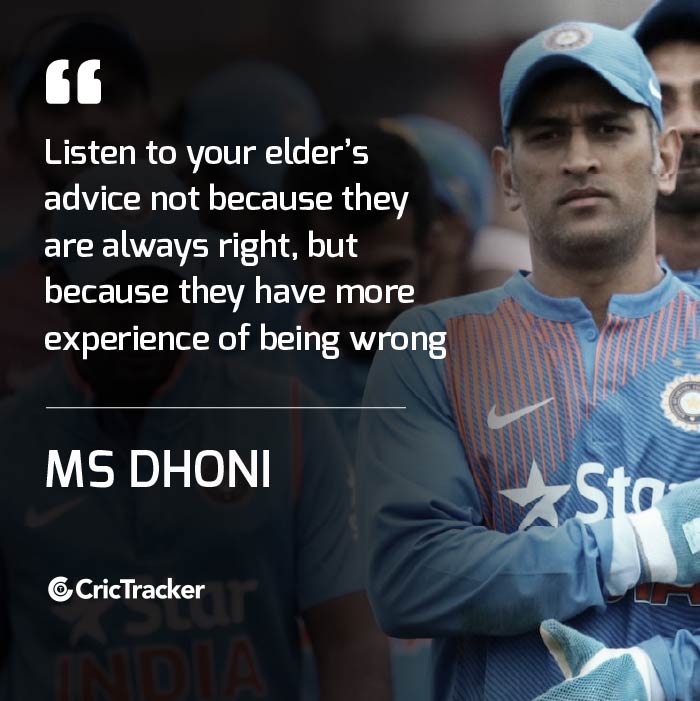 10. Dhoni has won several accolades during his time as captain, but he has also faced a lot of failures. However, he has been known to bounce back from difficult times and produce better results each time.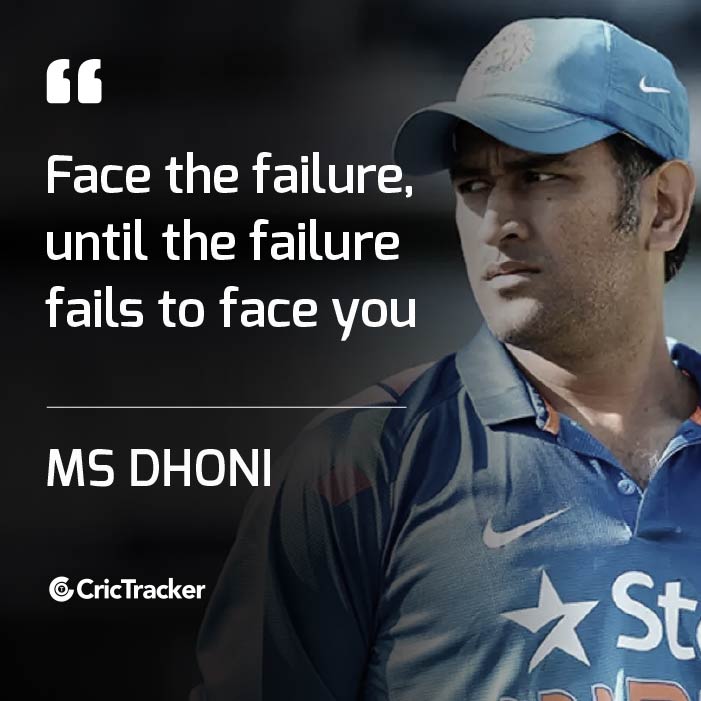 11. There is a sense of uniqueness in the way how Dhoni thinks. In this one, he explains how losing sometimes can help you rectify your mistakes and become stronger.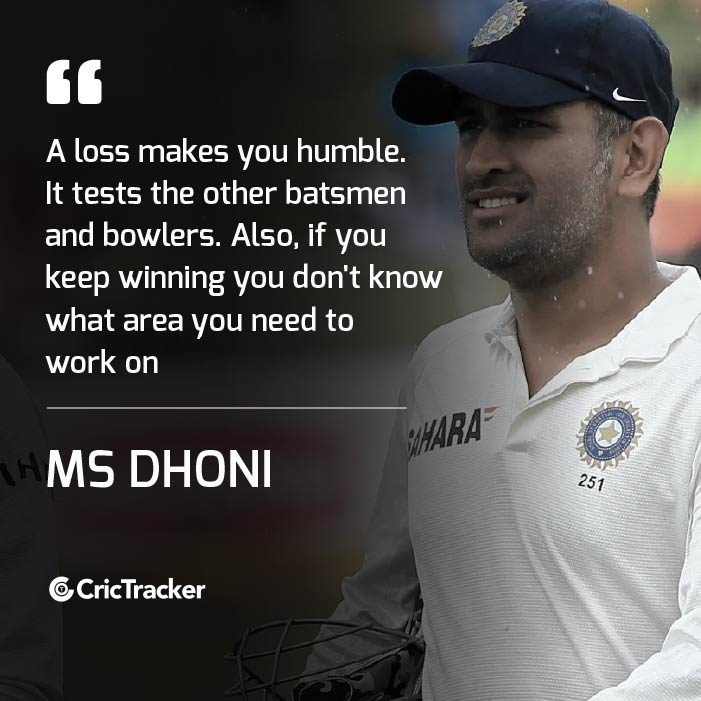 12. Every time Dhoni played for India, there have been loud cheers and chants of 'Dhoni! Dhoni'. However, the former captain always knew what his priorities were.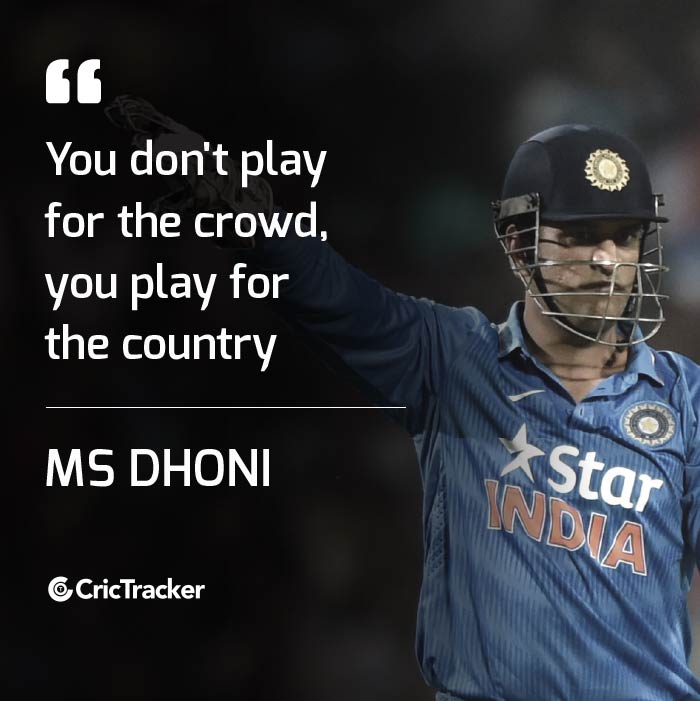 MS Dhoni will be playing for the Chennai Super Kings in the IPL 2021, which could be the last time when he plays in the league. His fans would want to see him take on the bowlers once again. But, Dhoni's contribution has been more than just hitting sixes or scoring runs. Through his journey, several players have been inspired and several players have had an outstanding career because they were backed by him.