14 Interesting facts about Stuart Clark
Updated - Sep 28, 2015 6:49 am
134 Views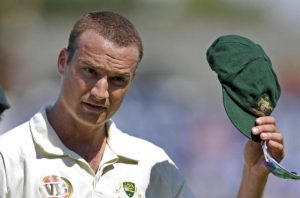 14 Interesting facts about Stuart Clark: We all are aware of this man from Australia. A gentle run up, close to the stumps, clean action and a beautiful follow-up.Stuart Clark is known for his accuracy. He has played a vital role in the Australian bowling unit. He is cool as a cucumber and is also known for his safe hands. On this day, we wish Stuart Clarke a very happy birthday. Let us see how the journey unfolded.
Here are 14 Interesting facts about Stuart Clark:
1.Born Day:
He is born on 28 September 1975, Sutherland, Sydney.
2.Teams:
Australia, Hampshire, Middlesex, New South Wales.
3.Nickname :
His nickname "Sarfraz" originates from the similarities of his bowling style to Sarfraz Nawaz.
4. Indian Connection:
Clark is the son of Anglo-Indian parents; his father Bruce Clark is from Chennai and his mother Mary (née Boosey) is from Bangalore.He is the first male cricketer of Indian ancestry to represent Australia.
5. Academics : 
Clark finished a Master of Commerce, majoring in finance, in 2009 and then completed a degree in law at the University of Sydney.
6. Family :
Clark is married to Michelle, with whom he has two children, Lachlan and Sophie.
7. Favourite football team:
He is an avid follower of Liverpool.
8. Baggy Green:
He made his test debut vs South Africa at cape Town,2006.
9. ODI Call up:
He made his ODI debut vs ICC World XI, 2005.
10. Military Medium:
Even though injuries played a role in his cricket career, most of the times he came out with flying colors.He picked up 94 and 53 wickets in Tests and ODI respectively.
11. Early Test Career:
Clark was included in the Australian Test squad, replacing Glenn McGrath  for the tour of South Africa. He made his debut in the first Test at Cape Town. Clark had an immediate impact on the game, dismissing Graeme Smith early in South Africa's innings, on his way to five wickets. He captured another four in the second innings, to finish with match figures of 9/89 and the player of the match award.In the second Test at Durban, he took four wickets, and in the third Test at Johannesburg, he returned figures of 3/81 and 4/34. Altogether, he was the leading wicket-taker of the series with 20 wickets (at 15.85 average) and was voted player of the series.
12. Ashes Hero:
Clark made his Ashes debut at the 'Gabba' on 23 November 2006 in the 2006/07 series. In the first Test, he captured seven wickets as England fell to a 277-run defeat and performed in similar fashion in the second Test where he was the best of the bowlers as Australia triumphed by 6 wickets. Playing the final Test on his home ground in Sydney, Clark took 3 wickets in the first innings before striking 35 runs off only 47 balls with the bat in Australia's first innings.He ended the series with the most wickets (with 26 at an average of 17) and a best strike rate of all bowlers.
13. Honours :
Clark was named general manager of Sydney Sixers in May 2011 and held the position while playing part-time.
14. Popular Figure:
This lanky medium fast bowler was a popular player in the dressing room. He earned a huge amount of respect from opposition teams, thanks to his subtle nature and a calm personality.