16 Facts about Muttiah Muralitharan: Turning the ball since 1992
Updated - Apr 17, 2016 12:45 pm
674 Views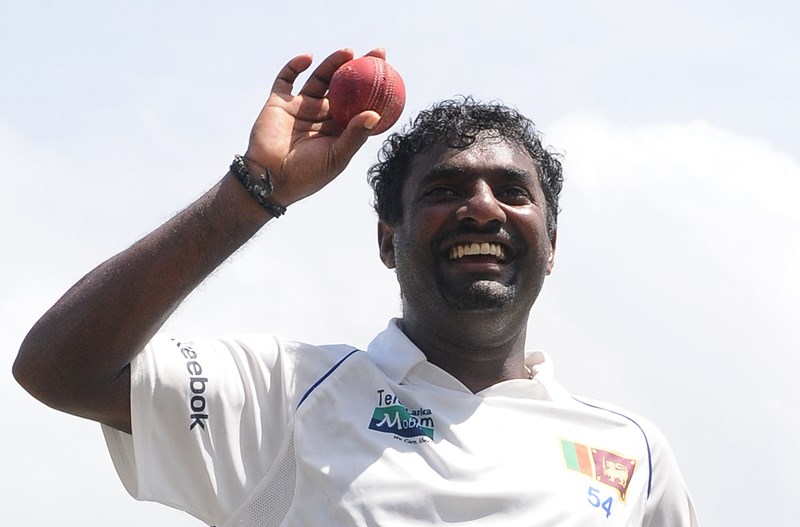 Follow us on Telegram
For many, Sri Lankan spinner Muttiah Muralitharan could not be born at a better time. The sport of cricket as we know was entering a new era. It was to become the era of spin. It is also no secret that pace had dominated the game prior to the 1990's. Whether it was Michael Holding, Bob Willis, Dennis Lillee or even Kapil Dev, the universal truth of cricket was if you had pace, you were a winner. However, with the emergence of Shane Warne and Muttiah Muralitharan. While the latter's career has been plagued with several controversies, one thing has remained – his irresistible and prideful smile.
1. Birth:
Muttiah Muralitharan was born in a Tamil family on the 17th of April 1972 at Kandy.
2. Apples and oranges:
The question perhaps everyone has wanted an answer to is whether his name is Muralitharan or Muralidharan. He reportedly prefers the latter. he different spellings have arisen because the Tamil letter in his name can be pronounced as both 't' and 'd' depending on its place in a word.
3. Spin theory:
The reason for Muralitharan's immense success in World Cricket is simply due to one reason. Due to the fact that he usually bowls the marathon spells, Muralitharan has developed an open-chested and wristy action over the years. He has a leg-spinner, something that is usually mistaken for an off-spinner, a doosra and a top spinner. The latter has earned him the most number of wickets in the past. He has also been known to bowl the Shane Warne slider.
4. Nickname:
He is fondly known to one and all as Murali.
5. A humble beginning:
Being the eldest of four sons, Murali was educated at St. Anthony's College in Kandy, where he had his first ever tryst with cricket. He began his junior career as a medium pacer but soon found out that his ability to bowl spin yielded him many more wickets than he would have expected.  In his final two seasons at St Anthony's College, he took over one hundred wickets and in 1990/1 was named as the 'Bata Schoolboy Cricketer of the Year'.
6. The Warne-Muralidharan trophy:
The Warne Muralidharan Trophy is a tournament that is contested between Australia and Sri Lanka. It was unveiled in 2007.
7. The Allan Border mark:
In his first Test series against the Aussies, Murali proved to be much more than a handful for the bamboozled Aussies. He executed the top-spinner to such perfection that a bamboozled Aussi skipper Allan Border failed to pick it up.
8. Run-in with Ross Emerson:
Ross Emerson was the umpire in the match between England and Sri Lanka at the Adelaide Oval in 1999. Apart from being the brother-in-law of former Aussie paceman Terry Alderman, Emerson etched his name in the cricketing records. He no-balled Murali on seven occasions, each of which were Murali's regular leg-break deliveries. However, when he bowled the doosra, Emerson deemed it a legal delivery. Arjuna Ranathunga, the Lankan skipper threatened to walk away from the field, only for the Lankans to come back and win the match in the final over. Emerson was never reappointed as an umpire and was called a 'nincompoop' by prominent Aussie journalist Peter Roebuck.
9. The best there ever was:
In July 2010, Murali claimed his 520th wicket in Test cricket, surpassing the great West Indies pacer Courtney Walsh. However, there were bigger and better things to come when the Lankans faced England. He cleaned up former England skipper Paul Collingwood to secure his 709th wicket, thus breaking Shane Warne's record.
10. A soft corner for England batsmen:
Of his 800 wickets in Test cricket, Murali has picked up 112 Test wickets against England in 16 matches. This remains the highest wicket tally in Test cricket for an individual.
11. An 'Oval' setting:
One of Cricket's greatest moments came in the 1998 tour of England. Murali picked up a mammoth 16 wickets in the match as the Lankans cruised to a 10-wicket win, their first Test win on English soil.
12. Wickets galore:
Murali has taken 800 wickets in Tests, 534 wickets in ODIs and 13 wickets in T20 internationals, adding up to 1347 wickets in international cricket. No other bowler has taken over a 1000 wickets across all formats of international cricket.
13. Thank you Mr. Ojha:
Indian left-arm spinner Pragyan Ojha became Muttiah Muralitharan's 800th and final Test match wicket. Incidentally, Ojha's was dismissed by Murali's final delivery in Test cricket.
14. The 'Chucker' scandal:
John Howard, the Prime Minister of Australia began the mind games against the Lankans when he described Murali as a 'chucker' in 2004. Murali cited that he would sit out of future tours to Australia.
15. The Duckman in Sri Lanka:
Murali has the unimpressive record of having the most ducks in international cricket with 59 across all formats.
16. The need for more records:
When it comes to batting, Sachin Tendulkar holds all the records. However, when it comes to bowling, Murali has, not all, but most of the records. Below are a few records Murali can boast of:
7 wickets in an innings against the most countries.
Most 10 wicket hauls in Tests.
Most 10 wicket hauls in Tests.
Most number of ODI and Test wickets.
Only player to take 10 wickets in a Test in four consecutive matches. He achieved this feat twice.
Most Man of the Series awards in Test cricket (11).
Follow us on Google News