17 Interesting facts about Allan Lamb that you need to know
Updated - Jun 20, 2016 7:44 am
121 Views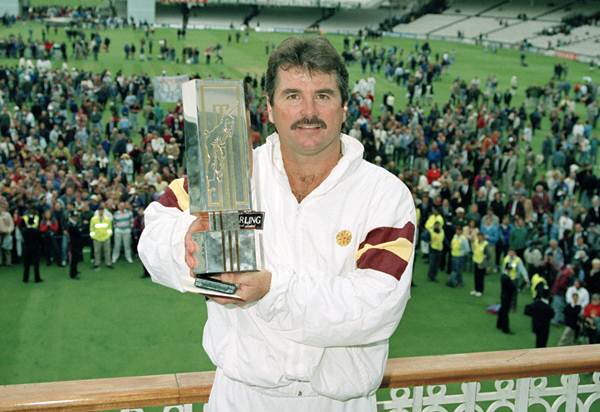 Follow us on Google News
From being born in South Africa to being a consistent presence in the English middle order, Allan Lamb was a name to remember during the time he represented England on the field. Signed as an unknown player from South Africa by Northamptonshire, he invoked his right to play due to his parents being born in England when Ken Turner, their secretary told him that it was a long time before South Africa would play again in the international circuit. Here are few interesting facts about the England batsman.
1. Birth:
Lamb was born on 20th June, 1954 in Langebaanweg, Cape Province, South Africa. His parents were of English origin and had settled in South Africa. His father Mickey was a journeyman cricket bowler and his mother was a passionate lover of the game.
2. Education:
He did his schooling from Wynberg Boys' High School and college from Abbots College. He played cricket there and played it extremely well.
3. Switching from rugby to cricket:
Allan Lamb had said in an interview that he was actually a good rugby player but then moved to cricket. He started out as a wicketkeeper, then chose batting and stuck on to become a great batsman.
4. Domestic cricket debut in South Africa:
In January 1973, Allan made his debut in the domestic circuit of South Africa when he played for the Western Province in the Currie Cup. He came after one wicket was fallen and scored 59 and 36 against the Eastern Province.
5. His service in the South African Air force:
After a small stint for Western Province, Allan Lamb joined the South African Air force building airfields for two years before returning to the club.
6. Batting at No. 4:
Western Province started experimenting with his batting position and he started playing as an opener and also batted at 4, 5 and 6. But it was at 4 that he found the best rhythm which became his true and regular position in the batting order for Western Province and later on for England.
7. His highest first-class score:
Lamb, later in his career played for the Orange Free State team where he scored his first-class score of 294 after which he moved back to Western Province.
8. Move to England:
South Africa in the late 80's and early 90's was banned from international cricket due to Apartheid and he travelled to England to continue his career in cricket. He did not get a contract on his first visit and had to return to South Africa to work as a salesman. But later he was signed by Northamptonshire and stayed in England.
9. Northamptonshire signing:
He was signed on by Northamptonshire. Lamb went on to play 17 seasons for Northamptonshire continuously.
10. Taking Northamptonshire to the finals:
In his final season as a captain for the club in 1995, Lamb took his side to the finals and very nearly took Northamptonshire to their first County Championship with 12 wins in their final 17 matches.
11. Northamptonshire's honour:
In 2001, the club honoured him by naming a room in the Indoor Centre as 'The Allan Lamb Room'
12. England call-up:
He moved to England hoping to represent the national side and he was eligible for selection due to his parents being of English origin. With some great performances for the domestic side, he was rewarded with a spot in the squad in 1982 for the tour of India. He went on to play 79 Tests and 122 One-Day Internationals (ODIs).
13. Settling into the English dressing room:
Playing for an adopted country is not easy and adjusting into that country takes time. In an interview with Sky Sports, Lamb had said that in one of his early tours, he had met Bob Willis and told that he was committed to play for England's success. Willis had replied by saying, "Don't worry! You are one of us."
14. Scoring a ton in the first Test as captain:
Lamb was the skipper of England for three Tests in 1990. His first was against the Windies in Barbados. Known to dominate this opposition, he smashed a ton with a score of 119 but England lost the game with a Curtly Ambrose special of 8 wickets in an innings.
15. Ball-tampering allegations against Pakistani bowlers:
He had alleged Pakistani bowlers that they were embroiled in ball-tampering. Lamb had said that Sarfraz Nawaz had indulged in this activity while playing for Northamptonshire. Lamb was fined for those comments and he was also sued by Sarfraz as he wasn't witness to the act and his allegation were based on rumours. Later he and Botham lost out a case when they alleged Pakistani speedster Imran Khan tampered the ball.
16. Entrepreneurial spirit:
After retirement, Allan Lamb became an entrepreneur. He runs the Global Sports Travel in partnership with another firm, where they take fans to different sporting events mainly to cricket events around the globe.
17. His autobiography:
In 1996, he released his autobiography titled 'Silence of the Lamb'.
Follow us on Telegram