1st international Triangular tournament to be organized for disabled cricketers
Updated - Sep 8, 2015 1:54 pm
67 Views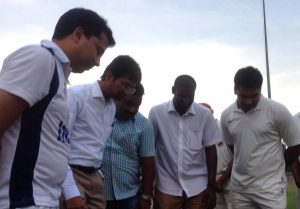 Follow us on Google News
1st international Triangular tournament to be organized for disabled cricketers: Cricket connects emotions, traditions and what not. And a certain degree of credit for the overall upliftment of society rests with the sport. And we might never know what Cricket means to physically challenged individuals, the specially able yet the most underprivileged section of our society. First of all we must not refer to them as handicapped or disabled. If any thing they are differently abled to us. Many efforts have rewarded a number of handicapped persons to display their cricketing talent, thereby increasing their motivation and confidence.
And here is one such worthy effort that deserves mention. Mr. Sheik Mubaashir Ali a student of Teegla Krishna Reddy (TGR) college of Telangana has taken a step we all should be proud of. He along with other 3 other students of TGR college namely Madhu, Vamsi and Nikhil have joined hands with Mr. Shareef, the national secretary for disabled cricket and are set to organize a tri nation tournament which will be the first triangular event of international standard for the physically challenged. The disabled players of India, Bangladesh and Sri Lanka are set to take part in the tournament to be organized under the Challengers Cricket Club and represented by the chief minister of Telangana K Chandra Shekhar Rao. The tournament will be played from the 2nd to the 10th of October in the TKR college campus.
The Indian players have been selected after the recently concluded trial camp of the national side. The event also has the backing of local MLA Mr. Teegala Krishna Reddy who is passionate about cricket and wants these young boys to realize their potential in the sport.
Crictracker would like to wish Mr. Ali and the rest of his team the best of luck in their noble and kind efforts and hopes that the event would enlighten the audiences on handicapped cricket and help them acknowledge such honest, generous and inspiring efforts. We also wish the players of all three teams success in the tournament and their journey ahead.
Follow us on Telegram