20 Facts about Hansie Cronje- A Hero turned Villain
Updated - Sep 25, 2015 7:47 am
224 Views
20 Facts about Hansie Cronje- A Hero turned Villain: When you are named as the 11th greatest South African even after getting banned from cricket for life due to involvement in match-fixing, it means you have achieved some incredible feats for your country indeed. We are talking about the former South African skipper, Hansie Cronje. And it was in 2004 when he was voted 11th greatest South African, 2 years after his death. During his playing days, he was renowned for his aggressive batting and astute fighting skills. Hansie was a medium pace bowler as well who could turn the tides with his seam-ups. Cronje was very agile in the field as well.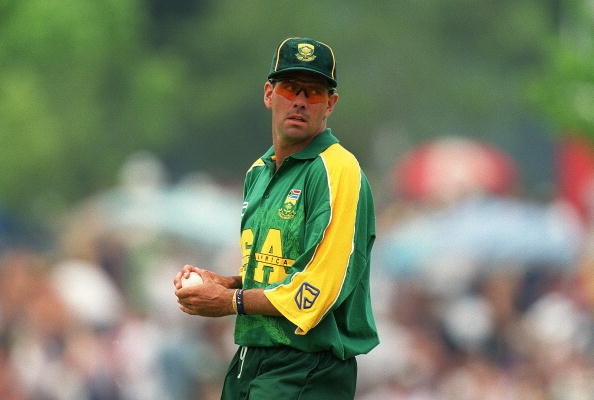 Follow us on Google News
Today on his 46th Birth anniversary, we list 20 Facts about Hansie Cronje- A Hero turned Villain:
1. Birth:
Hansie Cronje was born on 25 September, 1969 in Bloemfontein, Orange Free State.
2. Family:
Cronje's family was deeply religious and sporty. His father was an off-spinning all-rounder for Free State in the eras of 1960. Hansie's older brother Frans had also featured in First-Class cricket.
3. Education:
Hansie Cronje graduated from Grey College in Bloemfontein in 1987. While he also earned a Bachelor of Commerce degree from the University of the Free State.
4. All-round Sportsman:
Hansie Cronje was an excellent sportsman. He had not only represented the Orange Free State Province team in Cricket and Rugby at School level but even captained them.
5. Domestic Debut:
Hansie Cronje made his First-Class debut for Orange Free State against Transvaal at Johannesburg in January 1988 when he was only 18 years old. While he made his List-A debut for them in 1988/89.
6. International Debut:
Hansie Cronje made his ODI debut against Australia at Sydney in World Cup 1992 but didn't got the chance to bat as South Africa won the match easily. Hansie's Test debut came against West Indies at Bridgetown in 1992 which was South Africa's first Test appearance after readmission in cricket. He scored 7 runs in the match.
7. Maiden Test century and ODI fifty against India:
Hansie Cronje had to struggle hard for his maiden fifty in ODIs and his first fifty came against India in his 18th ODI appearance. While he scored his first Test century against India at Port Elizabeth. His innings proved to be of paramount importance as South Africa secured it's first Test win since readmission.
8. Second South African to take fifer in ODIs:
In Cape Town ODI against India, Hansie Cronje secured figures of 5/32 and became the second South African player to claim a fifer in ODI cricket.
9. Famous Six:
In the 1st ODI against India in 1992, South African's required 6 runs off 4 balls for victory and Hansie Cronje who came out to bat at no.6 position smashed the winning six and helped his side to win the match with 3 balls remaining.
10. World Cup 1992:
Hansie Cronje played eight of the South Africa's nine games in World Cup 1992, and averaged 34 with the willow in hand. He also bowled a total of 20 overs in the World Cup.
11. County Star in 1995:
In 1995, he represented Leicestershire and amassed 1,301 runs at a superb average of 52.04. Hansie Cronje was County's leading run-scorer that season.
12. Great Leader:
Hansie Cronje 's leadership was inspirational and those who have played under him rate his leadership qualities very highly. His pre-match talks were motivational. He led South Africa in 53 Tests and under him the team won 27 and lost 11 matches. Hansie led South Africa to series victories against every opponent except for Australia. In ODIs as well he was phenomenal as skipper and captained his side in 138 matches out of which South Africa won 99 matches while one had ended in a tie.
13. Man-of-the-Match Awards:
Hansie Cronje was a match winner and won the Player-of-the-Match Award 19 times in international cricket. Out of 19 awards, 17 came in ODIs while 2 came in Tests. While his only Man-of-the Series Award came in Standard Bank International Tri-series involving India and Zimbabwe in 1997.
14. Brutal against Australian's:
Hansie Cronje was very barbarous against the Aussies and didn't leave any stone unturned against them. In 39 ODIs, he hammered 1,364 runs against them at a staggering average of 47 with 2 centuries and 9 half-centuries. He also took 16 wickets against them. While his highest tally of runs in Tests as well came against Australian's. The right-hander scored 788 runs in 12 matches against them.
15. Most prolific years:
In international cricket there were only two times when Hansie Cronje scored 1000 runs in a calendar year. One came in ODIs in 1994 when he scored 1,133 runs in 29 ODI matches while the second one came in 1998 in the whites when he scored 1,040 runs in 14 matches.
16. Match-Fixing Scandal:
It was the Match-fixing scandal which turned him into a Villain from a Hero. It also caused a premature end to his international career. It was in 2000 when the United Cricket Board of South Africa (UCBSA) imposed a life ban on him for his involvement in match-fixing.
17. International Career in numbers:
Hansie represented South Africa in 68 Tests and accumulated 3,714 runs at an average of 36.41 with 6 centuries and 23 half-centuries. While in ODIs, he played 188 matches and hammered 5,565 runs with 2 centuries and 39 half-centuries. He also took 43 and 114 wickets in Tests and ODIs respectively while held on to 106 catches in international cricket.
18. Domestic Career in numbers:
The former South African skipper Hansie Cronje played 184 First-Class matches and aggregated 12,103 runs with 32 tons and 57 fifties . While with the red cherry in hand, he grabbed 116 scalps. In 304 List-A matches, he amassed 9,862 runs at an average of 42.32 with 9 centuries and 69 fifties. He took 170 wickets in as many matches.
19. Death:
In 2002, Hansie Cronje passed away aged only 32 as the plane in which he was traveling crashed into mountains.
20. Marriage:
Hansie Cronje had married Bertha Hans in 1995. They never had any children. After Cronje's death Bertha married Jacques Du Plessis in 2003. Even Cronje's family was present at the private ceremony.
Follow us on Telegram