23 Facts about Gautam Gambhir – The Mercurial Southpaw
Updated - Oct 13, 2016 3:38 pm
387 Views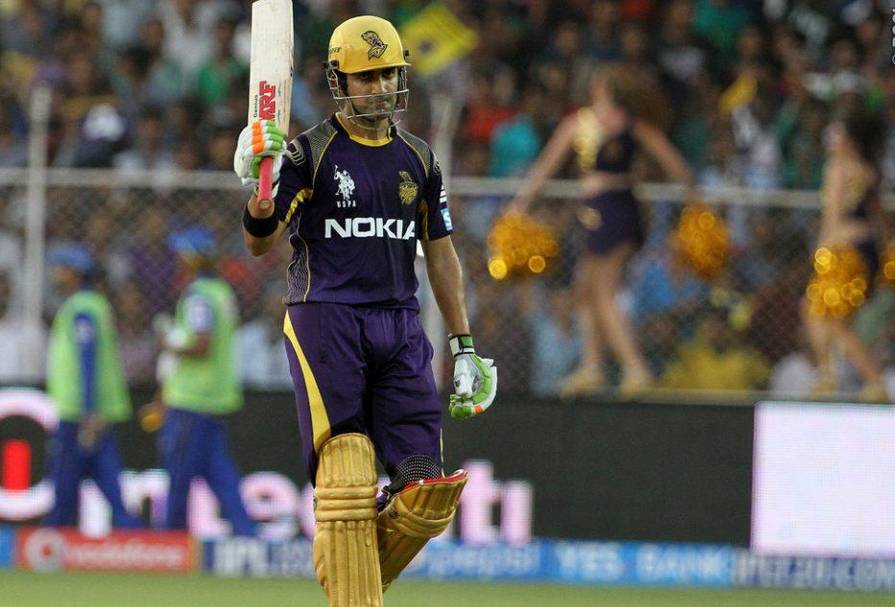 Gautam Gambhir is one of the best Indian openers to have ever played in international cricket. After making his debut as a 22-year-old, Gambhir quickly solidified his position in the team and formed a superb opening pair with the dashing Virender Sehwag.
Gambhir was at his peak during the late 2000's and played pivotal role sin the 2007 T20 world Cup triumph and 2011 Cricket World Cup. His career, however, faced slump after 2011 and he went out of favour to form related issues.
He could not be written off that easily though. The southpaw continued continued to enjoy success as a player and captain for the Kolkata Knight Riders (KKR) in the IPL. On occasion of his 35th birthday, here we look at few facts about the left-handed Delhi batsman.
1.Born on:
Gambhir was born on October 14, 1981, in the Indian capital city of Delhi
2. Childhood:
Since his childhood, Gautam Gambhir lived along with his grandparents as they adopted him after 18 days of his birth.
3. NCA:
At age of 18, Gambhir got selected for National Cricket Academy, Bangalore and later made in U19 Indian teams.
4. Youth cricket:
Gambhir made his Youth one-day debut in 2001 against England young side at Hyderabad and made his Youth Test debut in the same season also against England at Mumbai.
5. Crucial role in the win:
Gautam Gambhir scored 81 crucial runs in 3rd Youth One Day game against England at Hyderabad and helped India U19s to win the series 2-1.
6. Highest individual score record:
During 2nd Youth Test against England at Chennai, Gambhir scored 212 in following on and recorded the highest individual score in an innings by an Indian in this format, which was overhauled by only Tanmay Srivastava (220) in 2006.
7. Highest partnership record:
During his double century in Youth Test, Gambhir recorded an opening stand of 391 with Vinayak Mane which is record stand for any wicket in Youth Test Cricket.
8. India A tour:
Gautam Gambhir was part of India A team during their tour to West Indies in 2002/03 Carib Beer Cup, where he top scored for his side with 617 runs in 13 innings.
9. Back to back double hundreds:
In 2002, Gautam Gambhir scored consecutive double centuries in domestic circuit including one against visiting Zimbabwe side.
10. ODI and Test debut:
In 2003 against Bangladesh, Gambhir made his ODI debut and in 2004, he made his Test debut against Australia.
11. World T20 2007:
During World T20, 2007 final against Pakistan, Gambhir scored a brilliant 75 in just 54 balls. Gautam Gambhir was India's top run scorer in ICC World Twenty20 with 227 runs. In overall, only Mathew Hayden scored more than him with 265 runs.
12. Awards:
In 2008, Gautam Gambhir received the Arjuna Award.
13. No.1 Test batsman:
In 2009, Gautam Gambhir reached No.1 rank in ICC Test rankings for batsmen.
14. ICC Test player of the year:
In the same year, Gambhir received the ICC Test player of the year award.
15. Record for consecutive Test hundreds:
In 2010, Gambhir became 1st Indian and 5th player overall to score 5 centuries in 5 consecutive Test matches.
16. Equalled Vivian Richard's record:
Gautam Gambhir became only the 2nd player after Viv Richards to score 11 fifties in 11 consecutive Test innings in 2010.
17. Amazing consistency:
He is the only Indian batsman to score 300+ runs in 4 consecutive Test series.
18. Captaincy debut:
Gambhir made his captaincy debut for India in 2010. He captained the Indian side in ODIs against New Zealand in 2010 and team India won the series 5-0. Under Gambhir, India won all the 6 matches they played.
19. World Cup 2011 final knock:
With a 122-ball 97, Gautam Gambhir laid the foundation for India's victory in World Cup final in 2011 against Sri Lanka.
20. Marriage:
In October 2011, Gambhir married Natasha Jain who comes from a prominent business family.
21. $2.5 mn buy by KKR:
Gambhir became the most expensive player at the time when the Kolkata Knight Riders brought him for 2.5 million dollars in 2010.
22. IPL success:
In 2012, Gambhir led his IPL team Kolkata Knight Riders to the championship crown. Later in the year 2014, he won his 2nd IPL title for KKR.
23. Indian opening pair with most partnership runs:
Gambhir along with Sehwag, had 4412 partnership runs in 87 innings while opening, the most for an Indian opening pair. Their average of 52.52 is the best among pairs with minimum of 4000 runs.