4 times Hardik Pandya showed he's in complete love with his puppers
Hardik, Natasa and their pet dogs have had some adorable moments together.
Get every cricket updates! Follow us on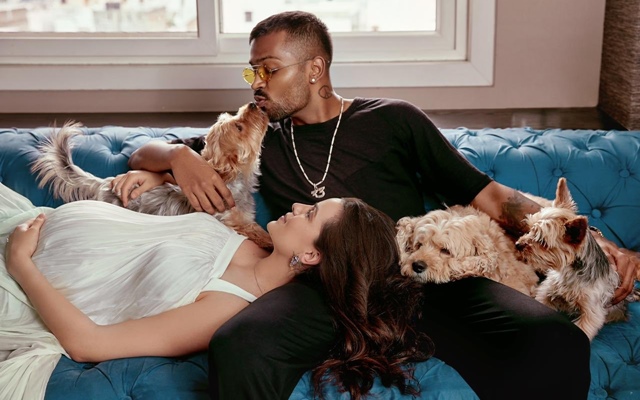 The Surat born stylist man, Hardik Pandya never misses to display his class on and off the field. While he remains an absolute amazeballs with his bat and ball on the field, his style statement remains at point off the field. His outfits, glasses and watches talk of his impressive taste and choice he has with lifestyle things. He is definitely aggressive enough on field to scare opponents but behind that toughness lays an extremely loving and adorable heart. A heart that has so much love for his pets, his puppers.
The Indian all-rounder has three furry puppies and one can never debate on how much he is mad for them. The cricketer has always been very active on social media and seeing his Instagram account closely, one can tell about his indispensable bond with dogs. Let's talk about four incidents where the cricketer can be seen getting all cute with his puppies.
1. Natasa's baby shower
On May 31 this year, the cricketer threw a surprise on his fans' way by announcing Natasa's pregnancy. He gave the good news to fans through an Instagram post. Later in a picture posted by the Serbian model from her baby shower day, she was seen posing cutely with Pandya while all their puppies surrounded them. Two sat on the table while one posed adorably between Natasa and Hardik.
Getting clicked with his puppers on significant moments shows his pure love for them. Pandya's dashing shoes and chain are again adding style statement to his overall casual look. The interesting thing here is that decor of the entire set up somehow matches with tone of his dog's fur.
2. Cuddling with Natasa and Puppers along
In an adorable post that the right-handed batsman came up with on Instagram this June, he is sitting casually kissing his one of the puppies. Two are sitting on other side where he has kept his hand over them, and his lady love is resting her head on his lap. The player captioned the picture as 'Family' and it tells how they are part of his loving family.
The picture is post announcing Natasa's pregnancy and the duo indulged in spending lot of quality time together. Picture also shows that actress is also quite in love with these cute babies.
3.Playing PUBG with Bentley
In another cute post on Instagram, the 26-year-old was seen playing PUBG where one of his puppies sat wrapped in his arms. This one is Bentley, the one cricketer got on his 25th b'day. He captioned the picture as 'Bentley telling me where the enemies are in pubg'.
Not to forget, his chain, classy headphones and watch are cherry on cake to his too casual look. The dapper is always particular about his all these accessories.
4. Playing with cuties.
In the above photo, Pandya can be seen smiling out of happiness where he is holding one of his puppers in his hand while using the other fur ball as his pillow. His happiness reveals his pure sense of joy while having them around. He captioned this one as 'My furry babies' where his elegant watch and ear piece is stealing attention yet again.
Therefore, it is too evident that a part of cricketer's heart resides in his pet. Everyone finds happiness in something that showers us with unconditional sense of contentedness, the star all-rounder has definitely found that in these voiceless yet loving creatures.