5 cricketers who share a huge age difference with their wives
"Age is just a number when one finds their soulmate in a person," this renowned saying seems to be proof in a few cricketers lives.
Updated - Oct 14, 2019 6:01 pm
233.8K Views
Wasim Akram and Shaneira Thompson. (Photo Source: Twitter)
They say love is blind! It has no boundaries and nothing can really come in the way of two people who wish to spend their life together. In an era where stereotypes are being broken, age is just a number. It hardly matters to two people who are in head over heels in love with each other.
Like several others, there are quite a few cricketers as well who share a huge age difference with their partners. Despite this massive age gap with their spouse – be it elder or younger, many of them have been able to lead very happy lives. They constantly give us relationship goals and form stunning pairs. Former Indian skipper MS Dhoni is over 7 years older than his wife Sakshi. Virat Kohli's wife Anushka Sharma is a few months older than him.
Here are some of the other cricketers who share a huge age gap with their partners:
1. Sachin Tendulkar and Anjali Mehta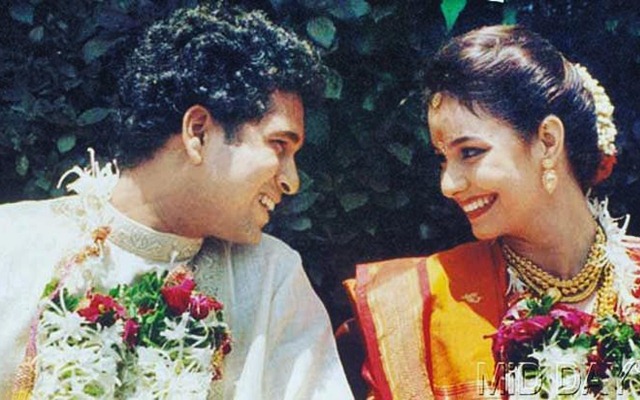 Sachin Tendulkar and Anjali Tendulkar (then, Anjali Mehta) give us some major couple goals. Anjali has been a massive support to the cricketing legend and Sachin was quite clear in his retirement speech that his career wouldn't have panned out as it has if it was not for his wife. Anjali first saw Sachin in 1990 at the Mumbai airport when she was there to pick up her mother.
The 'Master Blaster', who just scored his maiden Test century, was returning from England along with the Indian team. Anjali wasn't a follower of cricket back then and didn't know who her future husband was. But, she found him to be cute and thus, started shouting and waving at him. Then, through a common friend, she managed to get his number. They slowly started seeing each other and shared a long distance relationship before they got hitched in 1995. Anjali is 6 years elder to Sachin but age didn't turn out to be a hurdle in their relationship.