5 Current Indian Cricketers who are similar to Marvel Characters
Team India players also resemble some Marvel characters and here are the most prominent ones.
Updated - Apr 22, 2019 9:09 pm
14.1K Views
A Sportsperson receives superhero status all over the world irrespective of his origin. This can be visualized when Messi scores a brace at Camp Nou, Federer hits a backhand at All England Club, Sindhu hits a smash at Denmark open and Virat Kohli hits a cover drive at M Chinnaswamy Stadium. All these moments are cherished by the fans because it provides eternal bliss to them. The magic woven by them enchants the audience and this feeling is similar to watching a superhero in the Marvel Universe.
In India sportspersons, especially cricketers are considered as superheroes or demigods. Likewise, people here love Marvel characters as much as their cricketers. Until now fans of Marvel comics have enjoyed the spectacle when Hulk smashed Abomination, Iron Man beat down Extremis, Dr. Strange outwitted Kaecilius and Avengers ripped apart Chitauri Army. Now it is time for one final chapter Avengers: Endgame and it is set to roll and followers of Cricket and Marvel Universe are already excited for one final hurrah.
So here are 5 current Indian cricketers who are similar to Avengers as many parallels can be drawn between them and the Marvel characters:
1. Virat Kohli – Iron Man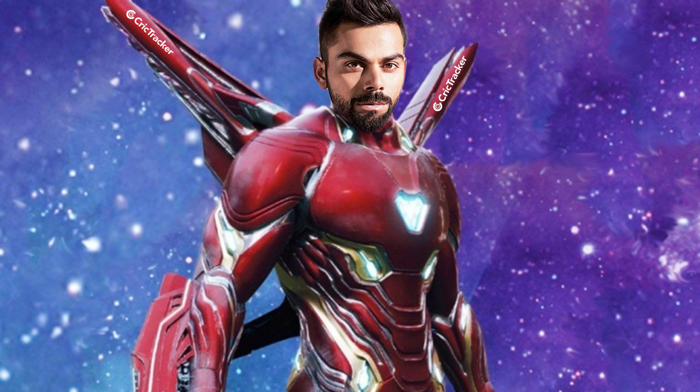 Right now the poster boy of cricketing world is none other than Virat Kohli as his passion has taken the game to a new level. One can easily relate Iron Man qualities with Kohli like he has different suits for different formats. Kohli loves to be in the control of the situation and never backs down even if the odds are stacked against him.
When he walks out to bat, he demolishes opposition bowling attacks and it is similar to  Iron Man destroying the Chitauri Army. Tony Stark the alter ego of Iron Man always strives for perfection a quality which can be related with Kohli's batting prowess. Kohli loves to be in the limelight and always keeps the team's interests ahead of his own and that's why he can be called the Iron Man of Cricketing Universe.