5 instances of a single player outscoring an opposition in One-day Internationals
Many players have managed to score double hundreds in ODI cricket, a feat unimaginable at the onset of ODI cricket.
Updated - Jul 10, 2020 6:51 pm
1.9K Views
Follow us on Telegram
Cricket is a team sport in which 11 players strive hard to get a favourable result for their team. Over the years, the game has undergone several modifications and is hardly the sport it used to be more than a century ago. Gradual advancements in batting techniques along with batting-friendly rules have transformed the game completely.
The advent of limited-overs cricket breathed life into the dying sport and resurrected it by increasing its appeal to the mass audience. Throughout the following years, the batsmen started changing their techniques and started batting aggressively. As a result, the modern batsmen have started conquering the heights no one would have imagined a few decades ago.
Many players have managed to score double hundreds in ODI cricket, a feat unimaginable at the onset of ODI cricket. In many instances, with the collective effort of a batsman and disciplined bowling, an opposition was bowled out before they could even match the batsman's individual score. Thus, a player trounced an entire opposition in a single limited-overs match.
Here we recollect 5 instances in which a single player outscored an entire opposition in ODIs: 
1. Rohit Sharma- 264 against Sri Lanka in 2014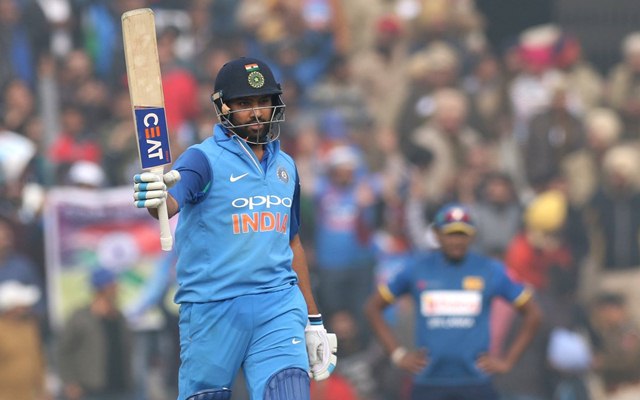 Numerous records were broken in the 4th ODI at Kolkata between India and Sri Lanka during the latter's tour to the former in 2014. Sharma's name was chronicled in the gilded pages of cricket history when he broke the record of Highest Individual score in ODI cricket, surpassing Virender Sehwag's 219 against West Indies. He also became the first (and till now the only) batsman to breach the 250 run mark in limited-overs international cricket.
One of the lesser noticed aspects of the match were the abject surrender of Lankans during the run-chase. Tasked with chasing a mammoth total of 405 runs, they barely managed to reach 250, folding up their innings a solitary run later. Thus, India won the match comprehensively by 153 runs and consolidated their position in the series.
On the bowling front, Dhawal Kulkarni was the pick of the bowlers, scalping 4 wickets for 34 runs in his allotted quota of 10 overs. Interestingly, the total score of Sri Lanka fell short from Rohit's individual score in the match by 13 runs. After the match, various news headlines read that Rohit Sharma defeated Sri Lanka by 13 runs in the 4th ODI.
Follow us on Google News