When we cross that line, you just see Jofra Archer as another Englishman: Jason Holder
Kemar Roach had also given a statement on Jofra Archer, which was echoed by West Indies Test captain Jason Holder.
Updated - Jun 17, 2020 5:24 pm
320 Views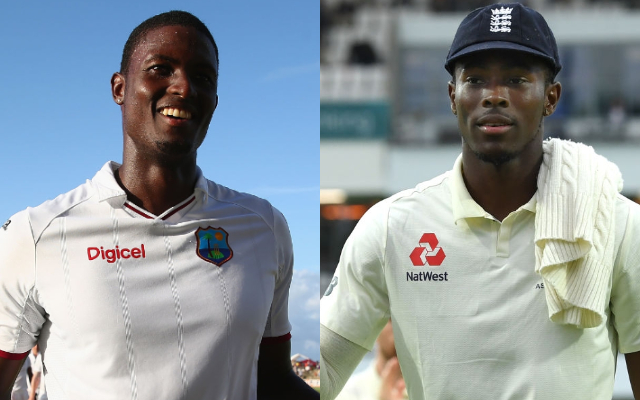 Jofra Archer is yet to face something which Kevin Pietersen did back in 2005 when he went on the tour of South Africa playing for his new adopted home, England. But, for Archer, when England and West Indies come face to face next month for the Test series, it will be a matchup for him against his former teammates.
He was born in Barbados. In 2014, Jofra Archer even represented the West Indies U19 team three times. However, after this, he had signalled that he would want to try his luck with England. After the changes in rules in 2018, the pacer became eligible to play for England and he represented them at the international level.
Jason Holder refers to Kemar Roach's words in an earlier interview
In a recent interview, West Indies captain Jason Holder, who is also from Barbados was asked how it will be playing against Jofra Archer. The captain made it quite clear that there won't be any friendship on the field. He maintained that they are going to be friends off the field but not on the field. The captain also took some reference from a recent interview given by pacer Kemar Roach.
"Archer is English now. I think Kemar Roach had an interview yesterday and he spoke about the same thing," Holder said on the show Good Morning Britain. "You know we are friends off the field but when we cross that line you just see him as another Englishman. I am sure even he must be looking to knock our heads off," Holder added.
Kemar Roach, another fellow Barbadian remembered watching Jofra Archer during his young days. In his interview, he had said, "It's all about winning and playing hard cricket so when we come up against Jofra I think we'll devise a fantastic plan to counter him. I'm looking forward to that battle and we as a team are doing the same."
Archer had come up against West Indies in the 2019 World Cup but will face them in a bilateral series for the first time. England will play against the Caribbean team in three Tests starting on July 8.