5 instances when cricketers received debut caps from their idols
KL Rahul made his Test debut at MCG in 2014, receiving cap number 284 from MS Dhoni.
Get every cricket updates! Follow us on :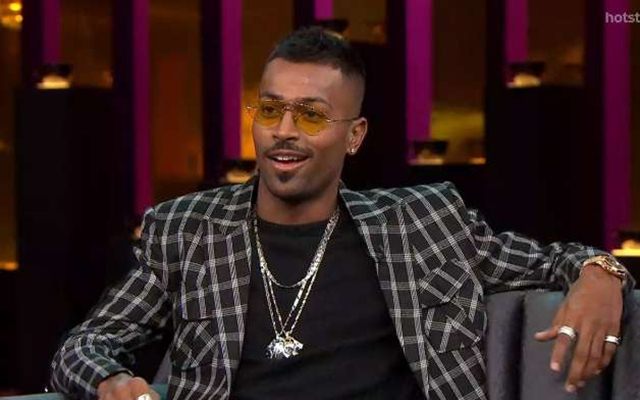 In any sport, representing the country is an athlete's ultimate dream, and donning the national kit for the first time is one of the landmark moments in any sportsperson's career. It is an honour and also a reward for years of hard work, right from a young age, to represent on a global stage, wearing the country's badge.
Cricket, or the 'gentleman's game' as it is called, follows a tradition of welcoming debutants into the team by presenting a cap by a senior member or a past player of the team, with the rest of the players also present for the occasion. It is followed in all forms and levels, including domestic and franchise crickets.
The cap presentation, which is done just before the match, is always a special occasion for a player. Even more so, if the cap is handed over by one's idol. And there have been a few occasions in cricket when players received their debut caps from their heroes.
Here are five instances when cricketers received their debut caps from their idols:
1.KL Rahul from MS Dhoni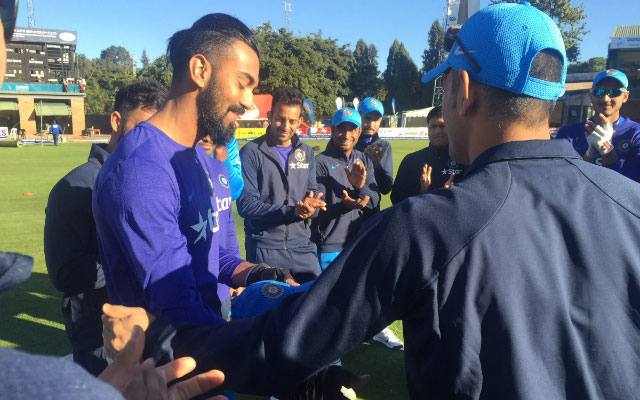 Indian star batter KL Rahul made his international debut on the opening day of the Boxing Day Test match at Melbourne Cricket Ground (MCG), receiving cap number 284 from the then-India captain Mahendra Singh Dhoni. 
Rahul also made his debut in the other two formats under Dhoni at Harare against Zimbabwe in 2016. He has so far appeared in 43 Test matches, 42 ODIs and 56 T20Is ever since, scoring over 6,000 runs. He is the only Indian player to score a hundred on ODI debut. "I never thought I would get a chance to play in the series and it was a special feeling to get that cap from MS Dhoni," he wrote on Twitter.
The Karnataka-born cricketer is now the vice-captain of the Indian team and is currently out of action due to a groin injury. He is undergoing rehabilitation in Germany and is expected to return to the team in about a month.
2. Alex Carey from Adam Gilchrist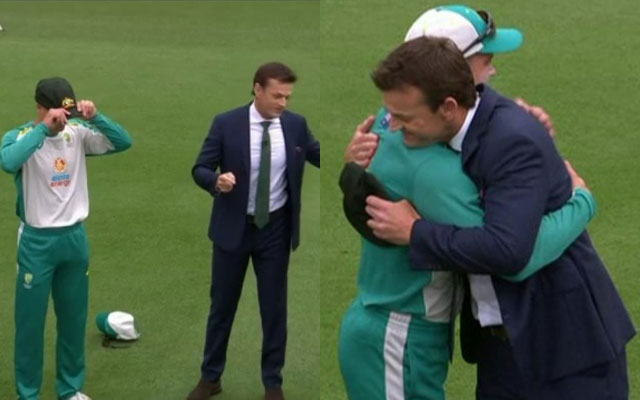 Wicketkeeper-batter Alex Carey became the 461st member of Australia's Test team, receiving the famous baggy green from former legendary wicketkeeper Adam Gilchrist, in Gabba, Brisbane, on December 8, 2021. He made his ODI debut in January 2018 and T20I debut the next month.
Carey has so far scored 451 runs at an average of 32.21 in 15 Test innings, 1,417 runs at an average of 35.42 in 53 ODIs, and 233 runs at an average of 11.09 in 38 T20Is.
Carey was also part of Australia's World Cup squad in 2019 and also appeared in the semifinal against England. He is slowly making inroads to becoming the Men in Yellow's first-choice wicketkeeper across all three formats.
3. Josh Hazlewood from Glenn McGrath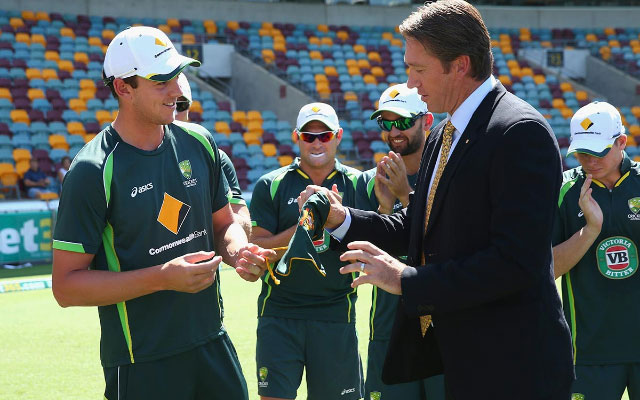 Australia's star fast bowler Josh Hazlewood was the 440th Australia player to receive the Test cap, the baggy green, given by legendary former pacer Glenn McGrath in Gabba, Brisbane, on December 17, 2014, ahead of a Test match against India. 
Hazlewood picked up five wickets for 68 runs in 23.2 overs in the first innings, and picked up two wickets in the second innings for 74 runs. He has now played 57 Test matches, 61 ODIs and 30 T20Is, picking up a total of 358 international wickets. 
The New South Wales-born is known for his smooth action and ability to produce extra bounce and carry with some seam and swing. Hazlewood currently stands fourth in ODI and first in T20Is, in the ICC bowling rankings and is regarded as one of the best fast bowlers in the world at the moment.
4. Rishabh Pant from MS Dhoni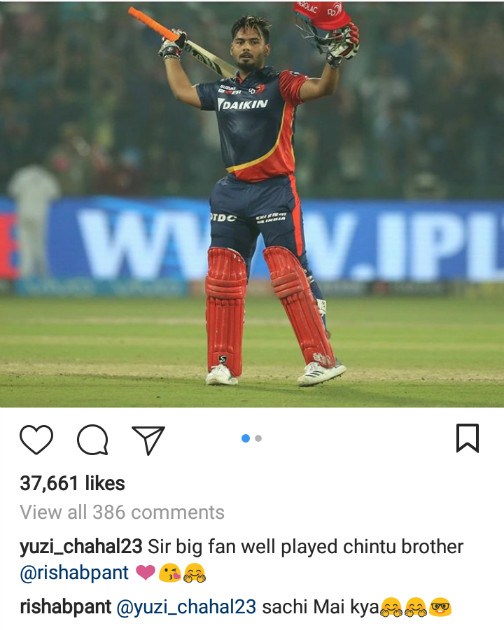 India's rising star Rishabh Pant, who is dubbed to be the successor of the legendary Indian cricketer MS Dhoni, received the ODI cap number 224 from the great man himself on October 21, 2018, in Guwahati.
In an interview with the International Cricket Council (ICC), he said that receiving a maiden India cap from Dhoni was special since he was someone Pant looked up to for everything. He revealed that the former India captain told him to enjoy the game. The southpaw is currently one of the core members of the Indian team.
Pant has so far played 31 Tests, 27 ODIs and 50 T20Is, and is currently India's first-choice wicketkeeper in all three formats. In the recently concluded England tour, he scored an unbeaten 125 runs off 113 balls in Old Trafford, Manchester, to win the ODI series for India, and was also named the Player of the Match.
5. Hardik Pandya from Kapil Dev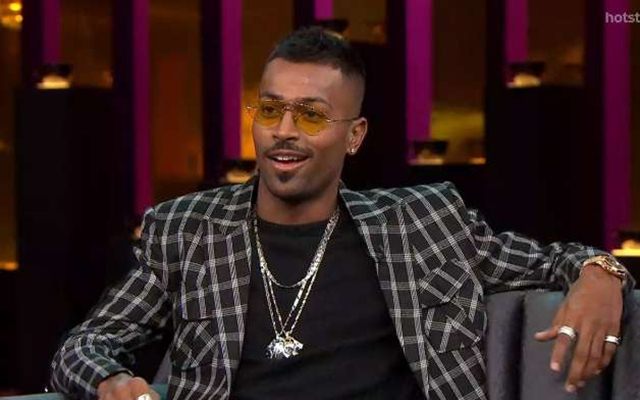 Ace all-rounder Hardik Pandya received India's ODI cap number 215 from the 1983 World Cup-winning captain Kapil Dev in Dharamshala ahead of a game against the Kiwis on October 16, 2016. He went on to pick three wickets for 31 runs in seven overs in the match.
Pandya said that was special to receive that cap since he received it from Kapil. He made his T20I debut in 2016 and Test debut in 2017 and has appeared in 66 ODIs, 63 T20Is and 11 Test matches. He has scored 2,688 runs and picked up 128 wickets across all three formats, making him one of the best all-rounders in the world at the moment.
Pandya, in the ODI series of the England tour, helped India seal a famous victory in Manchester, picking up four wickets and scoring 71 runs. He became the first Indian to pick up four wickets and score a fifty in both T20I and ODI, and second overall after Shane Watson.