5 Occasions where Sourav Ganguly cost the match for India with his slow batting
Here we look at five instances where Indian team suffered due to Sourav Ganguly's slow knocks in ODI cricket.
Get every cricket updates! Follow us on
Sourav Ganguly's performances in ODI format often get overshadowed due to his captaincy in the early 2000s. The left-handed batsman scored 11363 runs in 311 ODIs he played and finished among the top run-getters of the format. Despite his six-hitting ability, Ganguly was a passenger on quite a few occasions. His batting strike rate of 73.7 is the 3rd lowest among the 14th players with 10000+ runs in One-Day Internationals. There were many occasions where Sourav was short on intent in this format and let his team suffer because of him.
Here we look at five instances where Indian team suffered due to Sourav Ganguly's slow knocks in ODI cricket:
5. Titan Cup match vs South Africa in 1996 – 54 (104)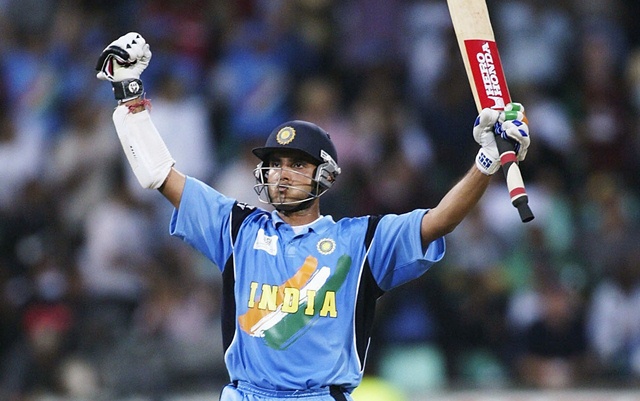 In a crucial 1996 Titan Cup match against South Africa, the Indian team was chasing 250 in Jaipur. India got off to a solid start as the openers Sachin Tendulkar and Sourav Ganguly shared a century stand. However, the pace at which they scored runs didn't seem to be the best for the chase. Skipper Sachin looked tired and was dismissed in the 31st over having scored 64 from 93 balls with three fours. He added 126 for the opening wicket in a partnership where Ganguly scored even slower.
He got out at the score of 148/3 after scoring only 54 from the 104 deliveries faced. In his 165-minute stay, Sourav managed to hit only three fours in total. The required run rate was already around 8 and things got tougher for India. Mohammad Azharuddin scored an unbeaten 56 from 60 balls but India lost the match by 27 runs. Had Ganguly stayed along with Azharuddin or played a little more quicker, India could have bagged two points from this match.
4. BCCI Platinum Jubilee Cup 2004 – 48 (70)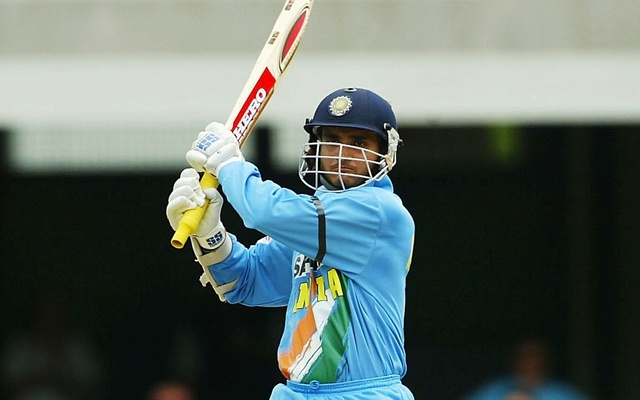 The Kolkata's Eden Gardens stood host for BCCI's Platinum Jubilee celebration match in 2004 where India took on Pakistan in a one-off ODI. Sachin Tendulkar got run-out early after India elected to bat first but a 44-ball 43 from VVS Laxman and Virender Sehwag's 53 put India at 124/3 in the 22nd over. Skipper Sourav Ganguly and his deputy Rahul Dravid had the responsibility of taking the innings forward. But the pair added only 39 runs in 65 balls for the 4th wicket before Dravid departed for 16 off 34.
Ganguly was no better at that point as he scored 21 off 39 balls without hitting a boundary. His first boundary came off the 55th ball he faced after scoring only 27 runs in the first 54 balls faced. A couple of sixes off Mohammad Sami in the last 10 overs took his score to 48 before getting caught behind in the bowling of Shoaib Akhtar. Ganguly's 48 runs came off 70 deliveries out of which 38 were dot balls. Yuvraj Singh scored 78 from 62 balls to help India finish with 292/6 in the 50 overs.
Salman Butt anchored the chase for the visitors while Shoaib Malik (61 off 55) and Inzamam-ul-Haq (75 off 75) scored fifties at a brisk pace. Salman stayed away from the crease for 7 overs when on 68 as he caught up cramps. He remained unbeaten on 108 off 130 balls to help Pakistan chase down the target with an over to spare. Hosts needed at least 310 to defend in batting conditions with the dew around. India would have got a winning score if Ganguly accelerated a little earlier or covered up for dots.
3. 2nd ODI vs Pakistan in 2004 – 15 (38)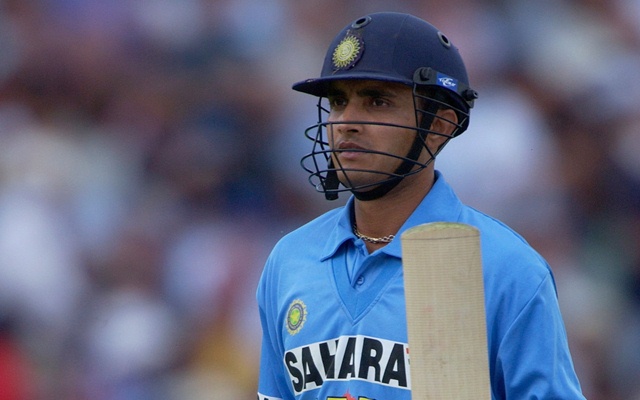 India's tour of Pakistan in 2004 began with a close win in Karachi where they won by 5 runs. However, in the 2nd ODI hosted by Rawalpindi, Pakistan batted first and posted 329/6 in their 50 overs. India had an opening stand of 56 in only 8.1 overs. Captain Sourav Ganguly joined Sachin Tendulkar at the crease when they were 71/2 in the 12th over. India needed to ensure they continue to go at 6+ runs an over until the 30th over which didn't happen.
Ganguly was way too defensive during his stay and put pressure on Sachin who was just beginning to accelerate. The duo added 69 runs for the 3rd wicket despite the stand lasted 12.1 overs. During this partnership, Sachin scored 36 from 39 balls while Ganguly managed only 15 runs from 38 deliveries hitting only 1 four through his 55-minute stay. The required run-rate went well past 7 runs when Sourav was eventually dismissed in the 24th over.
Sachin Tendulkar was dismissed in the 39th over after scoring a brilliant 141 from 135 balls. India were 245/4 at that point and needed 85 from 68 balls post his wicket. Unfortunately, India was bowled out in 48.4 overs and lost the game by 12 runs as they scored only 72 runs in 60 balls for the last six wickets. Had Ganguly scored few more runs his labour knock, the result might have been different.
2. 4th ODI vs Pakistan in 2005 – 18 (33)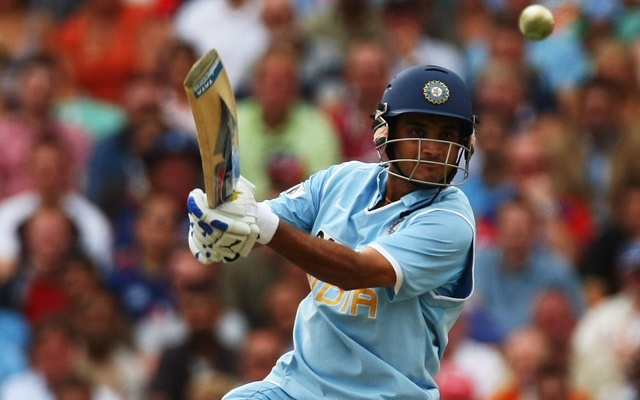 India lost the 3rd match of the 6-match home ODI series against Pakistan after taking a 2-0 lead. The 4th ODI was hosted by Ahmedabad where they elected to bat first. India got off to a great start with Sachin Tendulkar holding the things from one end. He added 65 for the first wicket with Virender Sehwag and 129 with MS Dhoni for the 2nd wicket as India were placed at 194/2 in 32 overs. The match was reduced to 48 overs-a-side after a delayed start.
With 16 overs and 8 wickets left in the innings, captain Sourav Ganguly decided to bat at his usual position of No.4 rather than promoting Yuvraj Singh or inform Rahul Dravid. However, things began to fall apart from India as their scoring rate took a toll. India's run rate was 6.06 to be exact when Ganguly walked in but came down to 6 by the time he got out. Sourav occupied the crucial stage of the match and scored only 18 from 33 balls which included as many 19 dot balls.
He added 48 runs from 50 balls with Tendulkar for the 3rd wicket out of which 23 off 21 balls scored by the opener. Sachin got out for a 130-ball 123 in the very next over but India did well to reach 315/6 as they scored 67 runs in 6.3 overs after Tendulkar's wicket. Sachin did a decent job with the ball as well but Pakistan won by 3 wickets reaching the target on the last ball. If not for the inning played by the Indian skipper, the home team could have got to 330 at least and took an unassailable lead of 3-1.
1. Indian Oil Cup match vs Sri Lanka in 2005 – 51 (110)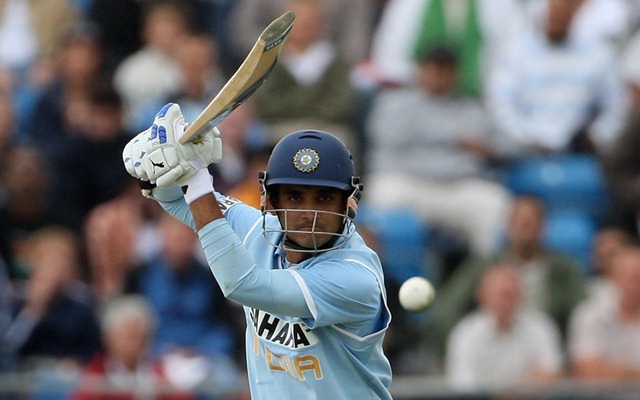 Rahul Dravid was handed the captaincy of the Indian team for the Indian Oil Cup; the ODI Tri-series in Sri Lanka involving West Indies as the 3rd team. Sourav Ganguly was banned for 6 matches due to slow over-rate during the home ODI series against Pakistan in April that year. His ban was extended for the first two matches of India in the Tri-series. He opened the batting in the 4th match of the tournament against Sri Lanka in Dambulla after India elected to bat on winning the toss.
On a two-paced track, Ganguly struggled to get going as India's run-rate remained around 4 despite Virender Sehwag gave a decent start. Sourav managed to score only 51 runs in 110 deliveries as India finished with only 220/8 despite losing only two wickets in first 30 overs. Irfan Pathan's 28-ball 36* towards the end helped them add 10-15 extra runs. Despite an underwhelming performance with the bat, India stood a good chance of beating the hosts who were reduced to 95/6 by end of the 26th over.
But Mahela Jayawardene's unbeaten 94 and Upul Chandana's 44* took the Lankans over the line with two overs to spare. India could have got 15-20 more than what they managed and put Sri Lanka under more pressure when they reduced them to 95/6. Sourav Ganguly alone batted out 70 dot deliveries while no other Indian batter even faced 50 balls. His strike rate of 46.36 is easily the lowest for any Indian top-order batsman in this match.