5 On-field rivals who were teammates once upon a time
One might wonder what happens when a pair of rivals represent the same team.
Updated - Jan 24, 2021 11:44 am
26.2K Views
Cricket is widely regarded as the 'gentleman's game'. With multiple personalities shaping the image of the game, cricket became a symbol of generosity and sportsmanship. Personalities like Rahul Dravid and Steve Waugh became the global-ambassadors of the game and people started to follow them as their idols.
Over time, the flavor of the game has changed. Do you remember Sourav Ganguly taking off his shirt as a sign of revenge when team India won the iconic Natwest final at Lord's in 2002? Well, this marked the beginning of a spiced rivalry in cricket.
Since then the fans have witnessed several rivalries that shaped a particular series. One of the most famous examples is Shane Warne's battle against Kevin Pietersen. With the involvement of T20 cricket, tension has increased substantially amongst the players and the frequency of new rivalry in the circuit has been increasing.
Sledging has become an important arsenal to distract the opposition and this sometimes results in heated arguments. However, one might wonder what happens when a pair of rivals represent the same team. Well, this has happened before! After all, it is cricket.
Here are the 5 On-field rivals who were teammates once upon a time:
1. Steven Smith and Eoin Morgan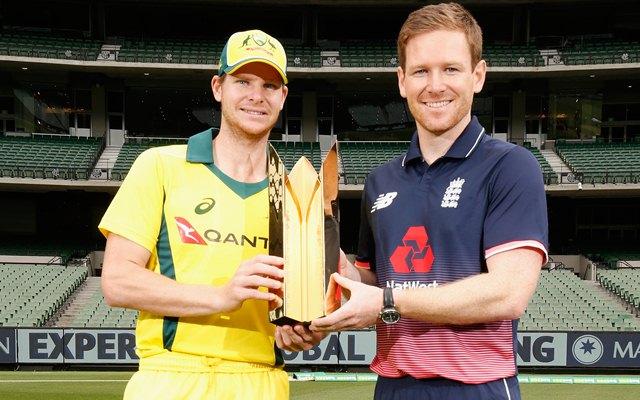 Two of the oldest cricket-playing nations will have a rivalry. Australia and England were the torchbearers for other cricketing nations to showcase the path to the establishment of cricket on other soils. Fast forward to the 1975 World Cup, the business sector in cricket got a push and hence, there was a series of rivalries in world cricket.
One of the fiercest rivalries in world cricket is England and Australia. In the current generation, the Australia-England rivalry is revolving around two players. The Australian team is represented by Steven Smith and the English team by Eoin Morgan. Smith is widely regarded as one of the best batsmen of this generation.
With an average of 43.35 in ODIs, the Australian batting order works around Smith. Talking about Morgan. He has an ODI average of 39.37 and is England's skipper. Well, the fans got to watch them together when they saw both of them representing the same team- the Royal Challengers Bangalore. 
On the field, both the batsmen are rivals, and off the field, they are the gentlemen one would admire. The rivalry between Australia and England dates back to the 1800s. For the fans, a healthy competition along with a small amount of sledging does the trick for entertainment. Therefore, the rivalry of Smith and Morgan makes it to this list.