5 Reasons why Alastair Cook can go past Sachin Tendulkar's world record of most Test runs
The only batsman at the moment who looks like getting close to the Master Blaster is Cook
Updated - Aug 13, 2017 2:23 pm
5.3K Views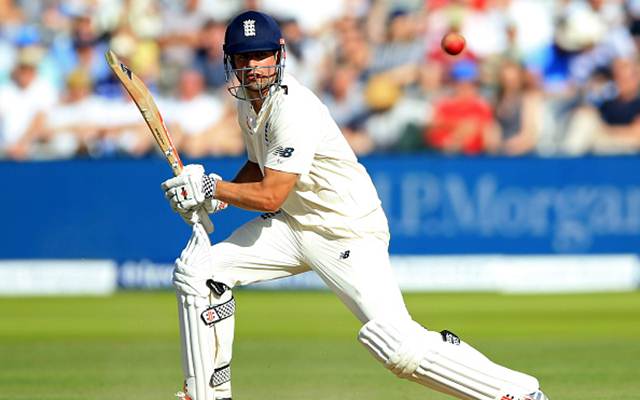 Follow us on Google News
There are a few cricketers in the modern era who are known for their calmness, who seem to be surrounded by an air of serenity, and who give a sense of assurance to be in middle to play a long hefty innings. In an era where the paradigm shift has happened towards the shorter formats, few still wish to 'test' themselves in the longest format of the game.
One of the greatest player England has produced is ought to be Alastair Cook who already has made more Test runs, more hundreds, more fifties and played more matches than any other English cricketer. Cook belongs in exalted company and has already made it to top echelon in book of records.
The most stunning part about his career has been his commitment which partially drives consistency and has helped him to have all those records. At the age of 32, he has 11,325 runs to his names which speak volumes about the class he carries.
It is boldly predicted that Alastair Cook has the ability to challenge Sachin Tendulkar's world record number of most Test runs. Tendulkar ended his Test career with 15,921 runs which is about 4000 more to his nearest current rival, Cook. With England Cricket Board (ECB) giving equal importance to Test cricket, Cook definitely stands a chance to go past Tendulkar.
Here are five reasons why Cook can break Sachin's record
#1 Focus only on Test cricket
What adds cherry to the cake is the fact that he does not play the other formats and England play many Tests in a year. The 32-year-old lad seems to be hungry for runs and wishes to play the longest format with the utmost fortitude.
Also, since he is not the skipper any more, he can play with a lot of freedom and score just as heavily. Of course several variables like form and fitness do come into play but the fact remains that he is the closest and the best bet to go the distance.
#2 Conventional metric falls in his favor
If we go by conventional metric, Cook definitely stands a chance to go past Tendulkar's world record. It says that the player's career which has lasted as long as Cook's career, played a Test match in every 43 days which is 14 more than Cook's number.
If longevity is compared, Cook is way ahead of his fellow mates. Statistician believes that if Cook goes on to play at this rate with same amount of consistency, he will not only have an opportunity to break most Test runs record but also stand a chance to challenge the world record of most Test hundreds.
#3 Transferred legacy to Joe Root
The most pivotal reason which makes his case stronger is calling it a day to captaincy and playing as a pure batsman in the side. Though he had a memorable journey as the captain, he chose to focus on his batting and serve English cricket longer.
Cook's proximity to break Master's record is alone an achievement, but playing with freedom would definitely make the predictions stand real. In the recently concluded series against South Africa, he was seen more composed where his focus was more to help his side with the bat than with captaincy skills.
#4 Age factor falls in his basket
It was evident from the time he stepped onto the field for the first time in white colored jersey that he will make it count as he ended up getting a hundred on debut. After a scintillating performance against India, he laced centuries after centuries against Pakistan, West Indies and Bangladesh.
Now, at 32 years of age, he will be eyeing to emulate Misbah-Ul-Haq and showcase his quality for another half decade or so. He has scored over 11,000 runs and carries 30 centuries. With age favoring him, he can definitely upset many Indian Cricket fans.
#5 200 Tests not too far
Till now, Alastair Cook has played 144 Tests, which means his dream number '200' is not too far. So, If Cook plays 200 Tests, then, provided he does not suffer a slump of the kind Tendulkar suffered over his last 20 Tests, he should be mighty close to Tendulkar's all-time aggregate. Tendulkar's 51 Test hundreds will be more difficult for Cook to surpass than his Test runs.
To play 200 Tests at his current rate of 12.5 per year, Cook will have to play for another six years. He will still only be 38, which seems to be a pragmatic number.
Follow us on Telegram