5 times when IPL teams indulged in hilarious Twitter banters
Instances when IPL franchises had entertaining Twitter banter.
Updated - Apr 13, 2021 6:18 pm
15.9K Views
Finally, the awaited, IPL 2021 has kicked off. We have had a dose of entertainment in the first few matches itself. Royal Challengers Bangalore beat Mumbai Indians in a last-ball thriller in the opening fixture whereas Chennai Super Kings were crushed by a batting master-class by Delhi Capitals' openers. Kolkata Knight Riders also played convincingly and defeated the Sunrisers Hyderabad. The upcoming games also promise to be as entertaining as ever.
Apart from the on-field games, we have also witnessed an engaging social media battle between Royal Challengers Bangalore and the Punjab Kings. It left the fans in splits as both teams tried to troll each other. Such banters between teams on social media have also happened in the past.
The IPL is a huge league and thus the franchises too connect with their fans on social media strongly. The teams are very active on social media which has also led to some online banters between the franchises in the past. Therefore, let's take a look at-
 Incidents IPL franchises indulged in hilarious Twitter battles:
1) RCB vs DC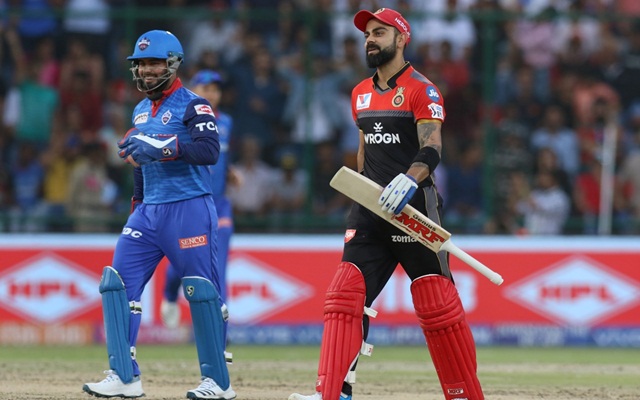 The Challengers have been one of the most followed and active franchises on social media. They have a total of 6.1 million followers on Instagram and around 4.3 million followers on Twitter. Although they have not lifted the cup yet, they have a fan base as big as any other team.
It was before the start of the 2020 season of the IPL in February that RCB deleted all its Instagram posts which included photos, videos, and story highlights. Their fans and even fans of other franchises were really surprised and were very curious to know the reason for the same. At that time Delhi Capitals, with the aim of light banter, posted a hilarious tweet.
They posted a screenshot of an empty account of the Challengers and asked if they needed any help with rebranding the franchise. The fans found this very funny and entertaining and thus enjoyed it. It was later revealed by RCB that they had changed their logo and jersey and hence played some social media games.
In case you're rebranding, do let us know if you need any help, @RCBTweets!

We know a thing or two 😉 pic.twitter.com/1nKpDJ7SbV

— Delhi Capitals (@DelhiCapitals) February 12, 2020