5 Youngest players to play for India
Here we will have a look at 5 players who were talented enough to be included in the senior India squad even before they were legal to even drive.
Updated - Nov 27, 2019 8:11 pm
819 Views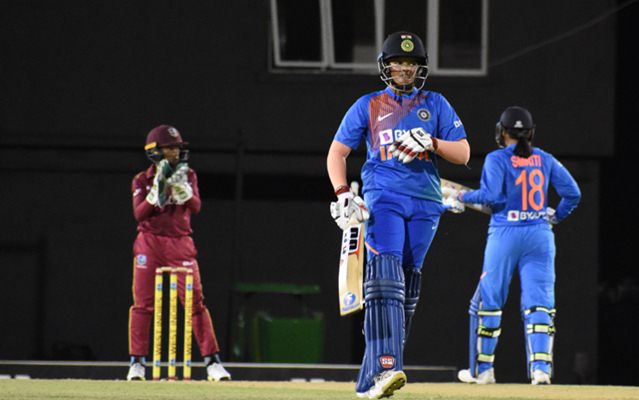 Follow us on Google News
India cricket has seen many players coming into the national team at a very tender age. Getting inducted into the national side is in itself a commendable achievement and doing so at such a young age, as some of the players listed here, only adds glitter to the glory they bring to their states and families.
Owing to the introduction of tournaments like the Indian Premier League (IPL) have made talent spotting for the selectors a way easier job than it was before. In the earlier days, a player had to go through the gruelling process of playing a lot of domestic fixtures, performing consistently in most of them and then they could grab the attention of the national selectors. But, now one good IPL season is enough to get fast-tracked into the Indian side.
Here we will have a look at 5 such players who were talented enough to be included in the senior national squad even before they were legal to even drive.
Nilima Jogalekar (16 years, 184 days, Women's ODIs)
Nilima, a wicket-keeper batsman from the state of Maharashtra, came into the Indian side in the year 1978, at the age of just 16 years and 184 days. And, adding to the pressure the first tournament that she played was the ICC Women's World Cup 1978. In a career that spanned over seven years she was a part of the Indian Women's side for 6 Tests and 20 One Day International fixtures.
In 29 innings she played for the Indian side, she contributed a total of 359 runs with the bat, with 41 runs being her highest score across formats and also completed 15 catches and 13 stumpings when behind the wickets.
Thirush Kamini (16 years, 136 days, Women's ODIs)
Making her debut at the age of 16 years and 136 days, in 2007, for the Indian Women's One-Day International side, Thirush Kamini set the stage on fire on her debut tour itself. Playing her first tournament for the Indian side, she won the Woman of the Series award.
Her achievements also include the Allan Border Gavaskar scholarship which she won in the year 2007 and a training stint at the Centre of Excellence in Brisbane, Australia. She even went on to win the BCCI Player of the Year award. And, she did this not once, but thrice and still stands as the only women cricketer to do so.
Thirush also holds the records of being the highest run-scorer in a single match of the ICC Women's Cricket World Cup. She scored 100 runs off 146 deliveries and got past Mithali Raj's previous record, also becoming the first Indian Women Cricketer to score a century in the World Cups. Also, she holds an unwanted record of being the only cricketer in women's version of the sport to be dismissed for obstructing the field.
Rajani Venugopal (15 years, 283 days, Women's Tests)
Getting to be a part of the Indian test team is a huge milestone in a player's career and doing at the age of just 15 years and 283 days is a thing to be held in very high regard. And so is the case with right-handed batsman and left-arm medium pacer from Hyderabad, Rajani Venugopal.
In career that lasted for a decade, she played only a handful of international fixtures, 15 to be precise (6 Tests and 9 ODIs), she fared pretty well. In the 9 One Day matches she played, she scored 92 runs at an average of 13.14, getting past 50 runs on one occasion, and in Tests, she got past the 50-run mark thrice in the 6 matches she was a part of and maintained an average of 25.8. With the ball though she could not do much, and the only form of dismissals she was a part of were the 3 catches she took, while on the field.
Shafali Verma (15 years, 239 days, Women's T-20Is)
On 24th of September 2019, Shafali Verma became the youngest woman to play for India in a T20I match and also joined the list of the youngest ever debutants in the second spot. A prodigy to say the least, she scored a 158 runs in the five matches she played in her second tournament and was rightly declared the Woman of the Series for her performance.
In the very same series, she also became the youngest Indian Woman to score a half-century in International Cricket. In the 9 International matches she has played so far, all of which are T20Is, she has scored a total of 222 runs at an average of 27.75 with two half-centuries and a highest score of 73 runs. A sensation in the cricket scene right now, at this point of time everyone regards her to be the next big phenomenon in Women's cricket.
Gargi Banerji (14 years, 165 days, Women's ODIs)
Youngest ever player to have worn the Indian jersey, Gargi Baneji was inducted into the Indian National Women's Cricket team, when she was just 14 years and 165 days old. And, her career started with a baptism of fire, the ICC Women's Cricket World Cup. After her debut in 1978 versus England, she went on to play for the next 13 years and played her last match on the 9th of February 1991 against Australia.
She played 12 Tests for India and scored 614 runs at an average of 27.90 with 5 half centuries to her name and a highest score of 75 runs. With the ball in Tests, she bowled 329 deliveries and took 8 wickets at an average of 17.12, a five wicket haul and has best bowling figures of 6 for 9 runs.
In One-Day Internationals, with the bat she scored 409 runs in the 26 matches she played, she scored a total of 409 runs scoring 2 half-centuries. With the ball, she bowled 291 deliveries and took 6 wickets with best bowling figures of 2 wickets for 23 runs.
~Written by Satvik Pandey
Follow us on Telegram