6 runs needed off 1 ball; Batting team won with one ball to spare
The fielding side was seen lashing out at the bowler.
Updated - Jan 15, 2019 11:53 pm
16.7K Views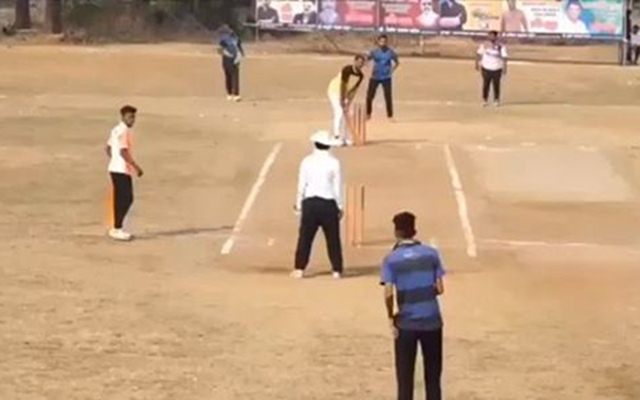 Follow us on Google News
Cricket is a funny game and the saying was established yet again in a club game near Mumbai recently. The team chasing required 76 to win and with the final delivery left to be bowled, was placed at 70 for 4, requiring six runs. All the pressure was on the batsman, a left-handed one, to do a Javed Miandad to win it for his side. But to the dismay of the fielding side, he had to do nothing yet his team won the game and that too with a delivery to spare.
The amazing five-over rubber-ball game happened between Desai and Juni Dombivli at the Adarsh Cricket Club and the video of the last over has gone viral on Twitter and getting a lot of reaction. The left-arm pacer who was bowling the final over of the game failed to produce a single valid delivery in six attempts, going far too wide every time.
It was astonishing that the left-hand bowler did not change his bowling side despite failing to control his deliveries against a left-hand batsman and none of his teammates came forward to advise him so.
Team-mates lashed out at distraught bowler on the ground
The batting side was ecstatic as the Juni Dombivli bowler bowled his sixth consecutive wide delivery, especially the batsman on the non-striker's end. The bowler, on the other hand, looked distraught to see the opponent walking away with a win so easily. Some of his teammates were also seen lashing out at him for his show while the commentators said nothing of this sort has happened ever before in history.
A wide or two at the crunch moment of a game is not uncommon but to see a bowler conceding six wides on the trot to gift a game is unusual. What was even funny is that the bowler even appealed for a caught behind after bowling one of his six wide deliveries.
6 runs needed off 1 ball and the team scored it with 1 ball to spare 😂 pic.twitter.com/XOehccVBzA

— Amit A (@Amit_smiling) January 8, 2019
Follow us on Telegram