8 Facts about R Sai Kishore – The new spin recruit in the CSK squad
MS Dhoni, Ravichandran Ashwin, Dinesh Karthik and Harbhajan Singh had a big role in shaping R Sai Kishore as the cricketer that he is today.
Updated - Dec 20, 2019 5:50 pm
4.5K Views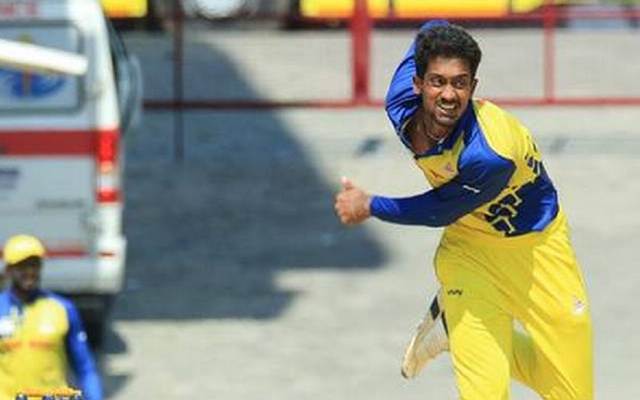 Follow us on Google News
Towards the end of the IPL 2020 auction, the Chennai Super Kings (CSK) took a surprising call. They raised their paddle to buy an unknown commodity despite having a low amount in their purse. Ravisrinivasan Sai Kishore was called back during the accelerated auction process and that was when his dream came true. Even though not many teams seemed interested in him, CSK took the call to buy him at his base price of INR 20 lakhs.
R Sai Kishore is another product of the TNPL who impressed one and all with his crafty slow left-arm bowling. He was highly impressive in the first couple seasons but hit a lean patch after that. But later, he worked with a former Tamil Nadu spinner, Ramkumar, to brush up his skills.
In the past, R Sai Kishore attended the trails of various IPL teams but wasn't fortunate enough to make it to their final squad. He attended the Mumbai Indians' trails and was also the nets bowlers for CSK and KXIP. Now that he has made it to the CSK team, here are a few things you need to know about this lanky bowler.
A few facts about R Sai Kishore – the lanky left-arm spinner:
1. R Sai Kishore was born on 6 November 1996 and hails from Madipakkam
R Sai Kishore is currently 23 years old and hails from a place in Tamil Nadu called Madipakkam. All-rounder Vijay Shankar also hails from the same place. He is the second cricketer from this place to be playing in the IPL.
2. The art of balancing cricket and studies
Unlike many cricketers, R Sai Kishore is quite educated. He not only completed his under-graduation but is also on the verge of getting his MBA degree. The spinner is just a few exams away from completing the course.
3. A huge fan of Ashwin anna (elder brother)
R Sai Kishore is a huge admirer of off-spinner Ravichandran Ashwin. He relates himself to Ashwin because both of them are tall and believes he can advance in his career like Ash. Kishore shared the dressing room with the 33-year-old when he made his Tamil Nadu debut. He hopes that he can spend more time with the ICC No.11 Test bowler in the future when he plays for his state team. Just like Ashwin, Sai Kishore's jersey number is 99 and even his Twitter handle has 99.
4. An ugly spat and a class from R Ashwin
During TNPL 2016, R Sai Kishore was involved in an ugly spat with N Jagadeesan. After picking up his wicket, he celebrated wildly and then even pushed the batsman. R Ashwin, who has at the other end, came in between. He seemed infuriated with the left-arm spinner's behaviour and gave him a class on the field.
Here is the video of the incident
5. From being the leading wicket-taker to captaining a TNPL team
R Sai Kishore has advanced in his career at a great pace. In 2017, he was the leading wicket-taker in the TNPL with 17 wickets. During the 2019 season of the tournament, he also captained the Trichy Warriors.
6. Got smacked all around the park by MS Dhoni; the advice from Harbhajan Singh that followed
Ahead of IPL 2019, R Sai Kishore was a part of the pre-season camp of CSK. He believes that this time that he spent is a reality check and also an invaluable experience. Although he bowled well on the first two days, MS Dhoni went after him on the third day of the camp. No matter where he bowled, the wicket-keeper batsman sent him into the stands.
Harbhajan Singh was observing while all this happened. That was when the youngster went up to him and asked what he should do when someone like MS smacks him all around the park. Bhajji told him that bowlers go into a defensive mindset in such situations and that they look for an escape route. He advised him not to panic and asked him to back his abilities. The off-spinner said that it was fine if Dhoni hits him even after that.
Over the next couple of days, Sai Kishore improved his bowl. He bowled to the former Indian captain again and did better this time. There was one session where he didn't let the CSK captain hit even a single six.
7. Thanks to Dinesh Karthik for providing him immense backing
R Sai Kishore feels indebted to Dinesh Karthik for helping him improve as a cricketer. He feels that not many captains give three overs of the powerplay to a bowler. Kishore said that DK has advised him on what he did well and where he has to improve. Dinesh gave him the responsibility of being the strike bowler of his TNPL team which has given him a lot of confidence.
8. Leading wicket-taker in the Syed Mushtaq Ali Trophy this year
R Sai Kishore finished as the leading wicket-taker in the Syed Mushtaq Ali Trophy this year. He impressed many with his ability in the tournament. In 12 games, he picked up 20 wickets at a fabulous economy rate of 4.63. Moreover, 15 of his 20 wickets came in the powerplay which shows his calibre to provide crucial breakthroughs.
Follow us on Telegram