A determined Mark Stoneman had to face several rejections before making it to the Three Lions squad
Stoneman does not believe that his decision to play for Surrey was the reason behind his selection.
Updated - Aug 11, 2017 2:04 pm
212 Views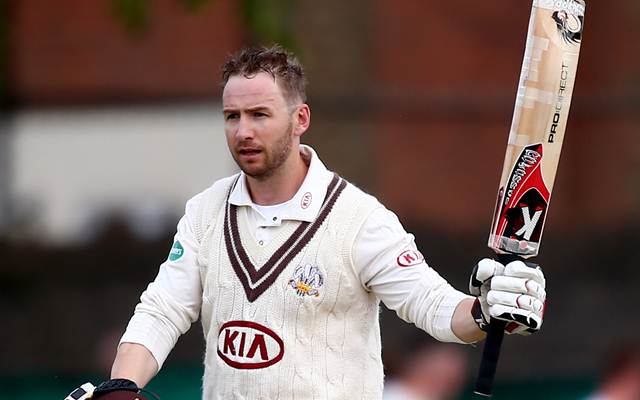 It has been a long time dream for England's Mark Stoneman to don the white jersey for the national team. At the age of 30, the left handed batsman's dream finally became a reality, as he was included in the Three Lion's Test squad for the upcoming West Indies tour. Stoneman used to run with a plastic bat around the boundary ropes when his father used to play league cricket in the North East and it has been a desire for the young boy ever since.
The early days of his career at Durham was not impressive as his average stood at a mere 24.84 over the first four seasons in the first class game. His dream seemed to be fading away with time as he was ignored every time during the England selection process. The situation was termed as "astounding" by  Michael Di Venuto, his coach and long time mentor. The reason behind the same was that Stoneman managed to cross the 1000 run mark in each of the last first-class seasons.
Stoneman finally got some hope in June when he was informed by the national team management that he will be included in the first Test squad. He went on to score two half centuries for Surrey and then scored a brilliant hundred in the final at Lord's but luck was not on his side. Tom Westley got the nod ahead of him into the Three Lions senior team and Stoneman was ignored once again. He did not let that affect his form and continued his brilliant touch for Surrey.
What Stoneman said:
"The dream was always alive," Stoneman said on his call-up. "It's what gets you up on a winter's morning when you have to get to the gym to put the work in.
"It's been a long road and there have been a lot of ups and downs. There have been times when I've had to think long and hard." added the batsman.
"But I stuck with it and I never gave up. There's inspiration all around the world with guys who have blossomed late on with good experience behind them: the likes of Chris Rogers and Mike Hussey in the Australian team. They were behind some fantastic players. Hopefully I can be like them." said the left hander.
"You can't give up and this is testament to that. If you keep trying and the chance comes along, you have to take it with both hands." added Stoneman.
Stoneman continued "I tried to keep things simple and ensure my name was in the right area of the batting charts at the right time," he said. "And just not get ahead of myself. "I realised there were a lot of good players out there and I had to keep putting performances in."
Stoneman does not believe that his decision to play for Surrey was the reason behind his selection. But he admitted that representing Surrey developed him as a cricketer and concentrate on his goal. "I don't think moving to Surrey got me picked. But it did allow me to continue my work of the last four years. It allowed me to keep chasing my dream. If I had stayed… we all know what has happened at Durham. I think it would have been very difficult. It would have been a massive distraction." said Stoneman.
Stoneman has now finally been included in the team and is all set to feature for the England national team for the first time. He is the oldest specialist batsman selected by the team in the last decade. Speaking about the tour that is set to commence from 17th of August, Stoneman said "I've had 10 years as a professional now. I think I've worked a few things out. I've played on different surfaces and against some good players. This is a step into the unknown and I'm going to treasure every moment of it."