A drunk man creates ruckus at the Chinnaswamy stadium
The accused was badly drunk and the spectators handed him over to the police.
Updated - Sep 15, 2018 4:48 pm
144 Views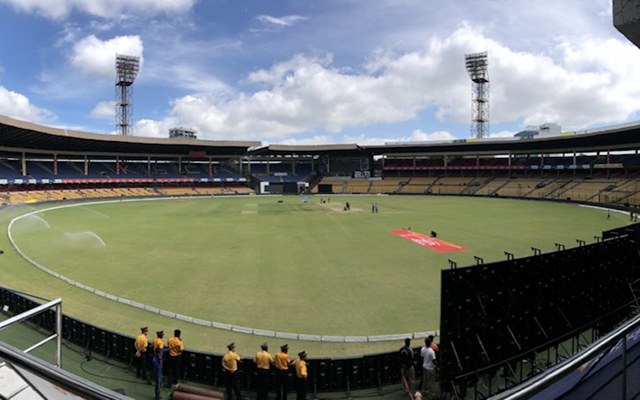 While the two teams – Wodeyar Chargers and Rashtrakuta Panthers – locked horns in the finals of the second season of the Kannada Chalanachitra Cup, they were not alone in a crunch battle. A lot of excited fans were present in the stands supporting both the teams. But amidst the intense action on the field, a 27-year-old businessman was smashed on the head with a beer bottle by another spectator in the P4 stand of the Chinnaswamy Stadium in Bangalore. 
K Nagaraj identified as the victim got into a spat with Harshith, the 25-year-old accused. It all started when Harshith pushed the victim's father, Kailash, in the food court. Having seen his father being manhandled, the businessman rushed to his aid, only to be hit on his head. 
Harshith handed over to the Police
The accused was badly drunk on that night and had created inconvenience for many other spectators. Finally, between 8.40 pm and 9 pm, after the incident, the spectators caught him and handed over to the police. 
"My parents were in hospital for almost a week as they were getting treated for fever. After they were discharged, I wanted them to have some relaxation and booked the tickets for the KCC match. However, this decision went horribly wrong as I was attacked by a spectator. I am recovering from the incident and suffered four stitches for the cut wound. The accused was walking with the beer bottle in his hand. Liquor was being served at the stands to spectators. The police who were present at the food court took him into custody," K Nagaraj said while talking to Bangalore Mirror.
The police has registered a case against the 25-year-old and an officer who is involved with the investigation equipped, "Even after he was brought to the police station, he was not in his senses. Liquor was being served to spectators at the stand. The statement of the victim has also been recorded. We have found out that the accused was creating nuisance even with other spectators," he said.
Around all the nuisance and ruckus, the two-day tournament, featuring six teams, which started on Saturday, September 8, ended with Ganesh's Wodeyar Chargers emerging victorious.