A Ground For Budding Talent - the IPL
A Ground For Budding Talent – the IPL: The summer of 2008 has changed each and every summer in India. It brought in a great turnaround for cricketers as well as cricket followers. The cricketing world saw the birth of a new league; the Indian Premiere League (IPL) which featured cricketers who not only play for their countries but also the players who are still growing and have umpteen potential. These was never before exposure for these young, budding cricketers as they had this opportunity to playing along with legends of the game and exchange experiences with them first hand.
Since the IPL has started, people now look forward for cricket and entertainment which a T20 match provides to its fullest and the selectors have a keen eye on the budding talent across the nation who gets a chance to represent their franchises.
This IPL is no different from the others. It has been filled with power packed performances from big players, crispy shots and brilliant catches from athletic fielders. It is quite obvious that the players who represent their country have immense talent and are experienced enough to play in any given situation, but imagine the situation of a player who is making his debut with the Indian T20 league and is playing for the very first time in front of such a huge crowd and being telecasted all across the globe with the pressure to perform and deliver for the team and prove their worth as well.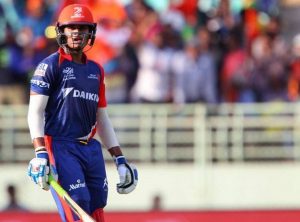 The nation has been talking about the pocket dynamite, 17-year-old Sarfaraz Khan after his quick fire knock against Rajasthan Royals. He scored 45* runs in the 21 balls bowled to him and hit even the veteran Pravin Tambe all around the park. He has scored quality runs in the domestic circuit and has now got a good opportunity to make a mark in the IPL. Sheyas Iyer, another young talent who opens for Delhi Daredevils has given the team good starts and promises to score runs on regular basis. In the 12 matches played by him, Iyer has scored 349 runs at an average of 31.7 which is commendable.
Along with the batsmen, the bowlers who have made the experts talk are Sandeep Sharma, Anureet Singh and Yuzvendra Chahal among many. Sandeep has given KXIP some of the best starts with the ball, and in an attack which has Mitchell Johnson this young bowler has been able to leave a mark for himself.
Anureet Singh who bowls at an average of 6 has given some boost to his own confidence by taking wickets at crucial times. Yuzvendra Chahal on the other hand has taken 13 wickets in 9 matches and is an asset for the Royal Challengers Bangalore. It is seen that, whenever the team is in need of a wicket, the captain hands over the ball to Chahal and he hasn't disappointed anyone yet. Axar Patel who was a part of the 15 man squad for the World Cup 2015 is performing brilliantly as well and must be surely looking forward for a permanent place in the Indian playing XI.
19-year-old Deepak Hooda who bowls and bats for Rajasthan Royals is an upcoming talent and has shown potential to play for a long period of time. His all-round performance ensures that the team is balanced and he can score runs down the batting order and also take wickets with his right-arm off break. He started his campaign with hitting 30 runs off 15 balls and announcing his arrival in IPL. A quick fire 54 runs in 25 balls against the Delhi Daredevils made sure that he sets a handsome target for the opposition.
It has been a quite IPL for Kuldeep Yadav who is a slow left arm China-man bowler, bought by Kolkata Knight Riders, and hasn't been given a chance to play in this season. He has performed brilliantly in the U-19 world cup and has also a hat-trick to his name against Scotland.
IPL does not only provide opportunities to the young talent but also a chance to the experienced players who have been out of the team and eye a comeback. Ashish Nehra, one of the leading wicket-takers in this season has delivered for Chennai Super Kings for wickets and is bowling good line and length along with generating decent pace.
Swinging the ball is still master skill for Zaheer Khan who has only played 2 matches in this season. Brad Hogg has taken wickets even at the age of 44 and with his skill of turning the ball makes him a difficult bowler. Pravin Tambe is yet another example of talent which got a platform with the IPL. He clearly indicates that age is just a number and the game is what people should see.
IPL has changed lives of many cricketers and will continue to do so until it goes on. The search of talent continues every year and by the time the tournament ends up we certainly have more than one budding cricketer who has impressed one and all throughout the season. It teaches them the value of the game. When young cricketers get a chance to play with the legends in their teams and support staff, they learn many aspects of the game as well as life. They learn the importance of performance, a good innings backed by the support from the Bigger names can help build confidence and character. There are many young cricketers in the nation, who are talented, determined and hard to ignore. They only need a chance and IPL is providing them with one.
*Disclaimer: The views and opinions expressed in this article are the personal views and opinions of the author. The facts and opinions appearing in the article do not necessarily reflect the views of Cricket Tracker and CT does not assume any implied responsibility or liability for the same.