A leaf out out of the Kohli book of Cricket
A leaf out out of the Kohli book of Cricket: Virat Kohli started playing cricket at a very young age and has represented Delhi at various age group levels and in domestic cricket as well. His urge to make quality runs and the hunger gave him a golden opportunity to captain the U-19 Team in the World Cup in 2008 held in Malaysia. Virat had always been an attacking batsman and he captained the side with the same intentions. All throughout the tournament, he led the unit with his performances and backed his players. He had this inborn talent to lead the troops and it was not a surprise when he was chosen for the Indian team months after a Successful U-19 World Cup.
(Kohli in U-19)
When we look back at the time when he was selected to play for India, we could see the brash Delhi-lad with rash attitude had a grace in his cricket. Young Kohli got a brilliant chance to play with legends like Sachin Tendulkar and Virender Sehwag and has grown up to become a mature cricketer over the years. Under the captaincy of MS Dhoni, he has learnt to channelize the aggression in crucial situations and has the focus on his performance rather than bursting out and getting into verbal brawls. He has learnt to control his intense behaviour and sustained pressure to score runs in big matches. He has by now won India numerous matches almost by himself.
After being with the Royal Challengers Bangalore from the beginning of the IPL, he was handed over the captaincy in 2013. He showed the same attitude and intensity while leading the star-studded line up. Playing with Chris Gayle and AB de Villiers he has been able to compose himself and control his temperament to lead the team to many victories.
(Kohli in RCB)
It was after a long time that RCB reached the playoffs of the IPL and it had a lot to do with the way Virat had led his troops in every game. There were many matches when the game had to be curtailed to 10 overs due to rain. It was wise of him to judge the situations and take decisions accordingly. He took the initiative to lead the batting from the front and has scored 505 runs with an average of 45.90 in the eighth season of the league. Skipper Kohli has not only been capable to handle the audacity of leading the legends but also has been able to build confidence among youngsters like Sarfaraz Khan, Harshal Patel and Yuzvendra Chahal. He has backed these young, uncapped cricketers and they have proved their captain right by performing at their best.
Virat has an aura around which the team can revolve on and this is why he was soon looked up as the heir of MS Dhoni. When the regular captain was off-duty, he had his head up and was ready to take on the duties of the team. He has been named the Test Captain after Dhoni's retirement in December, 2014. He has got the talent to shut his critic's up through his performances and believes in the funda as well. Virat had been criticized earlier for his brashness and rash behaviour but he has overcome most of it during his career and now his focus is on his batting and his hunger for runs is never-ending. He has broken quite a few records held by the likes of Sir Viv Richards and has been compared to Sachin Tendulkar but his personality is one of its own kinds. He has the cricketing steam easily relateable to Viv and the humbleness in his approach and the hunger sprinkles up a bit of Sachin into him. Virat maintains good relations with everyone in the team and has a cheerful attitude. Cheeku, as he is called by the team members, keeps a light environment in the dressing room and lightens the atmosphere during tough situations.
(Virat Kohli Indian test skipper)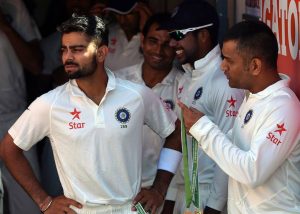 Many young buds now look up to him as their idol and follow his footsteps to pursue their dreams. He's just 26 and the way he is swifting around the cricketing universe has a lot to achieve. All Kohli needs is to put all his energy in the direction and keep piling those runs and motivating the younger generation. Till the time he is able to keep that on, everything else will keep on taking a sideline. Indian Cricket is actually lucky to have an aggressive batsman and a prospective all in one skipper who looks at his game with a really positive approach and is ready to deliver Better on Bigger occasions. He is the new era of cricket and his school of cricket will be followed by many Virat Kohli's in the future.