A Martini, some Lemonade and a pinch of AB de Villiers
It's a bird, it's a plane, It's Super Man... It's AB de Villiers
Updated - May 23, 2018 6:32 pm
437 Views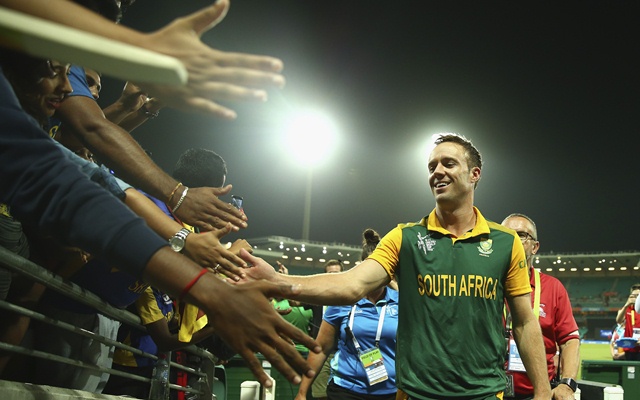 A prominent cricket magazine once described AB de Villiers as 'Chutzpah'. Looking up what it means, the word 'Audacity' is held in noteworthy fame. Perhaps, the Yiddish-derived word is indeed the perfect way to describe him. The audacity was in its complete glory, as far as AB was concerned at least when he decided to announce his retirement. At 34 no less. A young age one may say. The likenesses of Brad Hogg, Ryan Campbell, and maybe even Anderson Cummins and the evergreen Pravin Tambe may disagree. And why not? After all, the bulk of the blossomed at 34.
Upon his return to Pretoria, de Villiers held up the camera. The sun at its zenith, the cameras began rolling. As far as AB was concerned, he was in a happy place. The Tuks Cricket Club had always been a special place in AB's heart. The lush green outfield brought back innumerable memories. For the Titans (in South African domestic cricket), AB would still call Tuks his home.
He began, "I have decided to retire with immediate effect.' The rains had just subsided in Bengaluru. It was funeral-esque. Although purely coincidental, the glorious state of Karnataka had also chosen to elect their leader HD Kumaraswamy at the time. How does one face happy and sad occasions together? Bitter-Sweet I suppose.
It was a shock. The old lady next door was on her feet. She hadn't been on her feet in years. Of course, there was a joy in the return of the People's' Chief Minister. But there was a hint of misery. As she crouched back into her armchair, she began recalling the best times she had seen in the M Chinnaswamy Stadium. And there had been a massive bunch of them.
Beginning with Sir Viv and Gordon Greenidge making their debuts for centuries by Ricky Ponting and Inzamam-ul-Haq. There had also been victories, mouthwatering as they came along. And then there was AB de Villiers.
The fireworks he had provided had always given Indian fans something to cheer. Many will say that winning the hearts of the Indian fans is a tad impossible. The IPL did make it a whole lot easier. But when de Villiers takes the field in the famed 'Green & Gold' of the Springbok? Well, he is still loved by the Indian fans. Extraordinary!
'Wait is that AB?
Michael Vaughan tucked his shirt-tails in and strolled out, the England team following suit behind him. The sun was shining – as it always had in Port Elizabeth. More importantly, as far as Vaughan was concerned, it was shining on him and his team. His Brits, full of grit, of course, could do little wrong. They had won seven Test matches on the spin, and South Africa always proved to be a decent hunting ground.
The eyes rolled back in Vaughan's head a wee bit. One could not see it of course. There wouldn't be a better time to play the Proteas, so he had claimed as the tour matches had begun. And he wasn't wrong. The South Africa Cricket Board had sacked Shaun Pollock. The latter was the talisman, the general, the alpha, and the omega. He simply could not put a foot wrong. Even if he wanted to.
What reinforced Vaughan, even more, was South Africa's new captain. At 22, Graeme Smith was a kindly face. He had been selected on merit and careful planning but at 22? Seriously? With players such as Jacques Kallis, Shaun Pollock, and Mark Boucher in the side.
Smith took his momentary shuffle. His side steps, and most importantly, the bat swinging in both hands as he had done. His partner, however, did none of that. There was no fidgeting. There was no nervous glove removing. But there was a stride. It was his first Test match. He was facing up to the might of the England pace bowlers.
AB de Villiers took his position beside Simon Taufel, his hamstring hinged on the handle of his bat. His lush blonde hair was something you couldn't miss. He would be facing the intimidating Hoggard, Flintoff, Harmison, and Simon Jones. This was England's best bowling attack (till date). And there was a young AB de Villiers, sharing a quick chuckle with Taufel.
Another magazine would relive this series as 'Possibly The Greatest Series Ever'. The Proteas would concede victory by the narrowest of margins in the five-match series. However, the sinister Mr AB de Villiers would become a household name from then on.
It's a plane! It's a bird! No… It's Superman
All it takes is something spectacular. That is all! Something Supercalifragilisticexpialidocious.And that is what ABD gave the Indian fans. He did feature for the odd franchise before the Royal Challengers Bangalore but found a home when the Challengers eventually secured his services. Come what may.
Granted, his brotherly relationship with Virat Kohli unassuming, it was no surprise that he became the crowd favourite.
While AB's humility prevents him from choosing when he is to retire, one aspect of his career may well be attributed to somewhat of a happy and fortunate coincidence.
Although the rainy season, and the dark clouds of the monsoon hovering in and around the Chinnaswamy, AB would be playing his 100th Test. And, moreover, in front of his home crowd. Once again, his humility came to the fore when he exclaimed, 'What more could I ask for?'
Ravi Ashwin had the ball on a string and wreaked havoc within the diminishing South African ranks. Ravi Jadeja played the perfect foil, and there was AB de Villiers. Wickets falling around him didn't seem to bother him as much. He was going to bat. And bat he did. Batted all the way to a century with his rival Virat Kohli pulling most of his hair out in the slips.
As Day 2 dawned, the rain clouds had become a shade darker. Maybe it wasn't meant to be so. Morne Morkel tossed the red cherry up and down as he glanced at Shikhar Dhawan. He was about to unleash terror.
'Bokke!' de Villiers screamed and clapped as Morkel prepared to run in. Before the rain came, once again. And that was the end of the Test match. Not a ball would be bowled after that. There went the 100th Test and all its glory.
However, as it always had, this aspect did not matter as much. A few short days later, there was a video released. Hashim Amla, in his suit and tie with several others in the clip – the topic was an obvious one. With Imran Tahir, of all people stealing the show – 'I'm really happy that I don't need to bowl to AB,' he said disregarding the thumping he received at the hands of his adversary while turning out for the Chennai Super Kings at the Chinnaswamy. A few testimonials here and there apart from the excitable young lady who blushed as she said, "AB, I really love it when you give BAT!' much to the non-surprise and hush of most others.
And that's how the cookie crumbles. And that is what AB de Villiers can do to you.
And the show goes on
Coming back full circle, the word chutzpah comes back. It's funny how the stuffed shirts at Oxford would let such a word enter their lexicon of ages, but anyway. So much so that one even looks up the music he produced with 'Maak Jou Drome Waar' He is a man of many talents with an affinity towards innovative batting.
They say 'Character is tested when you are up against it.' Time and again, de Villiers has spat right in the face of the tiger. Whether it is a step across the stumps to hoick a Jasprit Bumrah delivery for a maximum, or whether it is Danielle lending her voice to do a duet with Shane Watson of 'Titanium', AB has proved himself to be right atop the tree.
The acute aplomb he showcases is yet another trait of his character. Perhaps it comes from the fact that he has played with fire all his career.
A World Cup trophy? Nah! He's AB de Villiers
As AB finished his video at Tuks, many fans came to the realization that he would be ending his career without a trophy, while mentioning the number of matches he played.
But, does he really need a trophy? Will his career be defined by one? Of course not! HELL NO! Those who look at stats and numbers of his career have missed the point. It is clear as day he never did it for laurels. He never did it to win the universal attention of the ladies (although he did so). He did it out of pure love for the game. Something that is far greater than an empty cup that adds a slight gratification and reinforcement of talent.
Mr. 360 did it to entertain. A smile on a fan's face was seemingly enough. And it always will be.
At least, for those who have watched him over the last 14 years, I have just the one thing to say. Dankie AB!
Stay updated on 'today's cricket news' with CricTracker.com.