Aam Aadmi Party challenges Gautam Gambhir after the latter's 'I am Delhi' tweet
Ankit Lal, Aam Aadmi Party's social media strategist left a message for him.
Updated - Jan 21, 2019 5:43 pm
3.2K Views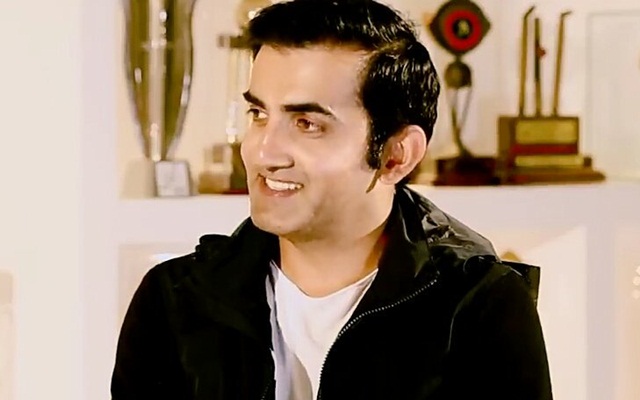 Follow us on Google News
In the first week of December 2018, Gautam Gambhir released an emotional video where he announced his retirement. The southpaw then played his last competitive match against Andhra at the Feroz Shah Kotla, a venue where he grew up, playing up all his cricket. He didn't disappoint his supporters and bowed out with a superlative century in the first innings of the encounter.
The fans present at the Kotla also arranged a cake-cutting for the 37-year-old experienced campaigner. In the meantime, ever since the veteran hung his boots from his favourite sport, rumours of him joining the political fraternity have been doing the rounds. However, Gambhir has quashed all qualms and remarked that he has no intentions of joining politics for the time being.
Recently, Gambhir uploaded a tweet where he described the metropolitan city in his own words. In Delhi, winter is at its peak with the temperature hovering below double digits. Gambhir also put forth his concerns surrounding the issue of pollution that has been marring the city for quite a while now.
He took to Twitter and posted a message in Hindi. Here's the translation of the same: "I am Delhi. Shivering on the footpath, I am Delhi. Crawling in hospitals, I am Delhi. Fighting with the system, I am Delhi. Counting my breath in the bitter air, I am Delhi. Hiding my nakedness behind a muffler, saffron and Khadi, I am Delhi."
Here is Gauti's tweet
मैं दिल्ली हूँ।
ललचाई आँखों से सहमी मैं दिल्ली हूँ।
फूटपाथो पर ठंड में सिकुड़ती मैं दिल्ली हूँ।अस्पतालों में रेंगती मैं दिल्ली हूँ।
System से झगड़ती मैं दिल्ली हूँ।
कड़वी हवा में साँसे गिनती मैं दिल्ली हूँ। Muffler, गेरुएय और खादी के बीच अपने नंगेपन को छुपाती मैं दिल्ली हूँ।

— Gautam Gambhir (@GautamGambhir) January 19, 2019
Meanwhile, Ankit Lal, Aam Aadmi Party's social media strategist put forth a challenge for Gambhir. He replied the wrote, "@GautamGambhir – it is a very heartwrenching Tweet. Let's take responsibility, hit the road and check facilities at a Delhi govt school, hospital, Mohalla Clinic and night shelter of your choice which can be telecast live on your FB & Twitter. Plz accept. Waiting for reply,"
Here is Lal's reply
.@GautamGambhir – it is a very heartwrenching Tweet.

Let's take responsibility, hit the road and check facilities at a Delhi govt school, hospital, Mohalla Clinic and night shelter of your choice which can be telecast live on your FB & Twitter.

Plz accept. Waiting for reply. https://t.co/dOTPhAuseh

— Ankit Lal (@AnkitLal) January 20, 2019
Follow us on Telegram