AB de Villiers talks about rapport with Virat Kohli and why he is scared of him
The friendship between the two RCB stars is at all-time best.
Updated - May 18, 2019 12:09 pm
56.4K Views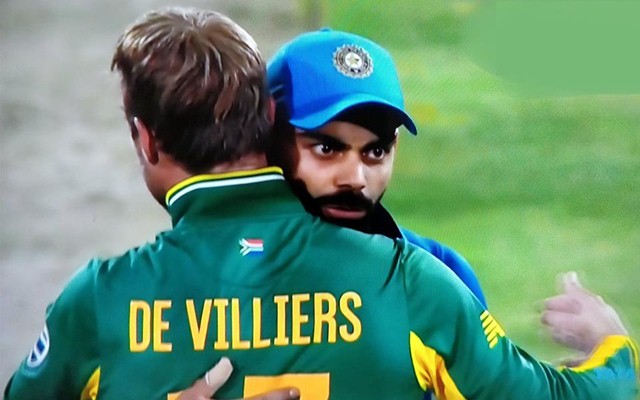 Follow us on Google News
There is little denying in the fact that AB de Villiers and Virat Kohli are the best of friends. It all started in 2011 when de Villiers was bought by Royal Challengers Bangalore and Kohli was already there in the team. The two hit it off soon and their friendship has only grown stronger with the passage of time. In the last few years, the two have never hidden their admiration and respect for each other. Whenever the two are interviewed, they always call the other the best in the world.
Time and again, Kohli has said that De Villiers is the best batsman in the world while the Proteas star reciprocates by saying the same. Presently, the friendship between the two is at an all-time best and now even their families are involved with them. Kohli and de Villiers recently shared the dressing room for Royal Challengers Bangalore in this year's IPL and were neighbours in the team hotel.
De Villiers has now spilt the beans on how it was to be Kohli's neighbour. The former South Africa skipper recently appeared on chat show Breakfast with Champions and spilt the beans on his stay and also opened up on the rapport he shares with Kohli. De Villiers revealed how Kohli and his wife Anushka Sharma treated his kids and how the two families loved spending time together.
"We are neighbours. If it wasn't for the mosquitoes here, we would've left our doors open and probably would've shared a big room. Anushka's here all the time, my family is there, the kids are running around. The kids were knocking on his door, early in the morning waking him up. He would let them in and would have coffee together. They were so good with the kids. We spent hours in the pool together, everyone just jumping and diving, and they're so chilled," said De Villiers while featuring in an episode for Breakfast with Champions.
De Villiers scared of Kohli
De Villers further revealed just how caring Kohli is which has made him scared of telling the India skipper about anything. The South African legend revealed how Kohli arranges everything for him.
"I'm scared of saying anything to him now because. If I say like, "Oh, I like your shoes." The next minute he organizes me those shoes. I'm like, "Virat, just stop it". He looks after everyone. I was like, "My phone is flat again." "Oh, you need a power bank."
There you go. Now it's mine. He's ridiculous, man.  I told him I like coffee the other day. Now I'm getting an espresso machine- he's ordered on Amazon.  It's being delivered tomorrow," said de Villiers.
Follow us on Telegram