Australia had prepared a plan to bowl against Virat Kohli in the first ODI, reveals Adam Zampa
Zampa has dismissed Kohli six times in international cricket so far.
Updated - Jan 16, 2020 8:41 pm
512 Views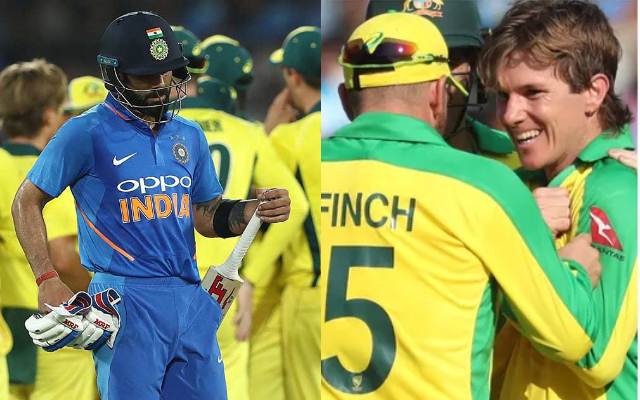 Follow us on Telegram
Bowlers since ages have been trying to come up with different variations of their bowling style and strategies in order to get the better of the batsman they are bowling to. Even the team management conducts regular brainstorming sessions to formulate any weak links in a batsman's technique that could help the bowlers. And, in one such incident, as told by Australian leg spinner Adam Zampa, the Australian team has also managed to figure out a weak link in the Indian captain, Virat Kohli's batting.
In the first One Day International of the three-match series being played between Australia and India, the Aussies had thrashed the men in blue. The Indian team managed to put up a total of 255 runs that was chased by Australia with ten wickets in their hands. The Indian captain, who had been doing extremely well in the build-up to this series, was dismissed by Zampa for just 16 runs.
Zampa while speaking to the press revealed that the Australian team had prepared a plan to bowl against Kohli prior to the match. "I think it's important to try and have a game plan against him. So we figured out before the last game that it would be good to start with leg-spin to him. I've got him out four times in the last year or so it's nice to have that confidence to bowl to him at the start of his innings," said Zampa as quoted by NDTV.
Adam Zampa wants to maintain an aggressive approach while bowling to Kohli
Zampa, who has dismissed Kohli six times in international cricket so far, also added that he plans to maintain an attacking approach while bowling against Kohli. According to him, if a bowler gets on the back foot and takes up a defensive approach, Kohli gets on top and scores runs.
Addressing Virat Kohli's praise of him in relation to Australia's last visit, Zampa said that he isn't the most skilled leggie in the world and getting such a compliment from a player like Kohli means a lot.
Freehit: 20 Questions with Zimbabwe all-rounder Sikandar Raza
Follow us on Google News