Adil Rashid confirms Azeem Rafiq's racism claims against Michael Vaughan
Adil Rashid, who kept himself out from any comments in the last few weeks, came out after the T20 World Cup to back the claims of Azeem Rafiq and Rana Naved-ul-Hasan.
Updated - Nov 15, 2021 4:20 pm
1.7K Views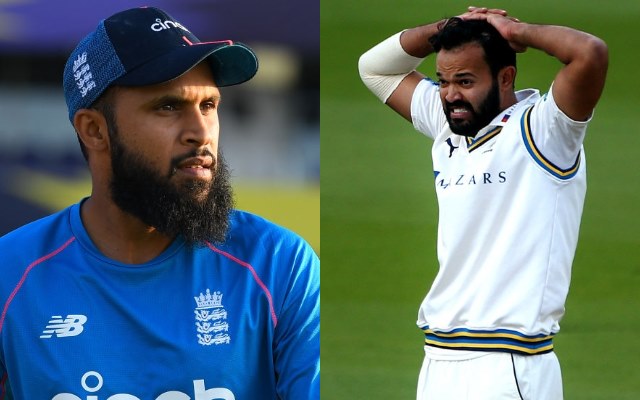 Follow us on Google News
England spinner Adil Rashid has backed Azeem Rafiq's claim that Michael Vaughan was openly racist during his time playing for the Yorkshire club. Rashid, who was one of the four players present during the alleged incident, has confirmed the allegations regarding Vaughan's racist comments back in the day. 
The recent crisis at the Yorkshire County Cricket Club (CCC) doesn't seem to end as more revelations keep coming out. A few days ago, Michael Vaughan, a former Ashes-winning English captain, stated that he was mentioned in the club's report of the allegations made by Azeem Rafiq. 
Though Vaughan categorically denied those allegations, it was revealed that Azeem had claimed that in an incident in 2009, the former cricketer had questioned the number of players from the Asian heritage at the club. The report was backed by Rana Naved-ul-Hasan, an ex-cricketer from Pakistan, who was at the time present in the Yorkshire club. 
Racism is a cancer in all walks of life: Adil Rashid
With Rashid now confirming the incident, Vaughan's illustrious media career post-retirement remains in doubt. He had to stand down from his show on BBC radio after the allegations surfaced. But, he kept denying the claims. Rashid's statement now brings more weight in the case, given the spinner's reputation at the international level as a cricketer. 
He agreed that Vaughan indeed had said, "There are too many of you lot; we need to do something about it." The statement of Rashid, which was reported by ESPNCricinfo, reads, "Racism is a cancer in all walks of life and unfortunately in professional sports too, and is something which of course has to be stamped out. I wanted to concentrate as much as possible on my cricket and to avoid distractions to the detriment of the team but I can confirm Azeem Rafiq's recollection of Michael Vaughan's comments to a group of us Asian players."
Apart from Vaughan, Gary Ballance was named in the report. The left-handed batter came out and admitted that he used the slur 'P**i' for Azeem in the dressing room. However, he also said that it was done as a part of their friendship. Yorkshire has taken a few blows in the past few weeks. The club was stripped off from hosting any international matches and also lost several sponsors. What will happen to the club, its reputation and that of its players is something which is yet to be seen. 
Follow us on Telegram