Adios, until we meet again – Reminiscing the 7 indelible years with Gautam Gambhir
And with that, the southpaw is all set to rejoin the Delhi Daredevils for the 2018 season.
Updated - Jan 29, 2018 11:19 pm
316 Views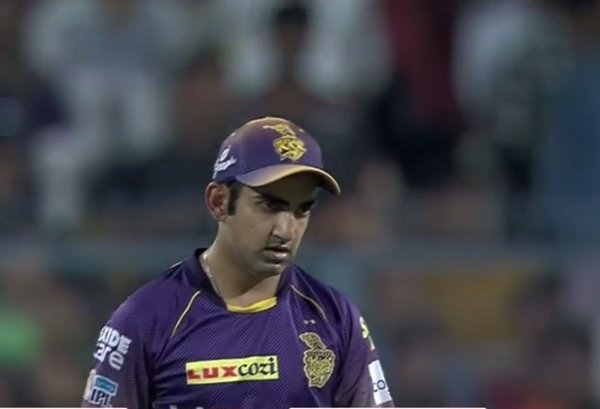 Follow us on Telegram
January 8, 2011- Mega auction of the hugely popular 3-year-old T20 tournament. The initial three-year tenure was over, which meant that now the teams will go through a major overhaul. All eyes were on the most consistent teams of Indian Premier League (IPL)- Chennai Super Kings (CSK), Royal Challengers Bangalore (RCB) and Mumbai Indians (MI).
What about the team of the king of Bollywood? Kolkata Knight Riders (KKR) was the team no one was willing to take into account. Sourav Ganguly's men have been humiliated time and again, and they were considered as perennial bottom-dwellers. The KKR management decided to take a bold step, which couldn't have been any bolder.
The 'Prince of Kolkata', Sourav Ganguly was axed from the team. They bought Gautam Gambhir in the auction for a then record fee. The reaction wasn't surprising at all. Effigies were burnt, 'Go Back KKR' and 'No Dada No KKR' slogans were raised, and hate prevailed over the city of joy.
January 27, 2018– Gautam Gambhir leaves KKR to rejoin his local team, Delhi Daredevils. The KKR loyalists are shattered and stupefied. Yes, the same fans who burnt the effigies. Their leader, Gambhir is leaving them, with some great memories and two trophies to speak of.
How did their views change? By growing a habit they weren't subjected to before, the habit which Kolkata's own son Gauti inflicted – the habit of winning. For the fans who now were hopeless after 3 disastrous seasons and took the bad results as their destiny, winning matches on the trot and matching eye to eye with the big opponents were something new, something they wanted all these years but they've been deprived of.
In his very first year as a skipper, Gautam Gambhir helped KKR reach the playoffs. We got the first trailer of what to expect from the team in the coming years. In his second year, the Knights won the Indian Premier League. Att 2011 before the auctions, if someone predicted that the team from Kolkata is going to lift the title in two years, he would become a subject of great mockery.
When Dada lost his foothold in his very won den
In another couple of years, KKR won their second title, both against superb teams and chasing mammoth targets. Gautam Gambhir declared himself as Kolkata's son and there is a justified testament to it. The neglected hero Sourav Ganguly, who then plied his trade for the Pune Warriors India, had to face KKR in Eden. Everyone expected the stadium to be filled to the brim with diehard Gangulians.
But for a change, the KKR enthusiasts were equally matching them. It was reported that once Sourav Ganguly believed that the bragging rights to the Eden Gardens well and truly belonged to him. Perhaps the KKR-PWI clash was the only incident which showed that not the entire stadium, but a half of it belongs to Dada. The other half of the stadium has now found a different owner in Gautam Gambhir, and the fans didn't care enough about their opponents.
When Gambhir was dropped from the national side, a banner came up in Eden, which said, "Bring back Gauti". After 7 years from the day KKR roped in Gautam Gambhir, the scenario has changed drastically. KKR is not everyone's bunny now, rather they can make anyone their bunny.
The moment arrived, and Gauti came to the auction. Richard Madley, the auctioneer wasn't bothered much as he went for just Rs 2.8 crores to Delhi Daredevils. With such a bargain price tag, fans expected KKR management to use the Right to Match card on him. Alas! That wasn't to be.
KKR's CEO, Venky Mysore later explained to the media that Gautam Gambhir doesn't want to be in KKR anymore. That might look surprising, given the love that the Kolkatans have showered on him. But in his defence, Gambhir said that he wanted a new challenge. Such has been the nature of this cricketer who had a big role to play in India's two world cup triumphs. He is a fighter, and wants to embrace hardships and struggle with them.
KKR decided not to be a spoilsport, and fairly enough, Gautam Gambhir will now bask in the Delhi jersey again. He hasn't got anything new to give to KKR, but at DD, he'll strive for their maiden title triumph, something they haven't achieved. There ends a fine 7-year-long partnership between Gautam and KKR.
Such has been solidity of the relationship that they've become synonymous. Every time someone says KKR, we'll relate it with Gauti and vice versa. After 7 years, KKR are going in to the IPL without their aggressive leader, who'd accept nothing but winning.
Gauti has got a bigger challenge and KKR fans respect his decision
The fans are perhaps worried that they might again go back to their nightmarish phase, which they've forgotten by now. They're worried that they might lack the belligerence and defiance they used to possess under Gauti. But they aren't mad at Gauti, neither they are ungrateful. They embraced Gauti's decision with open arms because they know that their leader has given them anything and everything, and he has a bigger mission in hand.
Delhi, you've got your lad back. You've sent us, the KKR fans a supremely talented player in his prime, and now we're sending you back an experienced leader who knows how to win the competition. Gautam, we'll always be grateful to you for your unparalleled contribution towards the team.
January 27, 2018, marks the end of an iconic relationship. We'll meet again in the field, and we know you won't spare an inch for your previous team. KKR will also try to keep up with their reputation of winnings, but perhaps when Delhi clashes against Kolkata, somewhere inside a KKR fan's heart, a sentence will reverberate – "Gautam's team should do well." Adios, captain.
Disclaimer: The views in this article reflect the author's and not of the Crictracker entity.
Follow us on Google News