'Ae bhidu muh mein kya bhara hai' – Shikhar Dhawan's hilarious comment on Ajinkya Rahane's post
Ajinkya Rahane and Shikhar Dhawan will appear in the same IPL team for the first time this year.
Updated - Jun 16, 2020 6:42 pm
289 Views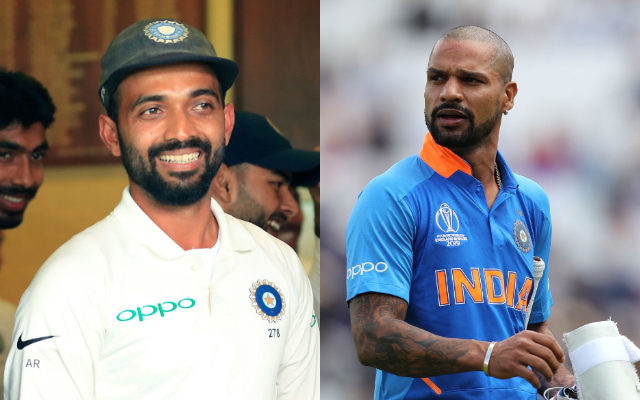 Follow us on Telegram
It is not hidden that Rohit Sharma and Ajinkya Rahane are really good friends on and off the field. The two players have known each other for a long time. Both of them hail from Mumbai and have played a significant amount of cricket together in domestic cricket and for India as well.
On Tuesday, Ajinkya Rahane posted his image with Rohit Sharma on his official Instagram handle. After uploading the picture, he added a little game to it for his fans. The image showed Rohit interviewing him. The image seems to have been taken during the 2019 India's tour of West Indies.
Shikhar Dhawan steals the show with his hilarious comment
In the picture, Ajinkya Rahane can be seen answering a question which has been asked by Rohit, who is holding a mic. The discussion between the two cricketers is not clear. Ajinkya wanted his fans to guess the conversation between them. He also gave them space to fill up lines for both the cricketers. "Fill these ???? and I'll share the best one on my story," wrote the Test vice-captain.
The fans then jumped in and started giving some interesting captions. Most of them were quite funny. However, Shikhar Dhawan stole the show completely by posting a hilarious comment. Dhawan posted a really funny line for his fellow cricketers.
He wrote, "Rohit- eh bidu muuh mein kya bhara hua (hey brother, what have you stuffed your mouth with). Ajinkya -masala". As Ajinkya had said, that he will share the best one in his story, it will be interesting to see if he shares this one in his story.
Here's the comment: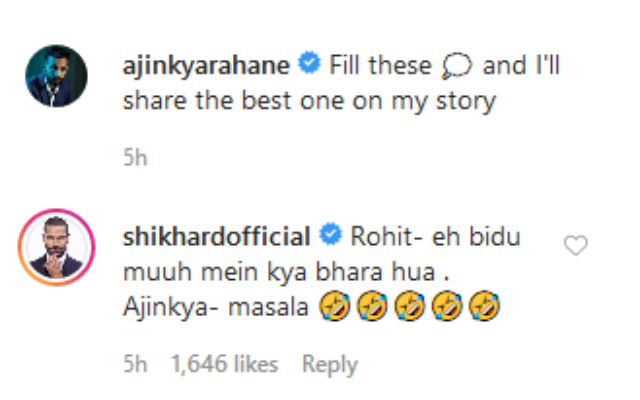 Shikhar Dhawan shares a great relationship with both Rahane and Sharma. In fact, the left-handed batsman has shared some really good moments with both the players. Dhawan has batted together much more with Rohit than with Ajinkya Rahane, but the records of both these duos as an opening pair in ODIs is fantastic.
Rahane and Dhawan are supposed to feature together in the same IPL team this year. The Mumbai batsman, who was with the Rajasthan Royals franchise since 2011, has moved to Delhi Capitals this season.
Follow us on Google News