Afghanistan cricket an inspiring story of few men changing the perception
Updated - Feb 26, 2015 3:40 pm
86 Views
Afghanistan cricket an inspiring story of few men changing the perception: "The Celebration has started in Kabul, and lots of air firing on that occasion." This is what an elated Mohammad Nabi said as soon as he had a microphone in front of him. If you don't read much into this comment or the occasion of Afghanistan beating Scotland in their ICC Cricket World Cup 2015 contest; which also happens to be their first ever win in the World Cup you certainly miss a link.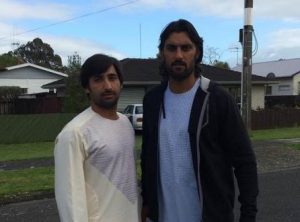 Follow us on Telegram
When Mohammad Nabi & Co. left Afghanistan heading southwards to Australia and New Zealand for participating in the ICC Cricket World Cup 2015, everyone knew they would not outperform or set the stage on fire but what we did know is that these XI men will play their hearts out on the field to ensure they fly back home proud of what they have achieved and will surely be national heroes.
"This is our first win in the World Cup and everyone enjoys this one, "The pressure was great. The boys didn't' bat well, four five wickets early but Sami (Shenwari) played very well. Good learning experience about handling the pressure and for our upcoming games, it's good as well, putting two points on the board. Hope we win more games; everyone would have enjoyed this game. It's out first win in the World Cup. We've had good support here and also back home." Nabi could not stop himself but praise each and every aspect, player who helped Afghanistan record their first ever win in World Cup cricket.
Theirs is a story worth listening and will surely inspire lot of you out there who are aspiring to be cricketers but have not yet found yourself in the team they dream of. Depressed? Upset? Fell like giving up? Don't even think of it; here are 15 men who have staged a remarkable journey to first qualify as a team for the ICC mega event and now have a win registered to their names.
Can't believe what I have achieved in this game Thanks to Hamid and Shapoor for not letting my effort go in vain. pic.twitter.com/Puyc7cAlqz

— Samiullah Shinwari (@SamiShinwari45) February 26, 2015
How did they learn cricket?
If you hail from a country which was under no government for the first half of your lives, I guess it couldn't get tougher for them to choose and independent profession and something which the Taliban had prohibited the Afghan people from doing. It was not until 2001 (uprooting of the Taliban) that the game started to gain popularity in the country.
Most of the players in the present squad of 15, stayed as refugees in refugee camps in neighboring Pakistan to survive form the atrocities that the ones left behind faced. The craze that cricket has in Pakistan induced them into getting closer to the game. Eventually most of them learnt the game, its technicalities, does and don'ts in those refugee camps.
The inspiring journey from camps to champs:
Gradually as Governance returned to the nation, so did cricket and by that time the passion and love for the game was stored in as lava inside the players found a crack to pass by. In a decade from taking cricket seriously as a game and a professional one, Afghanistan can be proud of first qualifying for the ICC Cricket World Cup 2015 and now for their first win in the tournament, as they beat the Scottish team in a closely fought contest by just a wicket.
All the fans watching with as much more anxiety, holding a blink and breaths to skip missing a moment jumped in joy as soon as Shapoor Zardan hit the match winning boundary. His sprint, the emotion, that delight described it all; this means more than just two points for Afghanistan cricket, it is surge of fresh blood into their lives and that of the game back home.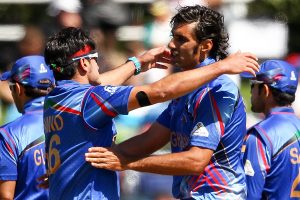 The players and everyone who had his hearts involved in the game would have certainly had a thumping beat, as the match went down to the wire as one of the most exciting, closely fought contest and one of the best that we have witnessed in the cricket world cup 2015. A win came in as a reassurance, must have injected belief in them that they are not merely here to participate and complete formalities but to compete and to win.
With the game Afghan people have found a reason to unite, yes it has united the people in the country; another to come together forget all the problems, stress and pressure they have over their weights and throw their arms in the air, celebrate, wave their national flag with that much more pride, walk in front of any other cricket playing national and proudly announce being an Afghanistan cricket team fan.
This is why we worship this game and its player! This is what cricket is about.
Follow us on Google News