After Cheteshwar Pujara, Michael Vaughan tries pickle juice and his reaction is hilarious
The pickle juice, although not the tastiest drink in the world, did help Pujara get through his cramps.
Updated - Jan 7, 2019 2:04 pm
577 Views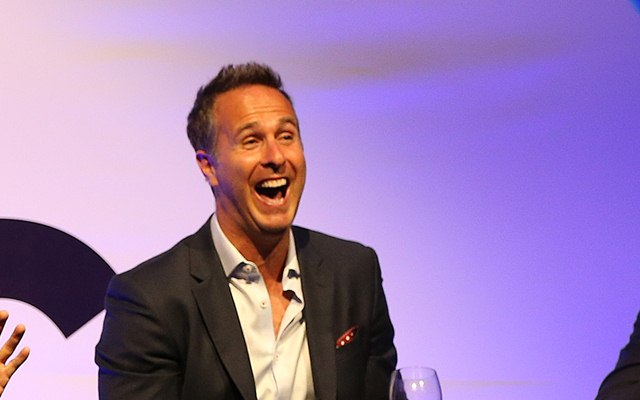 The bandwagon of players becoming commentators post-retirement has been in prevalence for so long and one of those in that elite is former England captain Michael Vaughan. The 44-year old has been enjoying himself playing the role of expert/commentator but one needs to verify if he still feels the same after his experimentation with 'pickle juice' during lunch on Day 4 in the recently concluded Test match between India and Australia.
It all started in the second innings when India's No.3 Cheteshwar Pujara was struggling with his hamstring while batting. The physio was immediately called for and Pujara was given pickle juice for relief for being able to play longer and get the team to a commanding position. His expressions after having the pickle juice conveyed a thing or two how much he (dis)liked it.'
Vaughan takes a 'pickle juice' shot
The panel of commentators had a look at Pujara's reaction after consuming and had a light-hearted discussion on the same. Vaughan, one of the commentators, wanted to know how good (or bad) would pickle juice taste and England's former No.3 took the plunge and tasted it.
The reaction of England's former top-order batsman in Test matches was no different to that of his contemporary Indian counterpart as he, for sure, didn't like the taste and might have even regretted the decision. If at all people couldn't figure out anything from Vaughan's expressions, he was asked to give a six or out for how the pickle juice tasted and the Eccles-born, with absolute certainty, raised his index finger and gave out.
The pickle juice, although not the tastiest drink in the world, did help Pujara get through his cramps as he batted longer and struck a fantastic partnership with Ajinkya Rahane to eventually have India set a challenging target of 323 for Australia. The hosts, in quest of a historic run chase, fought perseveringly till the end but fell just short of 31 runs. India, therefore, won the Test match and are 1-0 up in the series.
Here's the video:
"I can smell that from here!"

It's fair to say @MichaelVaughan does NOT like pickle juice 🤢🤢🤢 https://t.co/Fm5OyLXsnl pic.twitter.com/zFeFhuKnxw

— Telegraph Sport (@telegraph_sport) December 9, 2018
~Written by Harikrishnan Sivakumar