Ajit Agarkar isn't sure if it is worth persisting with Shikhar Dhawan and KL Rahul
Among all the openers from both teams only Cook has scored a fifty in the nine innings so far.
Updated - Sep 9, 2018 4:18 pm
452 Views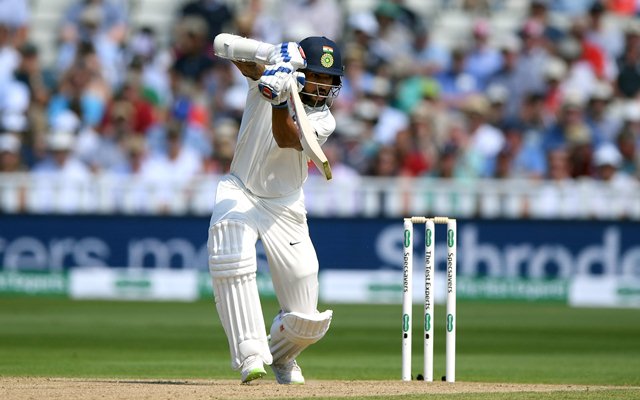 The English conditions test the best of batsmen, the ball swings, there is pace off the surface and early on with the hard red cherry, in able hands, it does all sorts of things. Among all the five players who have opened the batting, only Alastair Cook managed to score a half century that too in the most recent inning, his ninth in the series. For India, the opening has been a nightmare also because their lower order batting is pretty thin and thus the runs Shikhar Dhawan and KL Rahul contribute become that much more important.
James Anderson and Stuart Broad know the conditions there better than as anyone else. They've made life miserable for the Indian openers setting them up and inducing an outside edge or even running through the gate at times. It turned out so bad for Murali Vijay that after two matches, he was in fact left out of the team for the last two Tests. Rahul and Dhawan, on the other hand, have enjoyed the trust vote from the team management.
That, however, hasn't transpired into performance. One has to agree that there is lateral movement in the air and also off the pitch which can a lot of times be too much for the batsmen negotiate. But that is what the opener's role is, he is expected to see off the new ball and give the following batsmen something to play with.
Whether is worth persisting with them
Ajit Agarkar is one of the former cricketers who are not sure what the team management wants to achieve by backing the pair of Dhawan and Rahul despite their failures. He thinks if someone of Vijay's stature can be dropped it is time the other two are made accountable as well.
"Yes conditions have been difficult for the openers. But it's five Tests now and that is more than some other players would get an opportunity. I mean, Vijay was sent home after three Tests, who has arguably been India's most successful openers in recent times. So it is time to question whether is worth persisting with Shikhar Dhawan and KL Rahul," Agarkar told ESPNcricinfo.
He highlighted that Dhawan's overseas performances have always been under par and it is not a surprise that he's struggled against the moving ball.
"For Dhawan, it has been another failure for him overseas. Yes sometimes its a gut feeling from the coach that you want to persist with some guys, but for Dhawan, it is a clear pattern of not succeeding overseas. Similarly for Rahul and it is indeed a big series," the former Indian pacer added.