Alastair Cook achieves best Test ranking in 3 years
Australia has to beat Bangladesh to maintain fourth place in Test team rankings.
Updated - Aug 20, 2017 6:43 pm
1.8K Views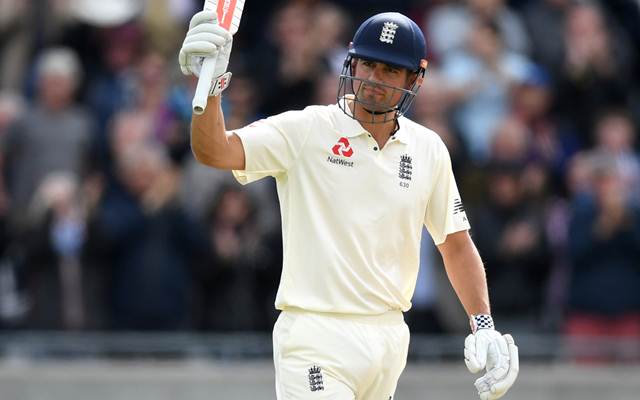 Follow us on Google News
Alastair Cook has made a strong charge on the ICC Player Rankings for Test Batsmen following a stellar performance in the day/night Test against the Windies, which England won by an innings and 209 runs at Edgbaston on Saturday. Cook not only walked away with the Player of the Match award for his 243, but his fourth career double-century also earned him six points that has put him in sixth spot in the latest rankings, which were released on Sunday morning.
This is Cook's highest-ranking since he surged to number five in March 2013. Cook, who achieved a career-high second place in September 2011, now has Virat Kohli firmly within his sights as the England opener is just eight points behind the India captain.
England captain Joe Root has returned to the 900-point mark following his 13th career century. For scoring 136, Root received 14 points, which has taken him to 905 points – 36 behind Australia captain Steve Smith, who will defend his number-one ranking in the upcoming two-Test series against Bangladesh.
There is no change in the top 20 bowlers, but both James Anderson and Stuart Broad have gained valuable points after equally sharing 10 wickets between them with the pink ball at Edgbaston.
Second-ranked Anderson has trimmed number-one ranked Ravindra's Jadeja's lead to just nine points after collecting 15 points, while seventh-ranked Broad has picked up six points to narrow Kagiso Rabada's lead to just four points.
The only good news for the Windies is the movement of Jermaine Blackwood and Roston Chase in the batting and bowling tables respectively. Blackwood, who scored 79 not out and 12, has moved up six places to 41st, while Chase, who took four for 113, has climbed four places and is now in 73rd place in the bowling chart.
Meanwhile, Australia has arrived in Bangladesh for a two-Test series, fully aware that it has to win the series to retain its number-four position. In all other outcomes, Australia will drop places. It will slip to fifth if either the series is drawn or Bangladesh wins 1-0, but will drop to sixth if the home side wins both the Tests.
Bangladesh v Australia series permutations
If Bangladesh wins 2-0 – Australia 92 (6th), Bangladesh 81 (8th)
If Bangladesh wins 1-0 – Australia 94 (5th), Bangladesh 79 (8th)
If series end in a draw – Australia 97 (5th), Bangladesh 74 (8th)
If Australia wins 1-0 – Australia 100 (4th), Bangladesh 69 (8th)
If Australia wins 2-0 – Australia 101 (4th), Bangladesh 66 (8th)
ICC Test Team Rankings (as on 20 August 2017, before the start of Bangladesh v Australia Test series)
| | | |
| --- | --- | --- |
| Team | Matches | Rating |
| India | 36 | 125 |
| South Africa | 31 | 110 |
| England | 39 | 105 |
| Australia | 31 | 100 |
| New Zealand | 32 | 97 |
| Pakistan | 31 | 93 |
| Sri Lanka | 36 | 90 |
| West Indies | 26 | 75 |
| Bangladesh | 17 | 69 |
| Zimbabwe | 10 | 0 |
ICC Test Batsmen's Rankings
| | | | |
| --- | --- | --- | --- |
| Rank | Name | Country | Rating |
| 1 | S.P.D. Smith | AUS | 941 |
| 2 | J.E. Root | ENG | 905 |
| 3 | K.S. Williamson | NZ | 880 |
| 4 | C.A. Pujara | IND | 876 |
| 5 | V. Kohli | IND | 806 |
| 6 | A.N. Cook | ENG | 798 |
| 7 | Azhar Ali | PAK | 769 |
| 8 | H.M. Amla | SA | 764 |
| 9 | K.L. Rahul | IND | 761 |
| 10 | A.M. Rahane | IND | 760 |
ICC Test Bowlers Rankings
| | | | |
| --- | --- | --- | --- |
| Rank | Name | Country | Rating |
| 1 | R.A. Jadeja | IND | 884 |
| 2 | J.M. Anderson | ENG | 875 |
| 3 | R. Ashwin | IND | 852 |
| 4 | J.R. Hazlewood | AUS | 826 |
| 5 | H.M.R.K.B. Herath | SL | 809 |
| 6 | K. Rabada | SA | 785 |
| 7 | S.C.J. Broad | ENG | 781 |
| 8 | D.W. Steyn | SA | 763 |
| 9 | V.D. Philander | SA | 751 |
| 10 | N. Wagner | NZ | 745 |
ICC Test All-Rounders Rankings
| | | | |
| --- | --- | --- | --- |
| Rank | Name | Country | Rating |
| 1 | Shakib Al Hasan | BAN | 431 |
| 2 | R.A. Jadeja | IND | 430 |
| 3 | R. Ashwin | IND | 422 |
| 4 | Moeen Ali | ENG | 403 |
| 5 | B.A. Stokes | ENG | 348 |
| 6 | V.D. Philander | SA | 332 |
| 7 | M.A. Starc | AUS | 318 |
| 8 | S.C.J. Broad | ENG | 209 |
| 9 | H.M.R.K.B. Herath | SL | 203 |
| 10 | J.O. Holder | WI | 197 |
Follow us on Telegram