Ali Khan Interview by Anis Sajan: His IPL dream, playing CPL, PSL and experience with Shah Rukh Khan
Born in Attock, Pakistan, Ali Khan ruffled a few feathers in the 2018 Global T20 Canada and then for the Trinbago Knight Riders (TKR) in the CPL.
Updated - Jul 16, 2020 3:24 pm
334 Views
Cricket in the United States of America (USA) has ambled along somewhat and is yet to make a mark at the highest level. But there's no dearth of talent in their setup by any means. One of their players, fast bowler Ali Khan, have already taken strides among the big boys. So much so, he has made his way into the Indian Premier League (IPL) auctions, though he hasn't found a buyer as of yet.
Born in Attock, Pakistan, Khan ruffled a few feathers in the 2018 Global T20 Canada and then for the Trinbago Knight Riders (TKR) in the CPL. Speculations were rife that he would be picked to play for the Kolkata Knight Riders (KKR) in the IPL, but it didn't happen. Nevertheless, he has continued to weave magic in leagues around the world. Last year, he played for the Delhi Bulls in the T10 League.
The 29-year-old was a part of the Karachi Kings as well in the 2020 Pakistan Super League (PSL). But he only played one game against the Quetta Gladiators at the National Stadium. For now, even as USA is reeling from the coronavirus pandemic, Khan is spending his time at his residence. During this while, Anis Sajan, the mentor of Delhi Bulls, decided to catch up with the talented speedster.
Here are some excerpts from Ali Khan's interview: –
Tell us about your first attraction towards cricket:
I grew up in Pakistan where people only play cricket. I used to play in school and with my brother, who used to break windows. Once my brother took me into his team and I got six wickets in a tape-ball match against the big boys. It was then that I realised about my potential. I always played with people older than me as I had pace back then.
I also followed the likes of Brett Lee, Shoaib Akhtar, Wasim Akram and Waqar Younis while growing up. I only wanted to bowl fast and as a kid I used to run a lot. I played against the wall on the roof. If no one's there, doesn't matter how hot it is, I was always playing. It was in my blood and I'm happy to be fulfilling my dream.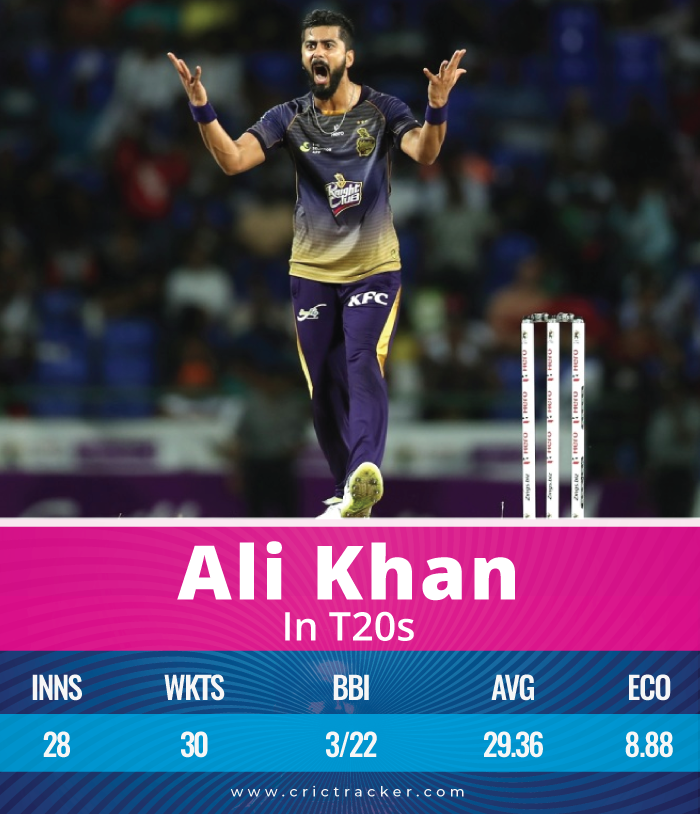 You were nominated for ESPNcricinfo's associate bowling performer for your spell of 5/46. Tell us something about it:
That's one moment I would cherish forever. It was in the World Cricket League Division 2 and ODI status was on the line for USA cricket. We lost against Oman in the first game and had we lost to Namibia, chances of our ODI status would have virtually ended. Even against Oman, I got four wickets. Against Namibia, they needed 15 runs in about two overs.
They had five wickets in hand and I had bowled nine overs, picking up two wickets. The game was on the line and I had to produce some magic. In the 49th over, I got three wickets and turned the game around. It was team effort, but I was happy with what I did. And we got the ODI status as well.
Do you think after getting ODI status, the associate teams don't get to play enough like the big teams?
That's very disappointing as there's a lot of talent in associate cricket. If they get more opportunities like the full-members, it will be a chance for them to showcase their talent to the rest of the world. The ICC should invest more in associate cricket because people there want to see the sport grow.
In the last 10 years, Afghanistan cricket has grown. What do you think the Afghans did that other nations like USA, Oman, Scotland and others haven't done?
Afghanistan is a really good example. They have been playing together in one place for a long time. Wherein in the USA, there's a lot of diversity. People are coming and going, the side's not sticking together, not getting to know each other. That has always been a problem with USA cricket.
In Afghanistan, they have local cricketers, and they have been playing cricket since they were kids. And now they have superstars like (Mohammad) Nabi and Rashid (Khan) and youngsters look up to them. In USA, there are no such heroes for people to take inspiration from.
That's something which is lacking, but a lot of good things are happening in USA cricket. They are starting their own major league cricket, most probably by next year. If we get to play the World Cup qualifiers we may even have a chance of qualifying for the major event.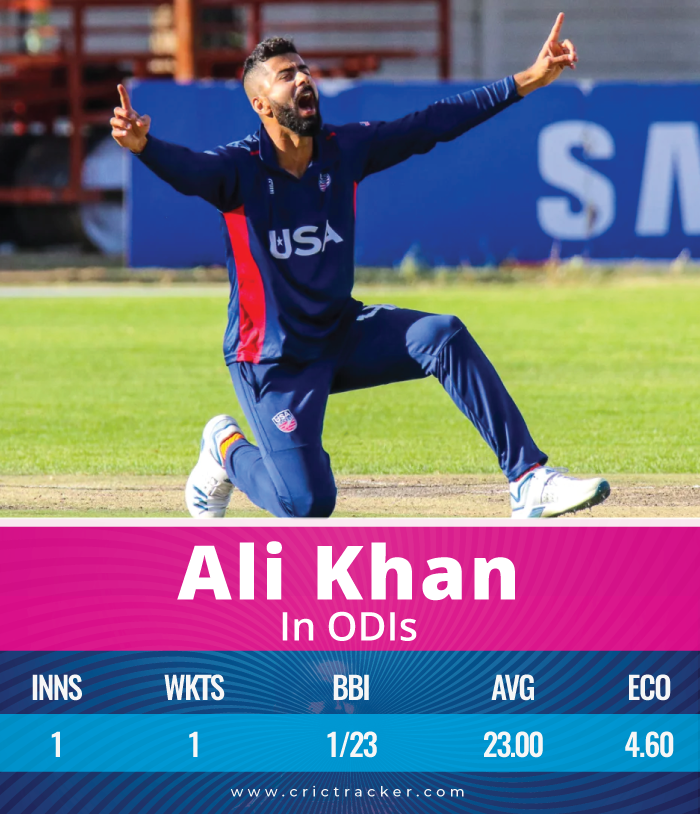 You got your first recognition in the CPL and you played the PSL and the Global T20 Canada as well. What special did you do that people recognised Ali Khan?
A lot of people don't know that I was picked to play CPL back in 2016. The Guyana Amazon Warriors picked me up, but in those two years, I got to play only one game. I played my first game against the Jamaica Tallawahs. In the first ball, I got the wicket of the legendary Kumar Sangakkara and it was a big moment for me. In 2018 I wasn't picked in the drafts and I was unsure of my future in cricket.
I was playing in the US Open and Dwayne Bravo was playing alongside me. Then in the GT20, Bravo picked me in his side and I finished with 10 wickets. In the CPL, he picked me as a replacement in the Trinbago Knight Riders, for a fast bowler, Ronsford Beaton, reported for illegal action.
Bravo gave me the confidence, saying 'You are our lead bowler'. I got 16 wickets and was the third-highest wicket-taker after Imran Tahir and Fawad Ahmed. We won the CPL and it was a very proud moment. CPL is one of my favourite leagues because it gave an outbreak into the other leagues.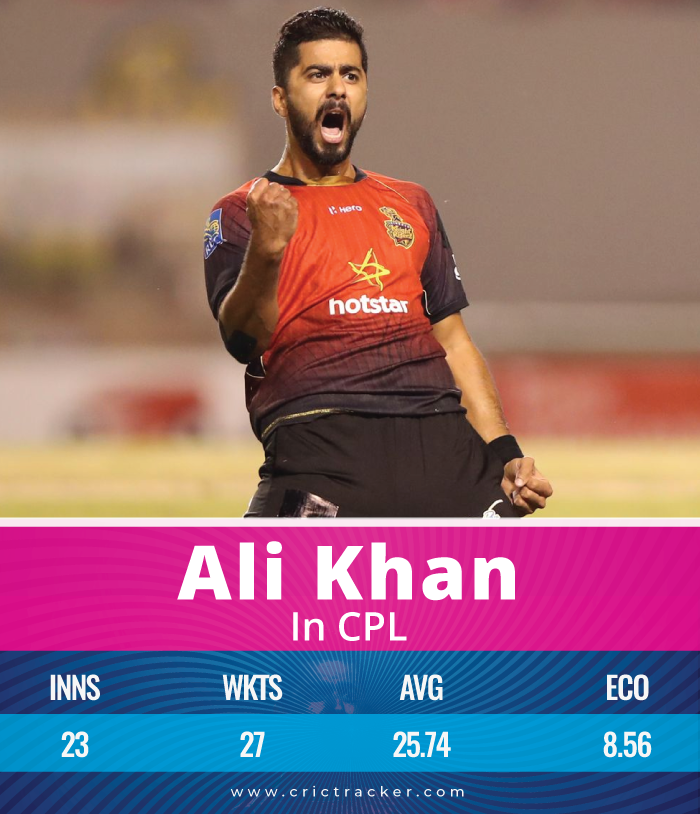 During the tournament, you dropped a catch, which turned out to be costly. Tell me about it:
We were playing at the Queens Park Oval against the Tallawahs. Shah Rukh Khan, who came from India to watch that game, was also there. We scored about 222 runs (223 for six). Then I got three wickets in my opening spell and Jamaica was down to 50 runs with five wickets down (41 for five in 6.1 overs). Then came out Andre Russell and Fawad bowled to him with me standing at mid-wicket.
Russell tried to hit a half-volley for a six, but it went up. When Russell hits the ball, it goes miles up in the air. Trying to catch it, I ran past the ball and it fell behind me. And then he went on to score a century (121 off 49 with six fours and 13 sixes). It's the best hitting I have seen in a live cricket match. He didn't give a single chance after that. After the game, I felt that I let my team down.
How was your experience bowling to Universe Boss Chris Gayle?
In 2016, in the very first game against the Tallawahs where I dismissed Sangakkara, Gayle smashed me everywhere. Later again I got to bowl to him and I have a good track record and I have gotten him out three times now. Yes, he is a great player, but I feel very confident against him. I just try to follow what the analysts tell me.
How's been the experience with Shah Rukh Khan?  
I met him twice now and he's very humble, down-to-earth and loving. For him, winning or losing doesn't matter, he only wants us to enjoy. He also loves to give kisses on the cheeks and I was lucky enough to get it from him as well. He cares a lot about his players. I was awestruck seeing him for the first time, but after that it was amazing to get to know him.
Do you dream of taking part in the IPL?
Definitely, that's a dream to live for. I was so close in the 2019 IPL. My name was there in the auction and when I didn't get picked, I cried a lot. I was hopeful of getting a team. But that has motivated me to give my best shot whenever I step on to the field. Yes, playing in the IPL is one of my dreams and I would love to be a part of it. I'm going to keep working hard and improving until I get there.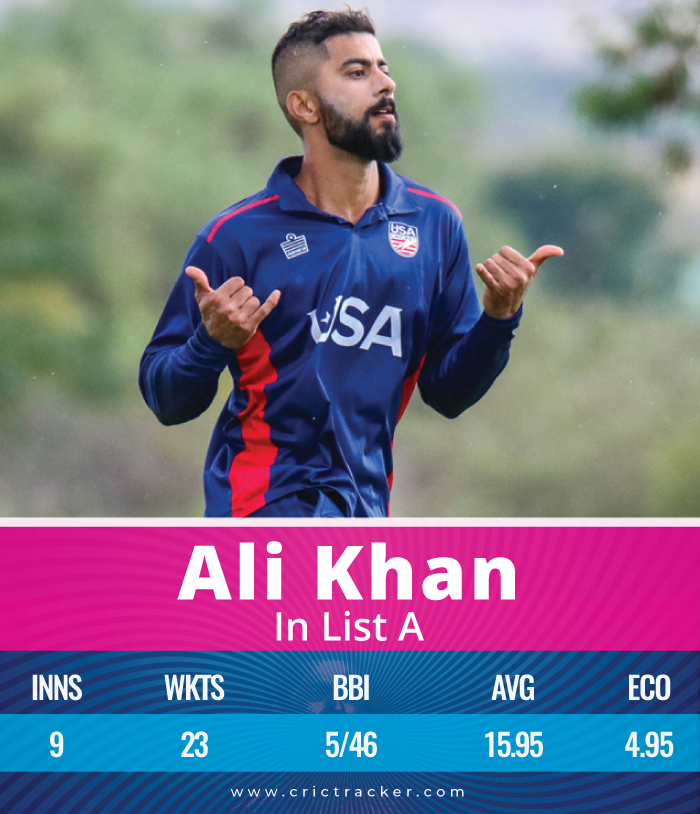 How was your experience of playing with Zaheer Khan in the T10 League?
It was wonderful. I used to bowl the knuckle-ball and he's really good at it. That's something I have focussed a lot when he's there. Now when he sees me, he asks me about the type of delivery. He played for India at such a big level and I was fortunate enough to be with him in the same team. That's why franchise cricket is important, especially for the associate cricketers.