An open letter to AB de Villiers from a South African fan
Will you don the South African jersey one more time?
Get every cricket updates! Follow us on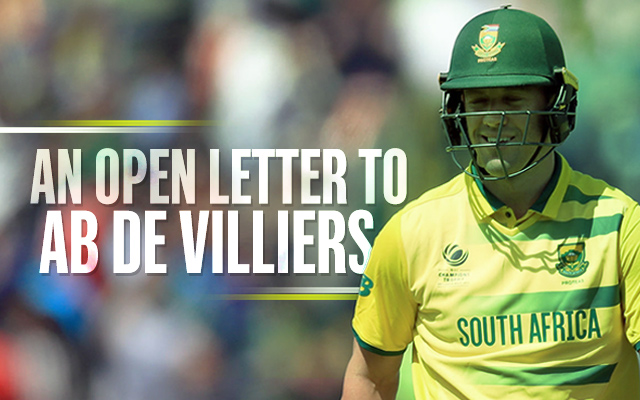 Dear AB,
I watched with a sense of stupefied amazement as you went about carting Jaydev Unadkat and Jofra Archer and single-handedly helped the Royal Challengers Bangalore side to post a seven-wicket victory over the Rajasthan outfit. The required rate at the end of the 18th over had climbed to 17.50, but you turned the fortunes of your side around in your own peerless way, in that 19th over bowled by Unadkat on 17th October 2020. You had once again made our hearts skip a beat, with outrageous shots of sorcery.
Virat Kohli had called you 'superhuman' after that knock, and all of us felt, for the umpteenth time that you indeed are one. In the 2020 edition of the IPL, you scored 454 runs at an average of 45.40, and at a whopping strike rate of 158.74. And needless to say, you played a pivotal role in the Bangalore side making it to the playoffs this year.
A tinge of regret
But then, there is a tinge of regret that envelops me as a South African fan AB. You have not put on the South African jersey since March 2018, and during this time, the Proteas have slipped to an all-time low. The side managed to win just 3 matches and finished at seventh place in the all-important 2019 World Cup. And, to make matters worse, the South African side has now lost three consecutive T20I series on home soil.
In the recently concluded series against England, we were whitewashed in our own backyard by the visitors. And this, I feel is the last nail in the coffin. You see AB, your illustrious predecessors that made South Africa a force to reckon with are all gone now. That tall bowling beast, Morne Morkel, your batting partner in crime, Hashim Amla, and the ever so dependable Jacques Kallis have all walked away from the game. And, South Africa has just become a pale shadow of the dominating side that it used to be.
And that is why we need you to return.
That fateful 2015 World Cup semifinal
The scars of the 2015 World Cup semifinal still linger in my memory. And, I shudder as I imagine the kind of heartbreak that you, and your teammates would have endured on that fateful day. As Grant Elliott's blistering knock robbed your dream of winning that World Cup, I looked on with a heavy heart as you were reduced to tears. It was heartbreaking to look on as a fan, to see my hero in shambles.
In fact, I recall your words vividly where you have clearly stated that you wanted to be a part of a World Cup-winning South African side.
It's my main dream to win a World Cup for South Africa, or to be part of it in one way or another.
If it was your main dream, why did you walk away from the international arena in the year 2018, barely months before the 2019 World Cup? Why did you quit playing for the nation at such a crucial juncture, and continued to play in the IPL? Why have you left your team at the crossroads, when it still desperately needs your service?
You see AB, you are still one of the fittest cricketers around. Your reflexes are still as fast as they used to be, and the bowlers still shudder at the prospect of bowling to you.
Will you don the South African jersey one more time?
And that is why I appeal to you. Please put on the South African jersey one more time.
I want to see you going down on one knee and smashing the ball over the fine leg fielder's head. I want to see you bring that reverse sweep out of your playbook and unleash it on the bowler. I want to see that bewildered look on the face of the opposition skipper as he wonders how to set a field for you. And, I also want to see that sense of awe on the bowler's face as he begins to ponder where to deliver the ball to you.
I want to see you weave your magic with the willow once again. And most importantly, I want to see you do all this in South African colors.
The T20 World Cup in 2021 awaits you.
Will you don the South African jersey one more time?