'And BCCI say there is no difference in treatment' – Twitterverse miffed as Mithali Raj doesn't sport blazer during toss against Australia
Mithali Raj didn't sport any blazer while walking out for toss against England and Australia.
Updated - Oct 1, 2021 5:25 pm
117.1K Views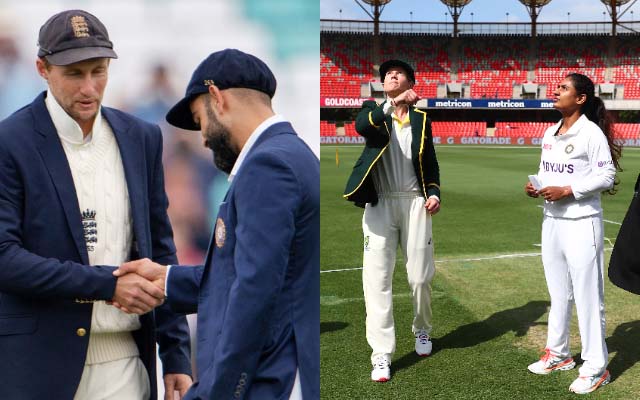 Follow us on Google News
2021 saw India's women's team making a comeback in the longest format of the game after almost seven years. Having played their last Test in November 2014, the side returned to whites in a one-off Test against England in June earlier this year. Despite not playing the format for a while, the Indian team, under Mithali Raj's leadership, showcased remarkable resilience and earned a draw in Bristol.
As of now, India are battling it out with Australia in one-off women's Test at the Carrara Oval in Queensland. With the Indian side making an impressive return to the purest format, fans and experts from worldwide have been lauding them. However, a section of fans is not impressed with the Board of Control for Cricket in India's (BCCI) approach towards women's cricket.
Unlike Mithali Raj, Virat Kohli has been donning blazer during toss sessions
Apparently, captains sport blazers during toss sessions in Test matches. India's men's cricket team skipper Virat Kohli has also been following this tradition. However, Mithali Raj didn't sport any blazer while walking out for toss against England and Australia. In fact, her counterparts, Heather Knight and Meg Lanning, were also provided the formal attire. On the contrary, Mithali just had her Test uniform on.
Several fans highlighted the same on social media and slammed BCCI for their 'unfair' treatment. With women's cricket gaining a lot of popularity lately, fans weren't happy to see Mithali without a blazer or a Test cap. Hence, it would be interesting to see whether Mithali or BCCI make any official statement on the backlash or not.
Meanwhile, Mithali Raj's team has been nothing but impressive in the ongoing Pink-ball Test against Australia so far. Being asked to bat at the Carrara Oval in Queensland, India got off to a stellar start with openers Smriti Mandhana and Shafali Verma tackling the new ball with precision. While the latter got out for 31, Mandhana went to smash a spectacular century.
Coming to bat at number three, Punam Raut also contributed with a handy 36 before falling prey to Sophie Molineux. Meanwhile, at stumps on Day 2, the visitors are 276 for the loss of five wickets. While Aussies would like to restrict the damage, the remaining Indian batters would like to score as many runs as possible.
Meanwhile, let's look at how Twitterati reacted to BCCI's 'unfair' treatment:
Just leaving this picture here…
You definitely should do better, @BCCI. It wasn't the first time that this happened. The tests have been announced long back but you couldn't even provide a blazer or jerseys with cap no. It can't be a historic occasion, if you won't make it one. pic.twitter.com/9Lxcl4JRXK

— Ritwika Dhar (@RituD307) September 30, 2021
Why can't they have both like the men's cricket is having those more than enough. Having cricket is the paramount, but those small things do matter too.

— Ritwika Dhar (@RituD307) October 1, 2021
This was my reaction when I didn't see her in this blazer in the toss! @BCCI, you can and should do better. No cap no on their t-shirt and this. These things matter as these small things show that how you treat and value them. 🙂 #AUSvIND #PinkBallTest pic.twitter.com/Jy4BBHFrcF

— Ritwika Dhar (@RituD307) September 30, 2021
Maam , please raise the issue why the official blazer was not provided by @BCCI to the captain while the toss was done .

— Professor🚩🚩🚩🚩 (@BhaktDeah) October 1, 2021
Bcci please give blazer captain atleast one https://t.co/v394RO6Grv

— Papu (@Papu05087792) September 30, 2021
Indian women's team doesn't have a blazer? just asking

They should right, BCCI gives it to the men's team. https://t.co/6hKIsBsrzj

— Roshan (@man8008s) September 30, 2021
Hey @BCCI@BCCIWomen where is our Captain's Team India Blazer???
#AUSvIND #PinkBallTest https://t.co/Vu846ooU2F

— Rajeev Ranjan 2.0 (@Imrranjan) September 30, 2021
Not sure why our women team doesnt have jackets/blazers. I have seen Indian men's team acptain going to toss in blazer since as long as I remember. @BCCI pic.twitter.com/60DS3gecJE

— Shaitaan Khopdi™🇮🇳 (@shaitaankhopdi) September 30, 2021
Why there is no Blazer for @M_Raj03 @BCCIWomen @BCCI

— Sudhir Samal🇮🇳🇮🇳🇮🇳 (@Sudhir_Samal) October 1, 2021
In India women won't get it only men's team is allowed.And BCCI say there is no difference in treatment for both the teams.

Blazer for the toss in tests should be must.

— Joseph Sasikanth Reddy (@JosephSasikanth) September 30, 2021
So Sad…. hey @SGanguly99 Sir @JayShah pls look into this aspect. Blazers for Our Women Cricketers

— I.M. ढवळीकर (@iDwatchesyou) October 1, 2021
For men's team(ind),They provide the blazers even for normal test series.
But here, it's the historic one.
They're continue disappoint us!

— Srikanth (@G_Srikanth24) October 1, 2021
Yeah, no cap too! Shame on them.
If kohli's playing there, would we have seen him without blazer & cap? Definitely, no!!
He wore that blazer throughout in eng series.

— Srikanth (@G_Srikanth24) September 30, 2021
Follow us on Telegram