'And you wanted one more bat for me' – Virat Kohli pulls David Warner's leg for asking him a bat
It was some nice little banter between two fierce competitors.
Updated - Jan 25, 2020 7:54 pm
95.8K Views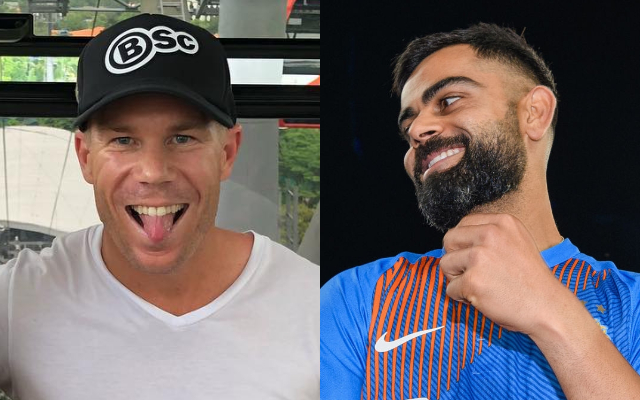 Virat Kohli and David Warner are two big superstars of world cricket. They are role-models and lots of people around the world look up to them. Both of them are similar in nature. They are fierce competitors on the field and aren't shy to express themselves on the field.
In fact, both Kohli and Warner started off their careers as brash, bold and aggressive. They were always in the spotlight for the wrong reasons and their behavior was always questioned. They've even had altercations with the crowd as well. However, they've toned it down and as they've gained experience, both Kohli and Warner have mellowed down. They are a lot calmer and react to situations better.
Also, they didn't have the best of relations a few years back either. They always were in the face of each other, be it the IPL or international cricket. However, things have changed quite a bit in that aspect as well.
Kohli and Warner are both very active on social media and like to promote certain ads and their brands. They also keep their fans updated with what they do off the field. Warner last featured in the ODI series in India and is now taking time off and isn't taking part in the 2019-20 season of the Big Bash League (BBL). Meanwhile, the Indian captain is in New Zealand for a full-fledged tour.
Warner uploaded a picture full of bats on Instagram. There were close to 20 bats in the picture which was uploaded. Warner captioned the picture, "Stock-taking time." He also used a hashtag – #needafewmore. The swashbuckling New South Wales opening batsman has Spartan as the sponsor for his blades and he is generally well stocked up.
Kohli used the opportunity well to pull Warner's leg. He replied to Warner's post on Instagram and revealed that the Australian asked the Indian skipper for one of his bats. Kohli even used a couple of emotions. Warner's reply was on point and apt too. He first laughed it off before he replied by saying he needed just one. It was some nice little banter between two fierce competitors.