Lack of evidence lets Anderson off without a Ban
Updated - Aug 3, 2014 7:01 am
30 Views
The James Anderson Ravindra Jadeja abuse, aggressive charge row is still far from a satisfactory conclusion. The ICC appointed judicial commisioner is yet to give his word, still the feeling that is propogating is that due to lack of video evidence Anderson might well get away with it. The ground authorities at the Trent Bridge where the incident took place told the officials that the camera in the players area was disfunctioning that day and hence no visuals are available.
The players were walking off the field at the stroke of lunch, Indian contingent was led by MS Dhoni and Jadeja accompanied him. Dhoni in his statement in front of the commission and the trail room said, "Right from the moment when we started walking towards the dressing room Anderson continuously abused Jadeja heavily, when we reached the inner part of the povalion Anderson even pushed Jadeja."
Anderson was questioned on the basis of charges levyd on him and statement of the Indian players.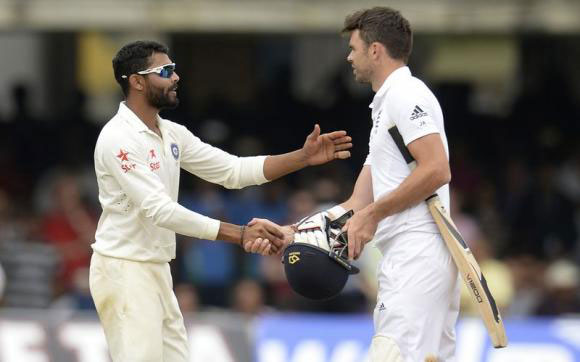 Follow us on Telegram
Anderson though admitted of calling Jadeja a fu**ing p**ck and fu**ing c**t was in denial of the rest. Earlier Dhoni also added to his statement that, "It was when Anderson told Jadeja to go into the dressing room or he would break his teath that Dhoni dared James of doing that."
The English players which were there as vitnesses completely denied any physical assault or even an aggressive charge from their team mate. Infact accused the Indian of showing his bat dangerously towards them.
The foul and un acceptable language Anderson has accepted of speaking is a sufficient evidence to the level III offence. The hearing was full of one side giving contradicting statement for the other and no clearity as far as visual evidence is concerned was there.
The decision what so ever it may be the Indian players and the entire camp is at a low in the fashion events have shaped up. It is believed that as the match fees punishment on Jadeja was waved off even Anderson will be let off the hook.
Justice might or might not be served but this would surely be a case in cricketing history as a tainted event.
Follow us on Google News