Angelo Mathews, Dimuth Karunaratne refer Muttiah Muralitharan 'unprofessional' for comments on contract issue
Both Angelo Matthews and Dimuth Karunaratne have written detailed letters to SLC on Muttiah Muralitharan's comment's on contract issue.
Updated - Jul 20, 2021 10:06 am
50.3K Views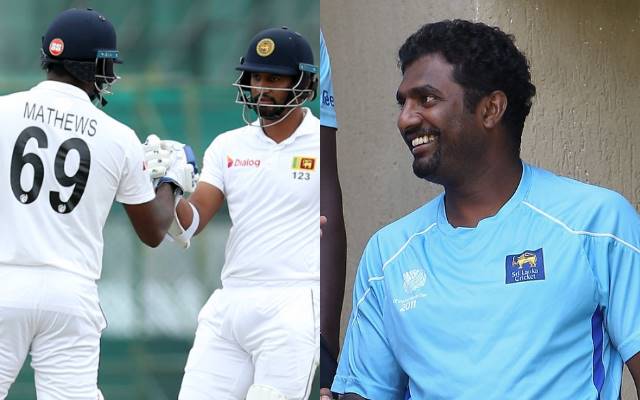 Follow us on Telegram
Things are going quickly downhill for Sri Lanka and its cricketers. If the drubbing at the hands of England was not enough, then came another news of three senior players breaching the bio-bubble and being suspended for time being. If that was not enough, then came the news of former Sri Lankan captain Arjuna Ranatunga's controversial comment, and now another one has come, which seems bigger and most controversial than the others.
All-rounder Angelo Matthews and Dimuth Karunaratne's ongoing brawl which involves the Sri Lankan Cricket (SLC) board too has come to light, with blame game too starting to do the rounds. Legendary off-spinner Muttiah Muralitharan named Matthews and Karunaratne responsible for the contract turmoil in the country.
Now, the duo has written a personal letter to Murali and expressed their displeasure towards him by stating, that the issue was not entirely related to money. The contract tussle between the players and board is a long-standing issue and, it started when the Island nation was about to embark on the white-ball tour to England. The players just signed the temporary contract, which made the SLC board even angrier.
Upon returning from England, the players signed the contract and, only Angelo Matthews didn't sign, which led to speculations he might retire from international cricket. But now it turns out even Karunatne too is involved in the contract controversy.
Muttiah Muralitharan names Angelo Matthews and Dimuth Karunaratne responsible for the contract brawl
While speaking in an interview to Hiru TV, the former off-spinner held Matthews and Karunaratne as the prime suspects for the entire contract tussle. Murali even felt the Sri Lankan team's poor performance of late is due to the duo disturbing the team environment.
"It is unfair and untrue that you state that the issue in the contracts was purely money," the letter read. "We feel that you were not properly informed of the correct sequence of events, or was possibly given wrong information. Possibly by parties who wish to create a rift between the players and the administration and create disharmony," it added as reported by SportsTiger.
In an elaborative letter, the duo also alleged that Murali shared the dressing room with the team and addressed the players in a derogatory manner and his comments at this point in time are 'unprofessional.'
Follow us on Google News