Anil Kumble was probably India's biggest match-winner during my playing days: VVS Laxman
VVS Laxman was known as the master of playing wristy shots.
Updated - Nov 18, 2019 5:38 pm
229 Views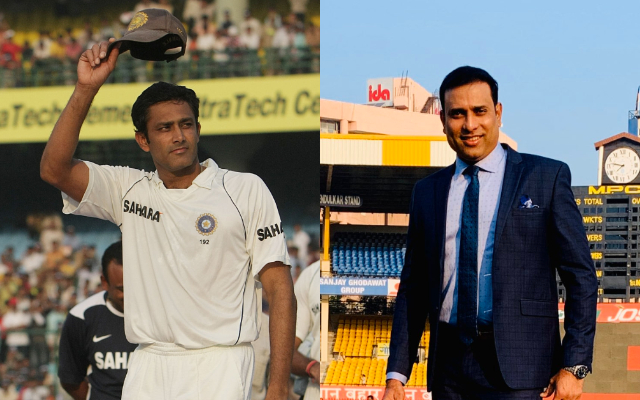 VVS Laxman, the former batsman started playing for India when the team was studded with several match winners. However, later on, he also became a vital part of the national side and went onto become the best middle-order batsman of the country. With a team filled with renowned players, there were questions raised that, who was the best match-winner of that period. And, now, Laxman has come up with his opinion on such a debatable question.
The late '90s is regarded as the golden era for Indian cricket when players like Sachin Tendulkar, Sourav Ganguly, Virender Sehwag,  Rahul Dravid and Anil Kumble played all-together with no one less than the other.
VVS Laxman comes with his opinion on the never-ending debate
During an episode of Very Very Special stories, Laxman recited that according to him, Anil Kumble was the biggest match-winner in the team. "My dear friend Anil Kumble is probably India's biggest match-winner… The biggest match-winner I played with," he said in the show as quoted by Hindustan Times.
The former middle-order batsman also recalled a story of a match that he played back in 1995 against Anil Kumble. He was selected for India B in the Challengers Trophy after performing consistently well for Hyderabad and India U19. In one of the matches, he came out to bat against Anil Kumble. And, as he was leg spinner, so he went on to his back foot and played him towards the square of the wicket.
On the very next delivery, Kumble dismissed him out LBW while attempting the same shot. Also, he described that incident as a "bad memory".
"It was a bad memory. I did well for Hyderabad, and India U19 so I was picked for the India B side in the Challengers Trophy. The match was happening at the Lal Bahadur Shastri Stadium. I can never forget the sound of the ball hitting my pad… Against a leggie you go on the backfoot, try to hit it square of the wicket… I did that in the previous ball but the next ball struck my pads even before my bat came down, Anil was quick in the air," Laxman added.
[interaction id="5dc6c071daa233047a27bb8a"]